Last week we had our first look at Just Cause 3 from developer Avalanche Studios in a number of leaked screenshots. While pretty though, they showed something a little worrying: what looked like micro-transactions, with the ability to buy in-game money with real money. However we needn't have fretted, as developer Avalanche Studios has now commented on the game's production and stated that these were from very early builds of the game, with experimental features. Micro-transactions will not feature in the final game.
"Following last week's rumours and speculation, we also wanted to take the opportunity to address a few misconceptions," Avalanche said in a statement. "Those leaked screenshots were taken from an ancient version of Just Cause 3. Like most games, this one went through an exploratory phase where we looked at different control schemes, different technologies, different business models. Those leaked screenshots show aspects of that process, and in no way reflect the game we are making today."
It then went on to clarify that Just Cause 3 will be made available in 2015 for PS4, Xbox One and Windows PCs. It will be a retail title too, not free to play and will not feature any micro-transactions whatsoever.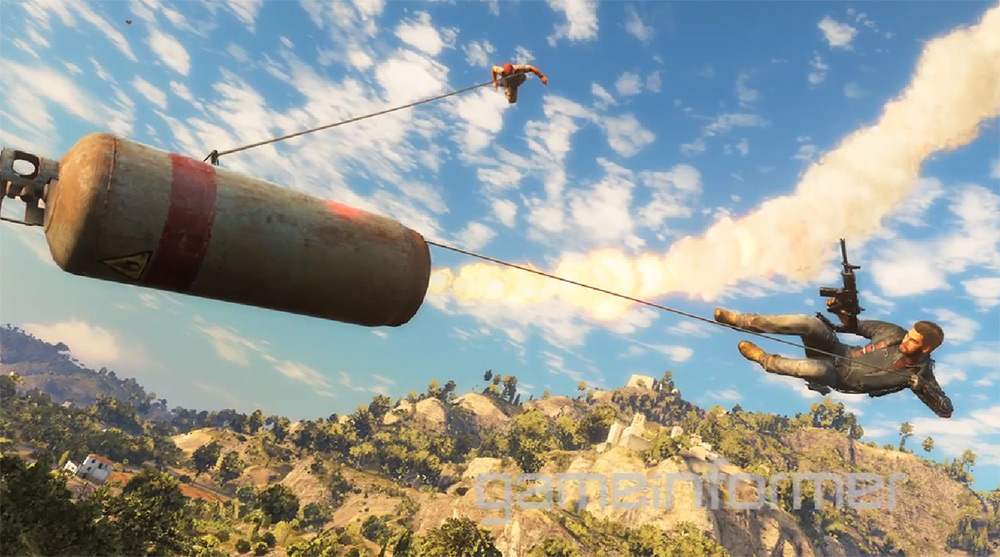 Yup, that looks like Just Cause alright. Source: Game Informer
Avalanche did say that after launch it may look at DLC packs or extra items and costumes, but that it would only begin work on those after the game had been released.
"We can't wait to see your reactions to what we've created. Just Cause 3 truly represents the next generation of chaotic sandbox fun," concluded co-founder and chief creative officer at Avalanche, Christofer Sundberg.
As for the game itself, thanks to its newly created Steam Page, we also know a few details. It takes place on the island of Medici, which has a new brutal dictator for you to mess with. You'll be playing Rico Rodriguez once again, with over 400 square miles of room to fly, shoot and grappling hook your way around in.
New additions include a wingsuit, for more personal flights, extra vehicles and weapons, added online community features and plenty of challenge missions to test your skills in.
Discuss on our Facebook page, HERE.
KitGuru Says: As  a heads up, Just Cause 2 is 80 per cent off right now, so if you never picked up the classic sandbox shooter, now's a good chance to do it and get a taste of what JC3 will be like.
[Thanks
AGB
]