Update: The confirmation has come through. Philae has successfully separated from the Rosetta Probe "flawlessly" and now begins its multiple hour descent. This is quite an emotional moment for the Probe's crew back here on Earth, as Philae and Rosetta have travelled through space inseparably for over 10 years and now begin the next stage of their journeys alone.
Original Story: Just two days ago we learned the news that the Rosetta probe, currently in orbit around a comet named 67P hundreds of millions of miles away, was readying to separate its lander Philae. It was initially thought that by now we'd have the lander portion of the space craft on the surface of 67P, but a problem with the lander's thrusters (designed to prevent it bouncing off of the surface) caused a slight delay. However the European Space Agency has given it the go ahead to land anyway, using just the harpoons and feet screws to secure it in place.
At the time of writing, the Rosetta team is waiting on confirmation that the probe has released the lander and that the descent has begun. The signal of any movements made or steps taken by Rosetta can take up to half an hour to reach us, so we're just playing the waiting game right now.
You can watch the live steam of it here.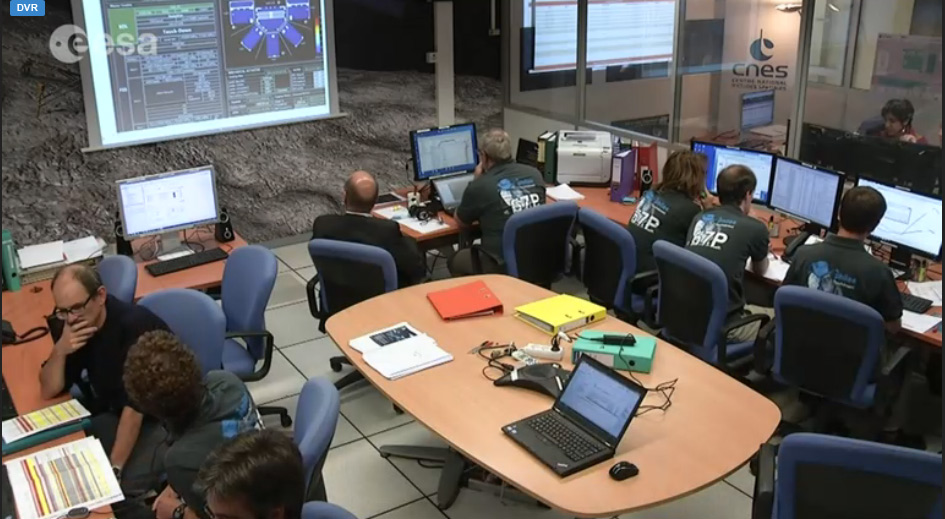 The ESA's team is quiet, but clearly confident while they wait for confirmation
Beyond the separation, there is the descent stage to consider, which once begun will take around seven hours to complete. Confirmation of a landing on 67P will hopefully appear around 4PM this afternoon. From there, Philae can begin taking pictures and studying the structure of a comet for the first time, hopefully giving us a unique insight into how parts of our solar system were formed, potentially even giving us a hint of how planets are seeded with life.
Discuss on our Facebook page, HERE.
KitGuru Says: Congratulations to the ESA team and fingers crossed for the next steps.