Ubisoft has announced that it's going to launch a graduate program which will see as many as 25 different university graduates given full paying positions at Ubisoft developers, to not only give them a leg up in the industry, but also to help the publisher secure the best and brightest video game developers of the next-generation.
If you're sat in one country or another and thinking you won't be applicable though, don't fret, as there's actually a large number this scheme is available in. If you're a resident of: the UK, USA, Romania, Sweden, France, Germany, Finland or Canada, you're in with a chance. There are however two specific jobs that Ubisoft is looking to fill: programming and producing.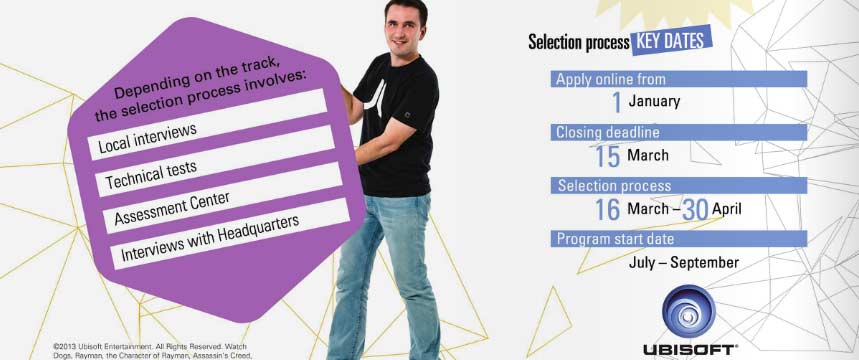 You'll be trained though right from the get go, while receiving full pay and from then on you'll get career support from the company's "buddy," system that will see you monitored and taught throughout your two year tenure.
"The Ubisoft Graduate program is a two-year custom-made experience designed to accelerate access to a career in videogames. We give our graduates responsibilities within specific projects that we know will help them learn faster," said project manager Clémence Bataille.
"Our goal is that graduates accumulate four years of experience in the space of two years. At the end of the program, they will be armed with considerable knowledge of the videogames sector and the company, and will be able to take on the challenges of new and exciting responsibilities within Ubisoft."
If you want to apply to the scheme, you have until 15th March to do so. Put in your application here. If you passed the first stage, you'll hear from Ubisoft by 30th April at the latest, with the job beginning sometime between July and September if you make it through the follow up stages.
Kitguru Says: I know a few people that left uni a while ago who would have dived at this if they'd just graduated, but now they're all settled in other careers. What about you guys though? Any of you think you have what it takes to get a gig with Ubisoft?
[Thanks
GamesIndustry
]