Rivet Networks' Killer series has forged a niche in the networking market, aimed at gamers that want to obtain better performance with faster networking. The latest addition to the Rivet Networks product line is the Killer E3100 Ethernet controller.
Rivet Networks has introduced many technologies over the last few years, with the aim to enhance in-game experiences. Now the company has released an updated version of its Killer E3000 Ethernet controller – dubbed the Killer E3100. The controller is able to perform at a speed of 2.5 Gbps and Rivet Networks says that "The E3100 introduces Extreme Gaming Mode which automatically detects when the network is congested and optimizes the PC's traffic accordingly to maintain a great gaming experience."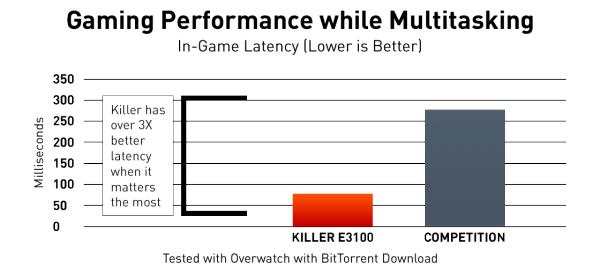 Image credit: RivetNetworks
Rivet Networks goes on to promise "Amazing Speed" and that "Gamers can expect up over 3X better in-game latency performance during peak network usage periods". It's difficult to miss that Rivet Networks is trying to communicate that the product is a must-have for any serious gamer.
The Ethernet controller will be released in three variants – the E3100, E3100G, and E3100X. The controllers will appear in pre-built gaming systems and on motherboards. According to betanews, Rivet Networks "specifically names MSI and Acer as partners" for its upcoming product.
KitGuru Says: Have you used any of Rivet Networks' products? If so, what is your impression so far?