Does your broadband operate at anything close to the speed stated by your ISP? According to a new report, as many as three quarters of households in the UK are faced with internet download rates that are slower than the one advertised by their provider for their particular package. Worse yet, almost none of those affected are qualified to leave their contracts early as part of new OfCom legislation.
Areas that suffer the most under the current regime are those in rural and less built up areas, where as many as 98 per cent of households did not receive the advertised broadband speed. Often, due to their location, they even paid more for the privilege too. However things aren't much better, with just 31 per cent of homes receiving the promised download rate.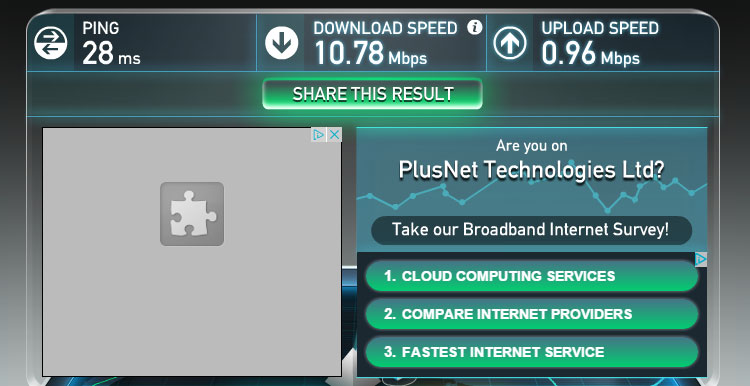 This is the best I can do around here. There's fibre everywhere but at my local exchange. Go figure. 
Despite that though, only around two million people would be able to switch provider and cancel their contract, according to the Which? data (via the Telegraph). The reason they are able to leave early, is because not only does their broadband speed not reach the heady heights of the "up to X" advertised speed, but because their download rate is lower than the average lowest 10 per cent of households on that package.
That is just one of several rates that broadband providers must quote customers when they sign up to a package. What is the advertised speed, what their likely speed is and what their minimum guaranteed speed is. It's only if it falls below that latter mark, that customers are legally allowed to switch before the end of their contract.
Richard Lloyd, executive director of Which?, said: "It's not good enough that millions of homes are so poorly served by their broadband provider with speeds that just don't live up to what was advertised."
Discuss on our Facebook page, HERE.
KitGuru Says: If you have a particularly low download rate and want to shop around to see what is more competitive, find out from your ISP what your "guaranteed minimum," speed is. If your download rate is less than that, you may just be able to change provider. OR at least bully your current one in to making some upgrades.