Mike Chen, Managing Director of Synology UK, kicked off the annual Synology event with a bit of history. Synology was founded in 2000 and created its first NAS in 2004, which means that Synology 2015 (yes, held in September 2014) heralds the tenth anniversary of the first Synology NAS.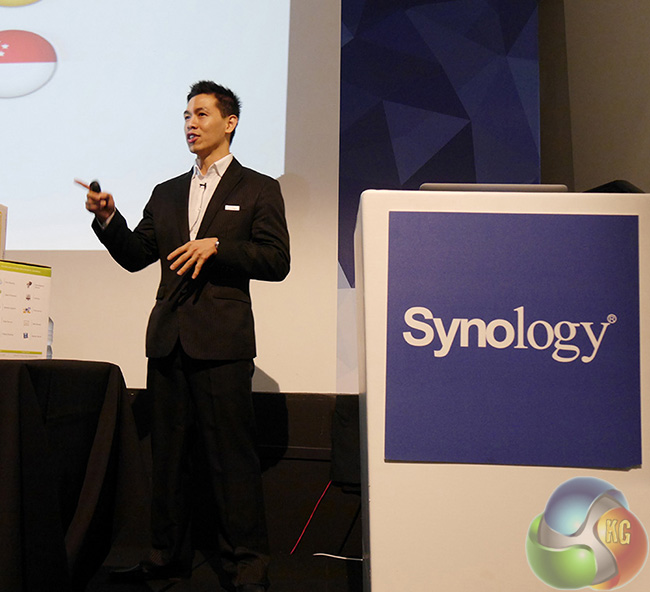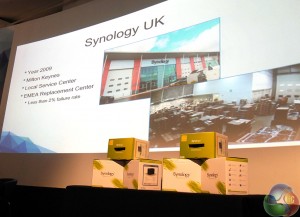 In other news, Synology's UK office has now been open for five years and as the UK staff continues to expand you can rest assured that queries and support calls will be handled here in the UK.
Mike Chen also said that the headline failure rate for Synology is two percent however when the NAS are inspected after return they find half the units are not actually faulty.


Do please accept my apologies for the quality of the photos however Synology deemed KitGuru to be VIP guests. This meant we were placed right at the front of the seating and had to look up at the screen at an uncomfortable angle.
Billy Knowles, Sales Manager of the Nordic region took over from Mike Chen to talk turkey about new consumer products.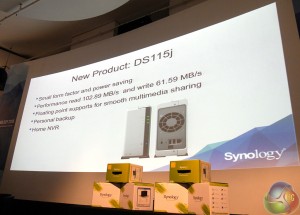 The budget DS115j was launched recently but for some reason only merited ten seconds of the presentation.
https://www.synology.com/en-global/products/DS115j
This is a crying shame as this single disc NAS is amazingly cheap by the standards of Synology products. The price mentioned was £78 however this is surely plus VAT as you can find DS115j on sale at £78.99 at Dabs.
Mike Chen assured KitGuru the low price is a combination of economies of scale and a determination to sell a mass market NAS.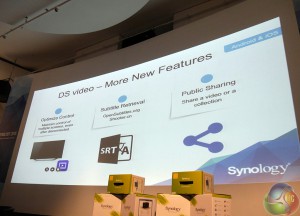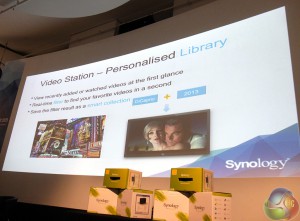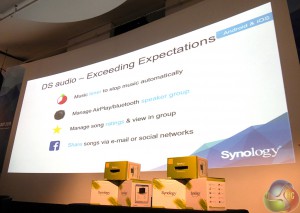 The main focus for Billy Knowles was 'a new DSM' which sounded odd when you consider that DSM 5 was introduced as recently as March 2014 so it is surely way too soon to even think about DSM 6.
The explanation is that the new DSM is a point release, DSM 5.1. When is it coming?
"… very soon" says Joanne Plummer, Marketing Manager UK, Ireland and Scandinavia.
To accompany DSM 5.1 there are updates to some significant pieces of Synology software.
Video Station gains a smart filter, Audio Station has improved search and Photo Station has improved tagging, In addition Photo Station gains a sharing function that bears a passing resemblance to Dropbox where you can email a link to share photos with friends and family.
In a long overdue move Synology is now working to ensure that Android and iOS apps such as DS video and DS audio will have the same features and functionality.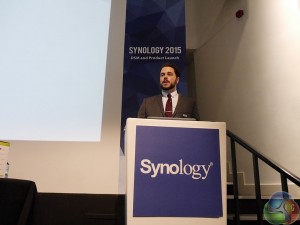 Stefan Ferrari, UK Sales Manager for Synology, took over at the lectern.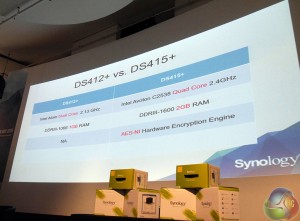 His first announcement was that the new DS415+ would replace the aged DS412+ at the price of £450 despite an improvement in the specification where the RAM is doubled to 2GB and the CPU moves to a quad core design.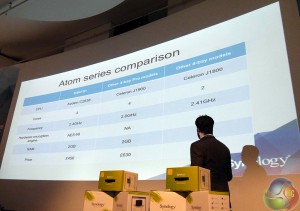 The choice of quad core Intel Avoton Atom is interesting, partly because four cores are better than two, but also because the Atom includes a Hardware Encryption Engine that reduces the CPU workload. The none-too-subtle message is that lesser NAS powered by a Celeron aren't up to the same standard as DS415+.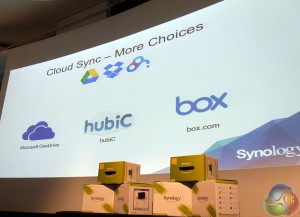 DSM 5.0 was introduced with Cloud Sync and a choice of three cloud providers – Google Drive, Dropbox and Baidu Cloud. DSM 5.1 adds three new providers – Microsoft OneDrive, hubiC and box.com.

We were a distance into Ferrari's presentation before the subject of security raised its head. This was quite a surprise when you consider that SynoLocker was a nasty piece of malware that specifically targeted the data stored on Synology NAS.
Synology's position is that the problem was actually fixed six months before it became critical so the root issue is to ensure that Synology customers update their software in a timely manner.
This is where Synology Security Advisor comes in, looking like pretty much every anti-malware package you have ever seen.
Synology has created their own custom web plug-in to replace Java called Synology Surveillance Plug-in. My notes say this new plug-in has been created for speed, security and efficiency so it seems reasonable to group it next to Security Advisor.
The new Security Advisor app includes a mandatory two step verification for admins which sounds interesting but we cannot really comment until we have tried it out in the real world.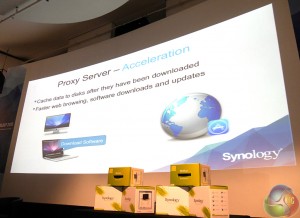 Professional users of NAS will be interested to learn that Synology has introduced a Proxy Server where downloaded files are cached. This means other people on the network can download the same files much more quickly as the files will come directly from the NAS, rather than the Internet.


Synology is ready for IPv6, even though the UK is currently stuck using IPv4.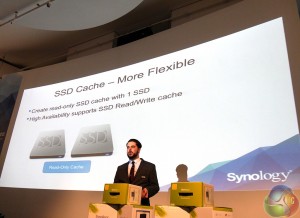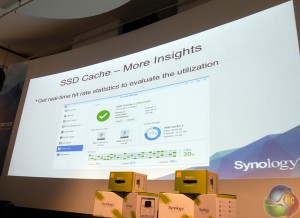 Professional users looking for extra NAS performance may well choose to replace a storage drive bay or two with SSD for cache duties.
The caching process has been revised so you can use a single SSD as a read-only cache and Synology has brought out a piece of software called SSD cache advisor. As the name suggest this is a guide for SSD capacity based on application usage
One final goodie that caught the KitGuru eye was mention of the way that Link Aggregation can be used. We know about gaining extra performance through the use of multiple network ports but DSM5.1 also gives the option of dedicating a network port to a specific task or application.
Discuss on our Facebook page, over HERE.