Over the last few weeks of September, we have been running a huge competition for our readers, offering up the chance to win an MSI RTX 2080Ti Gaming X Trio. Many of you seemed very keen on this one, with a ton of entries hitting our inbox. Unfortunately, there can only be one winner, who we are going to announce now.
The MSI RTX 2080Ti Gaming X Trio normally sells for around £1,200, so it is an expensive beast of a GPU with boost speeds of 1,755MHz. We have praised the Gaming X Trio cooler in the past for its performance too, so we are confident that the winner will be very happy with this card.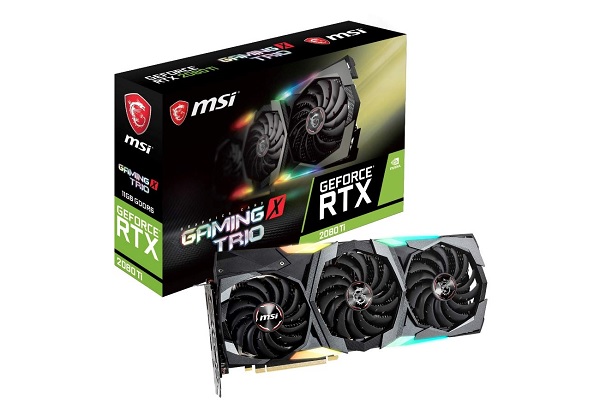 To enter this competition, all you needed to do was send in an email telling us how many DisplayPort 1.4 connections this graphics card has. The majority of you got this right, so congrats on that front.
Now without further ado, our winner this time around is… Justin McAvoy! We are getting in touch with Justin immediately to get prize shipping sorted, so it should be sent out asap.
KitGuru Says: Thanks to everyone who entered this one. If you missed out this time around, then keep an eye out as we usually have another competition just around the corner. Currently, we are giving away a Gigabyte Aero 15 gaming laptop as part of our annual reader survey, if that interests you, then you can find all of the details HERE.