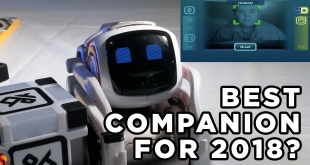 Cozmo by Anki is a supercomputer on wheels. A unique robot whose core is filled to the brim with addictive games, tricks, plots & plans with the ability to learn from his actions and surroundings. This AI-driven droid takes a bold leap towards blurring the line between human and machine, using his expansive personality to truly keep you entertained.
Watch via our VIMEO Channel (Below) or over on YouTube HERE
Package Contents:
1* Cozmo robot
1* Charger dock
3* Interactive cubes
Cozmo app is required. Available on iOS, Android and Fire OS
Product Packaging inc. accessories: 18.5 x 21 x 13.5cm, 1.4kg
Includes a 1 year limited warranty
Product highlights:
Three built in games (Quick Tap, Keepaway and Memory Match).

Tricks and songs that are unlocked through playing with Cozmo.

Loudspeaker for sound effects and speech.

128 x 64 display for emotions, text, images etc.

Programmable with in-app code blocks or advanced Python-based SDK.

Approx 90 minutes playtime / 30 minutes charge cycle (depending on USB supply).

Interactive cubes can have batteries replaced.
Pros:
AI actively explores and evolves based on environment and interaction.

Expansive range of emotions with the ability to recognise human expressions.

Isolated WiFi network means that audio/video is kept between you and Cozmo.

Adorable.
Cons:
No microphone for voice recognition (Possible with SDK, see Dev Forum on Anki website).

Limited battery life if playing extensively.

Fragile near the edge of tables, especially those without straight edges.

Lack of waterproofing and awkward surfaces (deep carpet, sand etc) cause traction trouble.
KitGuru says: The Anki Cozmo is a great gadget for those interested in AI and programming, for ever evolving fun and companionship that is second to none.