Are you struggling to fund a new Z97 system? Take heart, because KitGuru may just have the answer today! We have teamed up with partners ASUS and SEASONIC to give away the guts of a new system build for 2014. Asus are handing over one of their Sabertooth Z97 Mark 1 motherboards along with a brand new GTX 760 Direct CU II OC graphics card. To help power the new system Seasonic kindly offered one of their stunning Platinum 860 Watt power supplies.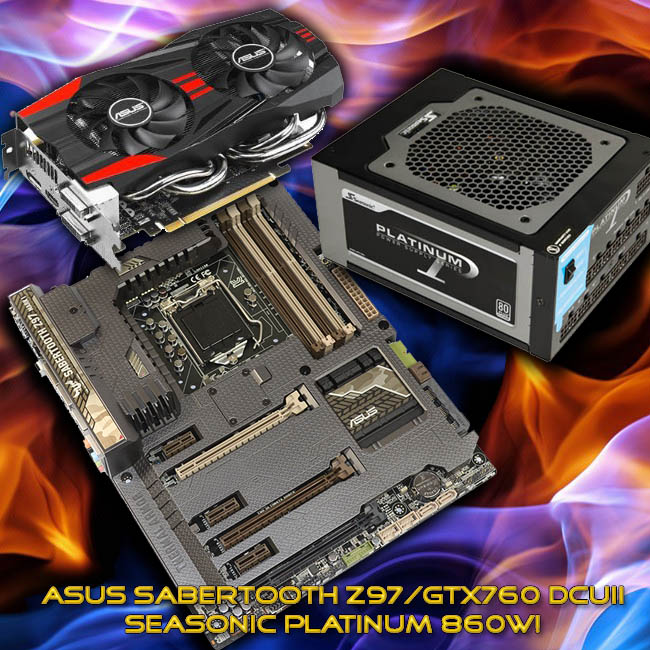 Intel launched their new Z97 chipset earlier this week, and KitGuru was on hand to review several motherboards from leading partners. The ASUS Sabertooth Z97 Mark 1 won our highest 'MUST HAVE' award – impressing hardware guru Luke Hill.
Ok, enough already, how do I enter?

To stand a chance of winning all the hardware, just answer this question.
What do Asus call the 'cover' on their Sabertooth Z97 motherboard? (click HERE for help)
1: Cozy tea cover
2: Thermal Armor
3: Plastic dress
Rules on entering (please read!)

Email Kitguru your answer (1, 2 or 3)  along with your full address and telephone number in the main email text. A link to your Facebook page is also required. If the auto fill link doesn't work – email [email protected] with subject line 'ASUS/Seasonic May 2014 competition'.
Why this information?
We ask for your physical shipping address to help reduce the entries from people using multiple email addresses. Your Facebook page link is required to verify you as a real person.
This competition is open to residents Worldwide.
The competition will close 00.00 GMT 31st May 2014 and the winner will be announced by the 8th of June 2014. Please note that KitGuru may use your email address for future mailing lists. You can unsubscribe from these emails at any time. We do not give your email address to any third parties, we value your privacy. Please note that multiple entries with the same shipping address will be blacklisted.
Do not email other Kitguru addresses, or send private messages via Facebook – they will be ignored and your entry will be invalid. Kitguru staff may not enter. Our decision is final. By emailing an entry you are agreeing to the terms of the competition.
Comments are closed. This is an email entry only competition.