Since KitGuru's HQ is firmly nestled in the UK, our readers across the pond do get the short end of the stick sometimes when it comes to competition prizes. But not today friends, as we've teamed up with 4GamerGear to offer our US readers the chance to win a bunch of great gaming kit.
Yes, that's all you're going to need to do in order to be in with a chance of winning one of three great prize packs. What are they you ask?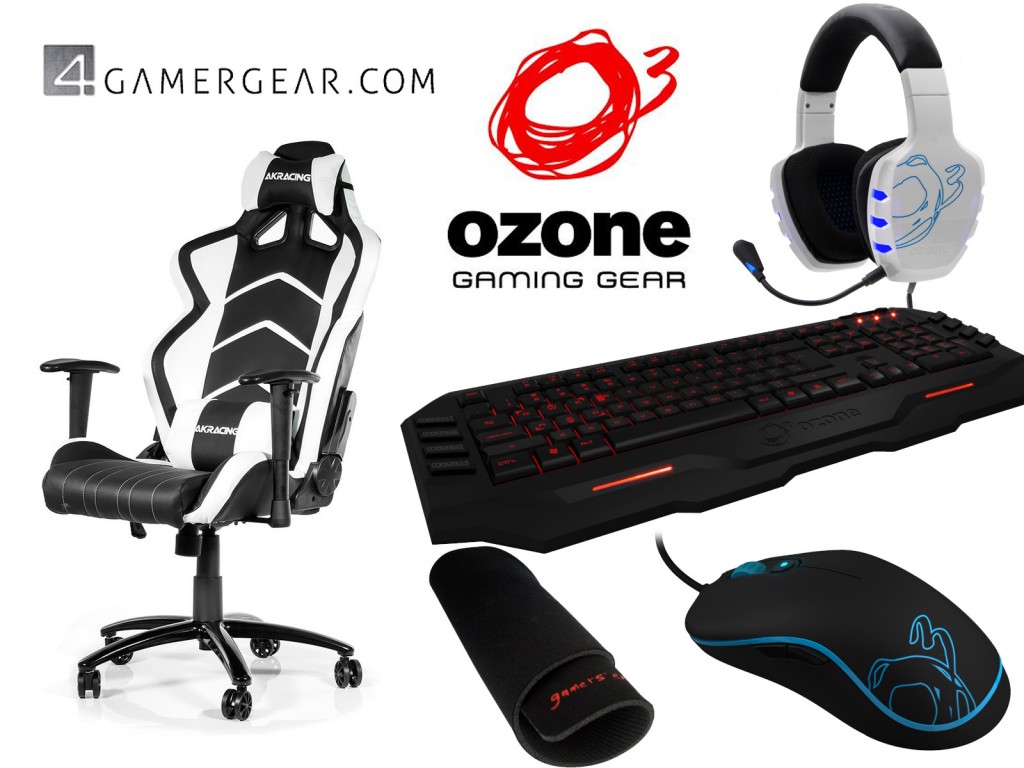 Prize Pack One: AK Racing Gaming Chair worth over $400!
The AKRacing Ak-60 gaming chair comes in black and white and features adjustable tilt, height and back, with added lumbar support and a headrest pillow guaranteeing that while your friends are limping off to stretch out their aching backs, you'll still be gaming away, content as can be.
Price Pack Two: Ozone Rage 7HX 7.1 surround sound headset and Ozone Blade programmable keyboard.
If you can't sit like a king, you can game like one with the pairing of Ozone's surround sound gaming headset and its highly-programmable membrane keyboard. Customise your gaming experience with fancy LED backlighting and multiple profile set ups, letting you make your gaming experience just how you like it.
Prize Pack Three: Ozone Neon laser gaming mouse and Ground Level mouse mat.
Gaming at high speed requires a high speed gaming mouse, which is exactly what the Neon is. Fitted with a laser gaming sensor that can hit 6400 DPI and unbranded teflon meet, this is a fast and precise gaming mouse, with on the fly DPI switching capabilities and adjustable LED lighting. When combined with a high level cloth gaming mat like the Ground Level, it's a winning combination.
Rules
Send us an acknowledgement of your interest by emailing KitGuru (competitions2015(at)KitGuru.net with subject line 'I want the 4GamerGear prizes!').
Include a URL link to your Facebook page in the email so we can verify you are a real person and not a bot. Prizes can only be shipped direct to American and Canadian addresses. Please include your address in the entry email so we can ship immediately if you win. Your details are only shared

if you win

with 4GamerGear, who ship the prizes.
Winners will be chosen randomly from the final pool of entrants.
The competition will be open until 20th April 2015. Winners will be announced by 30th April 2015.
Please note that KitGuru will use your email address for our own mailing lists. You can unsubscribe from these emails at any time. We do not give your email address to any third parties, we value your privacy. Please note that multiple entries with the same shipping address will be blacklisted. Do not email other KitGuru addresses, or send private messages via Facebook – they will be ignored and your entry will be invalid.
If you'd like to see more from KitGuru or 4GamerGear, you can visit us both on Facebook.
Discuss on our Facebook page, over HERE.

KitGuru Says: Any gamers with lower back issues? This might be a good one to throw your name in for. That lumbar support looks lovely.