If you're a regular reader here at KitGuru, then you know that one of our favourite things to do is put some of the world's best hardware up for grabs for those willing to perform some simple task. Well today is no different, as we've teamed up with the fine folks over at be quiet! to offer their latest range of Straight Power 10 power supplies for you to win. All you have to do is answer one of those oh-so-simple questions.
Think you're up to the task? Then read on.
First things first though. What's actually up for grabs?
Even we don't know what's in the surprise package, so we're actually quite keen to find out when this competition comes to an end.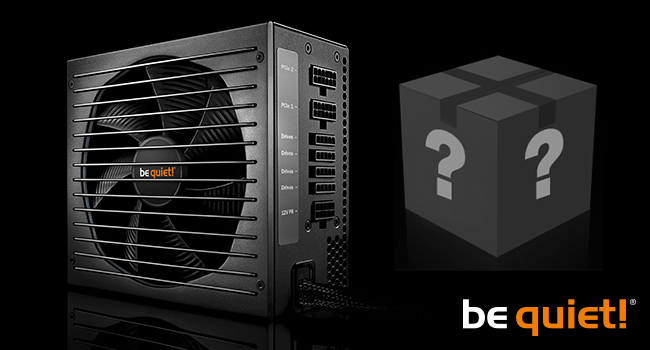 However for that to happen, you'll need to answer the question correctly and be randomly selected from the potential winners.
How to enter (please read properly!)
How long are the sleeved cables (up to) used by the Straight Power 10 range (cm)?
a: 40cm
b: 80cm
c: 115cm
You can like both of these pages.
KitGuru Facebook
be quiet! Facebook

If you need some help with the tricky question, take a look at the Straight Power 10 product page.
Email Kitguru the answer to the question (a,b or c), along with your full address and telephone number in the main email text. Please also include a URL link to your Facebook page in the email so we can verify you are a real person.
This competition is open to residents Worldwide.
Competition will end 1st October 2014 and the winners will be announced by the 7th of October 2014. Please note that KitGuru will use your email address for future mailing lists. You can unsubscribe from these emails at any time. We do not give your email address to any third parties, we value your privacy. Please note that multiple entries with the same shipping address will be blacklisted. Do not email other Kitguru addresses, or send private messages via Facebook – they will be ignored and your entry will be invalid.
Comments are closed. This is an email entry only competition.
KitGuru Says: Good luck everyone. Do let us know what's in that mysterious package when you end up with it.