Sapphire Technology has arranged a fantastic competition – to give away a complete AMD based gaming PC, custom watercooled by KitGuru TV's Leo Waldock. And we mean complete. You get the PC tower, AOC Freesync display, mouse, keyboard and headset. Heck, you even get a mouse mat!
See the system in action over on our VIMEO Channel (Below) or over on YouTube at 2160p HERE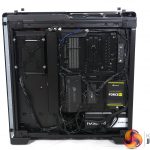 The Sapphire Nitro+ Radeon RX 470 has a fistful of interesting features:
The Dual BIOS switch allows you to chose either Quiet mode (1206MHz) or Boost mode (1260MHz).
The Dual-X cooling system employs two 95mm dual bearing fans that are significantly more quiet than the previous generation.
Sapphire Fan Quick Connect allows the owner to remove the fans for cleaning without the need to dismantle the cooling shroud.
Intelligent Fan Control III turns off the fans when the graphics card is not under load.
Black Diamond Chokes Mk 4 reduces coil temperatures by 15 percent over the previous design.
Nitro Glow RGB LED changes the colour of the LEDs on the fan shroud and can be controlled with TriXX software.
You can read our review on the Sapphire RX470 from last year HERE.
The idea, as you will see in our video is that Sapphire wanted to prove that RX 470 graphics can power modern games at 1080p resolution. As a loyal AMD partner they sent us an AMD FX-6350 CPU, a suitable ASRock motherboard and a whole bunch of Corsair hardware along with the AOC monitor.
This increased the price uncomfortably high for what was planned as a budget/lower mid range gaming PC so we decided to double down and install a custom cooling loop on the AMD CPU. Why not just go the full monty?
Leo reached into his stock of Alphacool hardware and, even though we say it ourselves, the result looks pretty darned good with Mayhems Pastel red coolant flowing through its digital veins.
Here's the breakdown of the parts and prices:
£175 Sapphire Nitro Radeon RX 470 4GB graphics card
£155 AMD FX-6350 with Wraith cooler
£120 ASRock Fatal1ty 990FX Killer motherboard
£120 Corsair Vengeance 32GB DDR3-2400MHz
£90 Corsair 240GB Force LE SSD
£185 Corsair Crystal 570X case
£130 Corsair RM750i power supply
£49 3x Corsair SP120 RGB fans
£70 fan controller Corsair Commander Mini
£10 Windows 10 license.
Sub-total £1,100 on PC components
£50 Alphacool NexXxoS XP3 CPU block
£90 Alphacool Eisbecher DDC 150mm pump/reservoir
£45 Alphacool NexXxoS 240mm ST30 X-Flow radiator
£50 Alphacool fittings and tubing
£12 Mayhems Pastel red coolant
Sub-total £250 for cooling components
£80 Corsair K55 RGB keyboard
£25 Corsair Harpoon RGB mouse
£20 Corsair MM200 mouse mat
£65 Corsair Void Surround headset
£110 AOC G2260VWQ6 21.5-inch FreeSync display
Sub-total £300 on peripherals
Grand total £1,650
Some performance results!
Perhaps the most surprising thing about this PC is that the combination of AMD FX processor and Radeon RX 470 graphics delivers results that are very similar to the Razer Blade laptop we recently reviewed with an Intel quad core CPU and GTX 1060 graphics. There is plenty of room for upgrades too at a later date.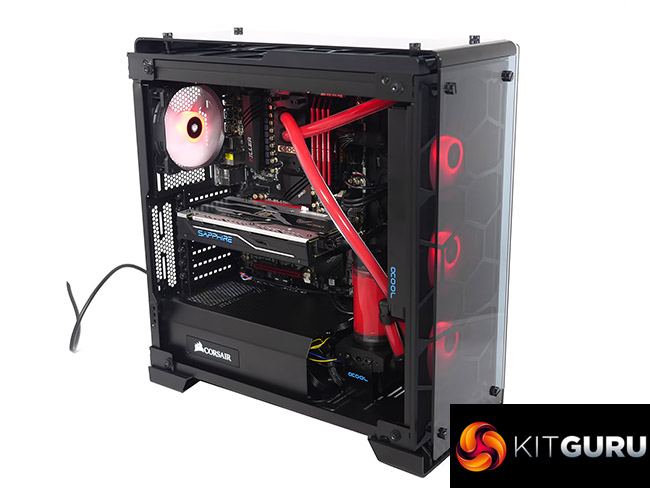 This is an impressive prize that is guaranteed to make one KitGuru reader very happy.
In the video above, our guy Leo says that the system is only open to those people who live in Europe – however we managed to get it open WORLDWIDE and we cover the shipping costs. We do however have to clearly state for those who live outside the European Union that local customs and import duties are entirely the responsibility of the winner.
To be in with a chance of winning – simply head to this LINK on our Facebook page and tell us why we should pick you. No need to give us a sob story – try and be entertaining if you can. Reading a list of personal tragedies can end up really depressing for everyone.
We pick a winner on 28th February 2017. The decision is final.
Kitguru says: Fancy a new system to start the year, free of charge? Be sure to enter this one over on our Facebook page