We have had a lot of competitions running in the last month and today Gigabyte join the giveaway madness by offering up motherboards, coolers, pen drives and headsets! These prizes are open to residents in Europe.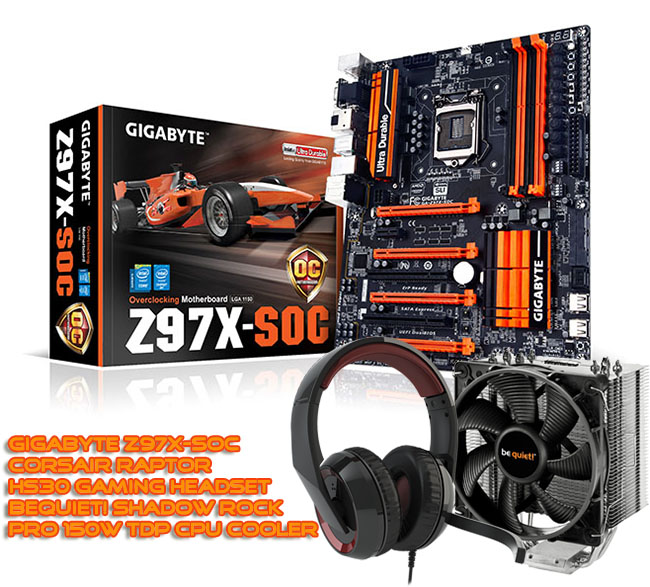 The 1st Prize is a

Gigabyte Z97X-SOC Motherboard

,

Corsair Raptor HS30 Gaming Headset

and

bequiet! Shadow Rock Pro 150W TDP CPU Cooler.

Gigabyte are also offering two runner up prizes as well!

2 runner-up prizes:
1x Corsair Raptor HS30 gaming headset + GIGABYTE USB pendrive 16GB
1x be quiet! Shadow Rock Pro 150W TDP CPU cooler + GIGABYTE USB pendrive 16GB
Ok, enough already, how do I enter?

To stand a chance of winning all the hardware, just answer this question.
GIGABYTE OC Touch is:
a) feature to enable touching CPU socket to feel the unique 15μm layer of gold without damaging the sensitive socket pins.
b) a set of hardware overclocking buttons which can be found on new 9-series OC motherboards.
c) locating the right and left audio channels on separate PCB layers to eliminate channel crosstalk and maintain the best audio quality.
Do you need help getting the answer? check out this page.
Rules on entering (please read!)
Email Kitguru your answer (1, 2 or 3)  along with your full address and telephone number in the main email text. A link to your Facebook page is also required. If the auto fill link doesn't work – email [email protected] with subject line 'GIGABYTE Z97X-SOC GIVEAWAY!'.
Why this information?
We ask for your physical shipping address to help reduce the entries from the same person using multiple email addresses. Your Facebook page link is required to verify you as a real person.
This competition is open to residents in Europe. Kitguru Ltd & Gigabyte staff may not enter.
The competition will close 00.00 GMT 30th June 2014 and the winner will be announced by the 8th of July 2014. Please note that KitGuru may use your email address for future mailing lists. You can unsubscribe from these emails at any time. We do not give your email address to any third parties, we value your privacy. Please note that multiple entries with the same shipping address will be blacklisted.
Do not email other Kitguru addresses, or send private messages via Facebook – they will be ignored and your entry will be invalid. Kitguru staff may not enter. Our decision is final. By emailing an entry you are agreeing to the terms of the competition.
Comments are closed. This is an email entry only competition.