It wasn't too long ago that having a smart mobile phone was classed as a luxury – these days almost every new device you can think of has some kind of smart capability. Although these devices are extremely clever, they require a well-designed app or piece of software for them to function as intended.
LG Electronics offers a huge range of smart devices now. Home appliances are the latest products to feature smart integration and LG has introduced a new app to control them remotely. The LG ThinQ app presents users with an enriching smart home experience that provides more seamless control over LG smart home appliances while expanding its services to over 150 countries.
The LG ThinQ app delivers the most convenient way to connect users to their LG smart appliances by leveraging Google Assistant voice recognition technology. Originally named SmartThinQ, the LG smart appliance app is the first of its kind for smart home appliance control via voice recognition. In addition, the LG ThinQ app's advanced AI provides customers with personalised support in the form of Proactive Customer Care, which informs users of potential errors even before they occur.
LG smart appliance customers can connect devices with their Amazon accounts to enable features such as automatic reordering and delivery with Amazon Dash Replenishment. Frequently used supplies can be pre-selected to be automatically delivered to the user's door when they are running low.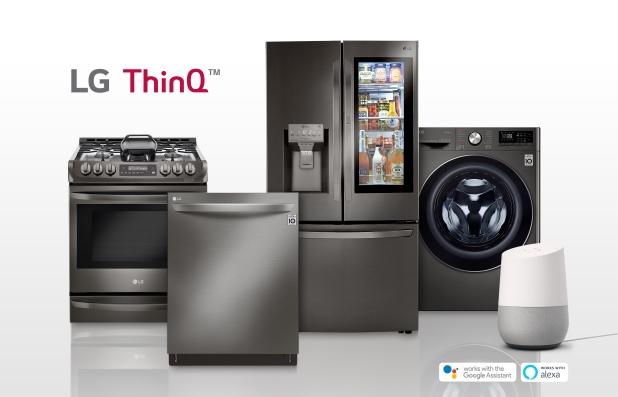 The ThinQ app can also offer users personalisation of smart appliances with features such as Smart Care and Smart Pairing. For example, an LG smart refrigerator can use Smart Care to analyse usage patterns to lower energy costs and keep food fresh for longer, by automatically adjusting the ideal temperature and entering power-saving mode when required.
With Smart Pairing, LG's smart tumble dryers and washing machines can connect with each other wirelessly to automatically configure an optimal drying cycle based on the current washing cycle. LG claims that with these innovations, customers never need to worry about ruining clothes ever again.
"LG ThinQ is a perfect example of our vision to deliver a more convenient smart home experience without the steep learning curve that advanced products often demands," said Ryu Hye-jung, executive director of LG's Smart Home Business. "LG has always been about putting the user first, not the technology, and the evolution of our smart home ecosystem clearly demonstrates this commitment."
Discuss on our Facebook page HERE.
KitGuru says: I doubt I'll ever become dependant on smart devices so much that I'll need the device to choose how long my clothes will take to dry. However, I can see the benefit of energy-efficient smart refrigerators, especially if they can save us a few quid. What smart home appliance have you guys got and do you think they offer anything over 'dumb' appliances in real-world environments?