Tencent Cloud announced it has chosen 2nd generation EPYC Rome processors for its first self-designed "Star Lake" cloud server. The company claims the decision to use AMD EPYC Rome processors will propel overall instance performance by 35%.
AMD is increasing its EPYC Cloud momentum globally after Tencent Cloud announced it will be using 2nd generation AMD EPYC Rome processors in its new "Star Lake" server platform, during the Tencent Global Digital Ecosystem Conference.
The partnership with Tencent means another design win for AMD after Microsoft announced recently that it will be expanding its partnership with AMD in its new Azure Cloud systems, powered by AMD EPYC Rome processors. Microsoft's cloud rivals Amazon and Google have also announced support for AMD processors based on the 7nm node technology.
Tencent recently became the first Chinese company to have more than 1.1 million servers on their network and is said to be one of the fastest-growing companies in the IaaS market. This growth brings new challenges such as improving efficiency and reducing operational cost. Tencent claims to have overcome these challenges since the new server design provides scalable cloud performance and improved energy efficiency.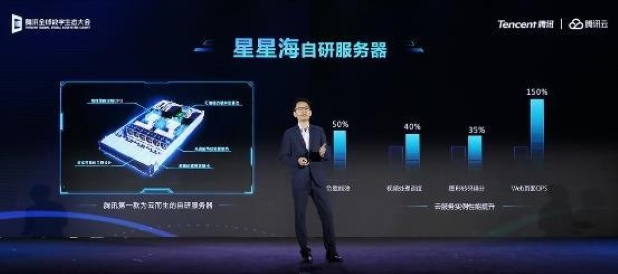 According to a blog post by Suresh Gopalakrishnan, general manager of AMD's cloud business unit, the "Tencent Star Lake platform is designed to optimise cloud computing, storage and network requirements to effectively meet 98% of Tencent cloud application scenarios." In addition, the Star lake design will offer a 35% overall performance increase in cloud-based services.
AMD has not provided any information on which particular EPYC Rome SKU will be used in the new Tencent "Star Lake" server design. However, further information about the Tencent "Star Lake" announcement can be found here.
Discuss on our Facebook page HERE.
KitGuru says: AMD's 7nm process technology is not only taking the desktop computing market by storm, professional markets such as cloud-based systems are slowly making the transition to AMD 7nm via EPYC Rome processors now.