Diver-X, a Japanese company focusing on developing virtual reality devices, announced its first product, the HalfDive BMD (Bed-Mounted-Display). Unlike most VR devices, HalfDive stands out from the crowd by being the first device optimised for in-bed use.
While other VR devices are limited to the optical system they can use due to their "portable" nature, the HalfDive (via TechPowerUp) isn't. This allowed Diver-X to equip it with an optical system featuring 10x aspherical lenses, offering a 134º FOV, a 3200×1440 resolution at 90Hz and variable-function-focus for the high-end model.
The HalfDive's audio system is also different from what we're used to seeing, consisting of 4x speakers covering the user's head. The HalfDive also includes hand and foot controllers to emulate full movement.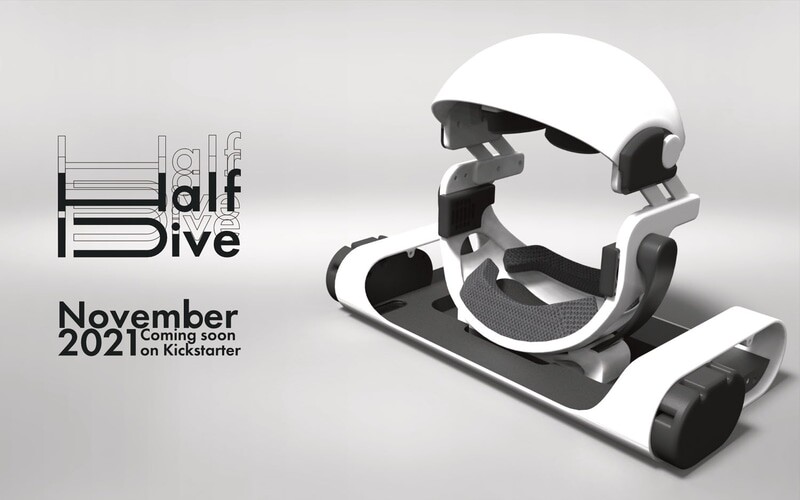 To further amplify the VR experience, Diver-X added a wire-based force feedback system to provide a sense of touch and friction when playing games. The HalfDive VR device also features wind feedback thanks to two fans placed on each side of the headset. Lastly, there's a vibration feedback system for more realistic audio from footsteps, gunshots, and the environment.
The device comes with a DisplayPort 1.2, USB-A 3.0 ports and a 3.5mm audio jack. The Kickstarter campaign is expected to start this November. During the crowdfunding perios, the base model will be available for $800, the full-set for $1200 and the model with variable-function-focus for $4000.
Discuss on our Facebook page, HERE.
KitGuru says: The HalfDive looks interesting and thanks to removing portability from the equation, the specs have been ramped up. Now we'll just have to wait and see if VR enthusiasts take to this idea.