AMD is making a big splash to end 2014 with a new release of its Catalyst driver. Unusually, this driver goes by the name of Omega. As you would expect Omega is driver version 14.12 (2014, December) and if you look in the Control Panel you will see driver version 14.501.0.0.
We are familiar with the UVD (Unified Video Decoder) hardware in a graphics core and AMD Fluid Motion Video smooths Blu-ray playback on lower power APUs that have previously struggled under the load.
Building on the technique of upscaling DVD to Blu-ray quality, Catalyst Omega upscales Blu-ray to 4K resolution. In fairness to AMD this process is described as '4K-like'.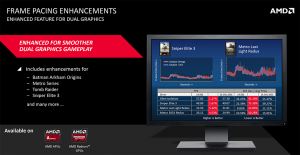 Frame pacing is a complicated issue, as we mention in our video. The idea is that frame pacing smooths out game play but the precise mechanism is hazy. Clearly minimum frame rates cannot be increased without a change to either hardware or game code and AMD is clear this is not an on-the-fly reduction in image quality. Instead the (complicated) graphs from AMD appear to show a modicum of frame buffering and, possibly, a degree of frame rate capping to ensure the frames flow as evenly and smoothly as possibly.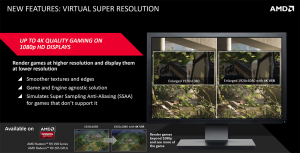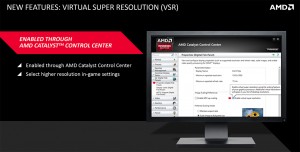 VSR or Virtual Super Resolution gets around the problem of the lowest common denominator. If your PC has the ability to play a game at a high resolution, say 2560,1440 or 4K, however you only have a Full HD display, VSR renders the game at the higher resolution and then displays it on your lower resolution screen. This isa similar process to the way that early versions of Anti Aliasing overcame jaggies and other visual nasties.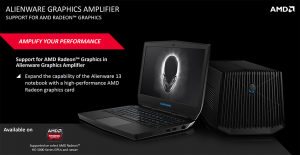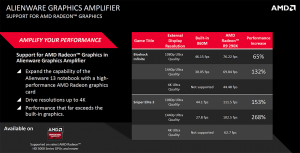 AMD generously used its presentation to give some PR puff to Dell. First we have the Alienware Graphics Amplifier (similar to the MSI Gaming Dock we previewed recently on KitGuru) and then we had the Dell UP2715k 5,120×2,880 display …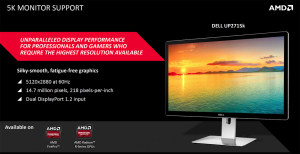 … which means it is 4K with a bit extra on each side. Yours for one cent under US$2,500, this mighty panel requires a pair of DP 1.2 ports to drive it along.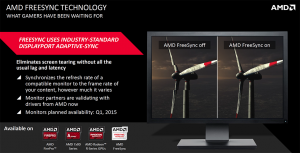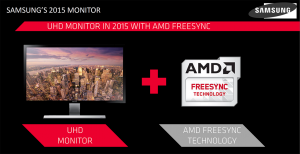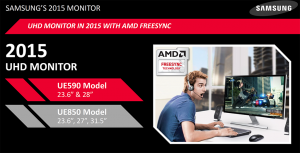 Samsung also got a mention for its new FreeSync displays. The UE590 comes in 23.6-inch and 28-inch while the UE850 is 23.6-inch, 27-inch or 31.5-inch.
Naturally this technology goes head-to-head with Nvidia G-Sync, which rather puts the customer in the middle of yet another battle over standards.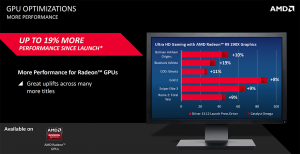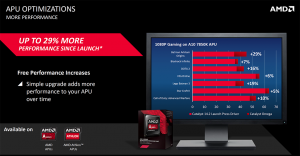 Naturally there are improvements in specific games, which is exactly what we expect from a new driver release. It is interesting to note that GPU improvements, compared to driver 13.12, are typically around ten percent.
APU improvements are more variable and range from a tiny five percent all the way to 30 percent. Interestingly these changes are compared to driver 14.2 which dates from earlier this year.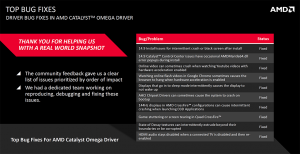 As you'll see in our video, Terry Makedon of AMD was most enthused about bug fixes that result from reports submitted by end users. Some of these bugs – it's early days with this new reporting system – are very specific, such as 144Hz displays having problems in CrossFire while others are vague. Try fixing 'AHCI chipset drivers can sometimes cause the system to crash on boot-up' without further information!
Discuss on our Facebook page, over HERE.