While much attention is currently being placed on the Steam Summer Sale, Valve did have one other launch quietly take place last night. After some extra work and some design changes, Valve has debuted the latest version of its Knuckles VR controllers, alongside a Portal-themed tech demo called 'Portal Moondust'.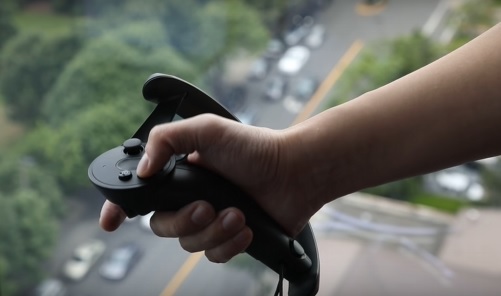 The core idea behind the Knuckles controller was have finger tracking. That still remains, but Valve has added analogue sticks, a smaller touch pad surface and two traditional buttons to the face of the controller. Triggers are present for both hands, but there is also a grip button too, allowing you to physically squeeze the controller, opening up new VR interaction capabilities.
The Knuckles EV2 controllers will be heading out to developers soon and to get to grips with it, Valve has also launched a tech demo. In a similar vein to 'The Lab', Portal Moondust is a short mini-game of sorts, with mechanics designed specifically to show off the new features of this controller and its different input methods.
While a small tech demo might not be the most exciting thing on the surface, Valve is clearly building up to something. The company has previously said that it is working on several major VR titles, and I think we can be fairly confident that the Knuckles controllers will play a huge part in what they are creating on the software side.
KitGuru Says: The new Knuckles EV2 controllers look like a finished product for all intents and purposes. I don't think we'll see any major changes from what is already there, which means a real launch might not be too far off- although I imagine Valve will hold off while software support builds up a bit.