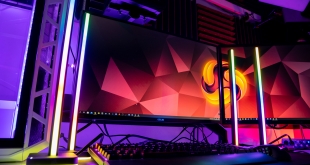 There's a huge divide in the PC gaming community, you either absolutely love RGB and want it on everything from your car under lighting to your toaster or you simply downright hate it. We already know Corsair loves their RGB and they're at it again with the brand new LT100 smart lighting towers – available as a starter kit and expansion kit! Link up to four towers for maximum RGB love.
Watch via our Vimeo channel (below) or over on YouTube at 2160p HERE
Specifications:
Dimensions: 422mm x 95mm x 95mm (without headset attachment)
Power adapter: 5V 180cm long
Micro-USB to USB-A cable included 150cm long
RGB connection cable 150cm long
46 RGB LEDs per tower
Up to 4 towers totalling 184 RGB LEDs
Controller hub base features a button for on/off and pre-set effects changes
Plastic removable headset holder included
2 years warranty
You can buy the Corsair LT100 starter kit, for £129.95, HERE!
You can pre-order the Corsair LT100 expansion kit, for £59.99, HERE!
Pros:
Great build quality
RGB LED quality is excellent
Great diffusion – you can't see the individual LEDs at all
Colour range and vibrancy is very impressive
iCUE software is brilliant and pre-set effects are great
Works without a PC/USB connection with onboard effects
Included headset stand attachment
Cons:
Expensive
Fragile RGB lead connectors
Lots of leads to manage – no wireless option
No USB-C support
KitGuru says: At the end of the day the LT100 smart lighting towers from Corsair are awesome, the quality is great all around and the RGB is brilliantly vibrant and immersive. There's not much to fault here with only a few things that could have made them better. They are certainly not cheap but if you're going for a full RGB setup you really need to check these out.