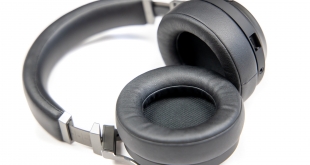 Corsair are known for their high quality, premium, products and peripherals but what happens when they themselves create something that boasts a higher level of performance and quality? The Corsair Virtuoso SE headset is born. Featuring an all-aluminium chassis available in three colour ways, micro-perforation RGB LED underneath the metal itself, synthetic leather ear cups and headband with memory foam, connectivity support for almost any device with looks and build quality a monarch would be proud of. Is the Virtuoso SE worth the high asking price? Let's find out!  
Watch via our Vimeo channel (below) or over on YouTube at 2160p HERE
Specifications:
Three colour ways: White, Carbon (Black) & Gunmetal
USB wired mode with included 1.5m cable
3.5mm jack lead mode with included 1.5m cable
Slipstream wireless mode via included dongle
Works with virtually any device
Custom Neodymium 50mm drivers
7.1 virtual surround sound
Frequency response of 20Hz – 40,000Hz
Impedance of 32Ohms @ 2.5Khz
Sensitivity 109dB to 3dB
Detachable 9.5mm mic
Impedance of 2.0k Ohms
Frequency response of 100Hz – 10,000Hz
Sensitivity of -42dB to 2dB
Dimensions 7cm by 10cm by 19.5cm
Weight of 360g
Synthetic leather
Memory foam
RGB LED logo
iCUE software

You can buy the Virtuoso RGB Wireless SE from Overclockers UK for £169.99 HERE
Pros
Exceptional build quality and attention to detail.
Best looking headset I've ever seen aesthetically.
Detachable microphone.
Multiple ways to connect (USB/Wireless/3.5mm jack).
Superb audio quality in music and games.
iCUE software is easy to use with many options.
Cons
Expensive but you get what you pay for, this is Corsair's flagship device after all.
KitGuru says: This is without a doubt one of the best, if not THE best, headsets available on the market right now. Music performance is exceptional with adjustable EQ via iCUE software. Additionally, in-game performance is stellar and they look great too if you decide to wear them outside. If you are in the market for a luxury, premium quality headset then look no further. The Corsair Virtuoso SE headset is a must have.
Be sure to check out our sponsors store EKWB here