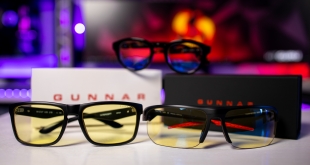 Today we're going to be checking out something I've never seen before. Glasses! Not just any old glasses, these are for people that don't even have prescriptions but if you do then you're also covered! Gunnar glasses boast reduction of digital eye strain for better sleep, preventing dry eyes and more. Are they worth it?
Watch via our Vimeo channel (below) or over on YouTube at 2160p HERE
00:00 Video Start
00:13 Introduction
01:50 Why would you need these?
02:47 The Gunnar glasses and lenses
04:18 Unboxing and frames
06:13 Testing the glasses
07:17 One thing that annoys Andy
07:36 Digital eye strain discussion
08:18 Pricing options and closing thoughts
Specifications:
Reduces digital eye strain
Helps to focus on close up screens
Provides sharper, clearer vision
Anti-reflective lenses – minimise glare
Prevents dry eyes
Greatly reduces blue light – various lenses with different ratings from BLPF 35 – 98
Multiple lens choices
Prescription models available
Multiple frame choices
Gunnar have released a range of glasses suitable for kids, the "Cruz" and "Cruz Kids" range. These do not have "Gunnar Focus" that help you naturally focus on close object with a 0.2 prescription. Instead these have "Gunnar Natural Focus", with no prescription at all, acting as a natural lens whilst still offering blue light protection without hindering young developing eyes.
You can purchase adult (kids versions available too) Gunnar glasses, from Overclockers UK for £44.99 – £99.95, HERE!
Prescription versions can only be purchased from GUNNAR directly (HERE). Users need to provide the prescription to Gunnar letting them know their pupillary distance measurement (which very often isn't on a prescription as standard so check with your optician on this).
Pros:
Completely eradicated our digital eye strain
Many styles of frame to choose from
Great selection of lens choices
Comfortable and great build quality
Lenses are high quality and truly help focusing on screens
Minimises headaches, dry eyes, eye strain, sleeplessness and more
Cons:
Price may put some people off (we think they're worth it)
KitGuru says: After using these for around the 4-5 week mark I can safely say my digital eye strain has completely gone. Gunnar glasses have truly surprised us with being true to their claims and we think everyone should check them out, especially those with sensitive eyes.
Be sure to check out our sponsors store EKWB here