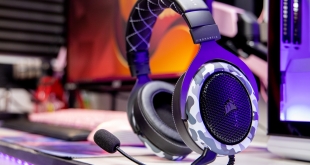 Today we are going to be taking you through Corsair's first gaming headset that features haptic bass, the HS60 Haptic. Can having a physical rumble system in your headset help add to the immersion, or is it plain distracting? With a RRP of £119.99, this certainly isn't a cheap piece of kit, and we are expecting some amazing bass that is going to blow us away as, well as a well balanced sound profile for gaming and other media. Let's jump in.
Specifications:
Audio Driver: Custom 50mm Neodymium
Frequency Response: 20HZ – 20kHZ
Impedance: 32 Ohms @ 1Khz
Sensitivity: 111db (± 3 dB)
Tactile Frequency Response: 15Hz – 85 kHz (± 3 dB)
Tactile Rise Time : 0.008 sec
Tactile Fall Time : 0.085 sec
Mic Type : Unidirectional noise cancelling
Mic Impedance: 2.0k Ohms
Mic Frequency Response: 100Hz – 10kHz
Mic Sensitivity: -40 dB (± 3 dB)
Dimensions: 161mm(L) x 99mm(W) x 207mm(H)
Weight: 420g
Warranty: 2 years
We don't yet have a buy link for the HS60 Haptic, but we have been told the UK MSRP is £119.99.
Discuss on our Facebook page HERE.
Pros
Quality of the materials used.
Detailing (stitching and patterns grills).
Great build quality.
Concealed wiring.
Good on-ear controls.
Non-kink cable.
Comfortable.
Phenomenal and unique experience.
Hugely increases immersion.
Great sound in general and not just a gimmick.
Cons
Camo design won't appeal to everyone.
No LED indicator for the mic and hard to find button.
Tiny rubber microphone port bung could go missing.
Paint feels like it could chip over time.
A little wobbly in terms of up and down motions.
KitGuru says: This headset is a great all-rounder and the design and build quality is excellent. The haptic feedback won't be everyone's cup of tea, but with so many levels of control you are sure to find a comfortable level at least. The HS60 Haptic headset is worth the price tag and we think the haptic feedback isn't just a gimmick, but a great way to add to the immersion while gaming or watching a film.
Be sure to check out our sponsors store EKWB here