To test the ASUS ROG Centurion 7.1 headset, I used it as my daily driver for a couple of weeks so I could fully appreciate both its sound and its comfort. I used it to play games, listen to music and watch a variety of videos.
First, it is worth looking at the bundled software – which appears to be called 'ASUS ROG 7.1'.
ASUS have done well to fit all the settings into one easy-access page – many other manufacturers (particularly ThunderX3 with their TH40 headset) use page after page of settings and everything gets a bit bloated.
Not so with the Centurion's software – from this one page you can select a number of pre-configured profiles (visible in the screenshot above, right), adjust the EQ, control each individual channel's volume and tinker with some added effects like bass boost and compression.
I like this approach. The software covers all the essentials but does not bog you down with endless (and pointless) settings which are often very gimmicky.
The USB control station is also a useful addition – though I do have mixed feelings about it. It is good, though, in that it provides some hardware control – you can use it to control each of the 7 surround sound channels' volume, while it also has some quick-access buttons which can disable surround sound and the amplifier function, too.
Also useful is the ability to enable pre-configured game profiles from the USB station. There are four of these profiles (FPS gunfire, FPS footsteps, RPG and racing), each of which should boost critical details relevant to each game mode – so FPS footsteps should boost the sound of in-game footsteps, for instance.
However, these positive functions are tempered by the fact that you have to use the USB station. The Centurion connects to the station via a HDMI cable, so you cannot simply plug in the headset into a USB port, for instance. This is a bit annoying for a few reasons. For one, it is an extra bit of kit to carry around if you are travelling – something that could annoy regular LAN gamers. Secondly, it has to sit somewhere on your desk – which could result in things getting messy due to the extra cables. Lastly, and most frustrating for me, is that it means the Centurion requires two cables – one from the headset to the USB station, and another from the station to your PC.
This last issue is particularly sore point for me as I do not think the Centurion's cable is long enough. It measures 1.5m and is wired to the left ear-cup. In practice, I found this meant it was hard to route the cable away from my hands in a satisfying manner, to prevent it from interfering with my gaming experience. Due to its shorter length, I found it was always a bit taut – stretching across my body and getting in the way. Ideally, I would have liked the cable to be another metre long, but even having the wire come out of the right ear-cup would have helped, as most people have their PC to their right.
So, quibbles aside, it is time to touch on the sound quality. In short, the Centurion is phenomenal in this regard.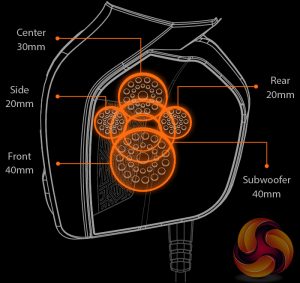 The Centurion features a full 5 neodymium drivers in each ear-cup, so it is a proper 7.1 surround headset. With some true 7.1 headsets, the added number of drivers means manufacturers use cheaper or smaller drivers to help keep the cost down. ASUS have not taken that approach, though, as the front and subwoofer drivers are both 40mm – as large as some stereo headsets' drivers – so the sound is excellent, even in stereo mode.
I was able to listen to all my favourite music – some heavy metal, pop and smooth jazz – and not begrudge the quality. In fact, the quality is astounding. Many gaming headsets are too sharp to make listening to music satisfying, but that is not the case with the Centurion. The sound is rich and balanced, with no one frequency dominating the mix. As a result, there is plenty of bass to add some kick to music, but the bass is perfectly complimented by a warm mid-range, while the high-end is beautifully crisp without being too sharp – the latter being something I have often criticised gaming headsets for.
In games, the true 7.1 surround works beautifully, too. With many of the virtual surround sound headsets I have used, you do get the feeling that the sound is coming from all around you, but those virtual solutions often lack absolute directional clarity. This is where a quality, true 7.1 headset like the Centurion can come into its own – I was able to pinpoint sounds around me in-game with great accuracy. Personally, I find this most useful for FPS gaming, where I can get an advantage over enemies by being able to hear them approaching and know exactly where they are coming from. You simply cannot get this level of detail and accuracy from stereo or virtual surround headsets.
I also had a go experimenting with the four game profiles (mentioned above) which should boost critical details in-game. These modes can certainly be helpful, but they are not miraculous solutions to instantly elevate your gaming performance. Essentially – as far as I can tell, at least – they tweak the EQ to pre-configured levels which is designed to help with the detail you are trying to boost. I found the FPS gunfire mode, for example, boosts the bass and some of the mid-range to give gunfire and explosions a bit more intensity and make them feel closer.
Personally, I preferred not to use these modes as I find that too much tweaking can adversely affect the overall sound balance – the FPS gunfire mode, for example, makes things just a bit too muddy for liking, as the top-end of the mix gets overpowered by the bass. The good thing about the Centurion, though, is that with a completely flat EQ (one with no alterations) the sound is very well balanced anyway, so these modes are not really that necessary.
Throughout all of this use, I was carefully paying attention to how comfy the Centurion is, too. I think it is a fantastically designed headset for a number of reasons. For one, the retractable headband ensures a perfect fit every time – there is no faffing about with metal sliders or anything like that. You just need to put the headset on and the headband will stretch to fit to your head. This helps the ear-cups to fit very snugly overly your ears, too, ensuring minimal sound leakage and increased bass response. I also noticed no aching or fatigue from wearing the headset, even after several prolonged gaming sessions. Top marks for comfort, then.
Lastly, I must touch on the mic quality.  The Centurion uses a noise-cancelling mic with a uni-directional pattern. I found it to offer solid quality, but it did not blow me away like the sound quality of the headset itself did. That is not to say it is bad, though – the noise cancelling works effectively, something I tested by making voice recordings with music playing in the background. Listening back to those recordings, the music was simply not audible. Also on the subject of the mic, I appreciate having a flexible boom as it allows users to tweak the mic's positioning until it is in the 'perfect' position.