The HyperX Cloud Revolver S ships in a medium-size box, complete with the usual red accents that we have come to expect from HyperX.
The front is just an outer-sleeve, though, and sliding it off reveals the box itself. It is plain black, with nothing but the the HyperX logo to draw your attention.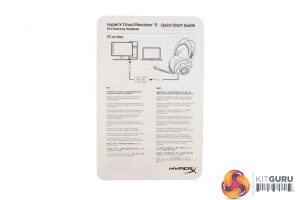 Inside, the first thing we find is a small quick-start guide, which essentially says 'plug the headset in.'
Also included in the bundle is a 2m-long 3.5mm-jack cable extension, for use with a PC. The detachable mic is also packaged here, separate from the headset.
The last accessory is the Dolby dongle. It is this dongle which provides the 7.1 virtual surround-sound, while it also sports two separate volume wheels – one for headphones, another for the mic. On the bottom left-hand side, there is also another button which you can use to alternate between 3 EQ presets. This dongle does connect via USB, as it has to provide digital surround, but it also gives you an extra 2.2m of cable length.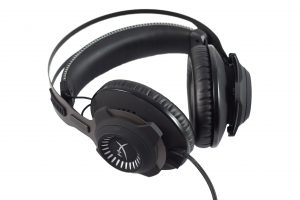 Moving on to the headset, the Revolver S does look very similar to the original Revolver that we reviewed last year. There have been a few slight design tweaks, though, so we will take a look at those below.
First of all, the earcups. The Revolver S still uses the same steel frame as its predecessor, but the back of the earcups now feature white accenting, instead of red.
These earcups are also circumaural, and HyperX continue to use their signature memory-foam ear cushions, covered with leatherette, on the inside.
The Revolver S also keeps the 'floating headband' of the original Revolver, so the headset will stretch to fit your head as you put it on.
Elsewhere, one of our criticisms of the original Revolver was that the steel frame caused a lot of vibration noise if you touched or banged the frame. HyperX have taken a step to prevent that here, though, as there are two new rubber inserts positioned at the bottom of the headband, one on either side. Hopefully this should dampen any vibrations that may occur.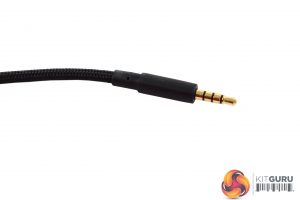 Lastly, the headset itself uses a 1m-long cable with a 3.5mm jack connector. This makes it good for use with a phone or console controller, but anyone using it with a PC will most likely need to use either the USB or 3.5mm-jack extension cables.
Be sure to check out our sponsors store EKWB here