I very much enjoyed my time with the Corsair Void headset. It might be at the lower end of the new Void range as it does not featuring RGB lighting or wireless functionality, but the sound quality is fantastic for the price point. It is comfortable and is backed up by Corsair's strong Utility Engine back-end software. That is a very comprehensive package to offer.
The surround sound on this headset is not going to take home any awards for breaking new ground but for a software solution it is surprisingly capable and even offers some songs a more atmospheric feeling. Sometimes you will want to switch it off though to improve sound fidelity when listening to specific audio tracks.
I do wish Corsair had made the cable longer, or included an extension cable in the box as I found it occasionally tugging on my head when I turned around due to the positioning of my computer. Unfortunately the bass can lose a little of its composure at the lowest frequencies when you push the drivers to very high volumes.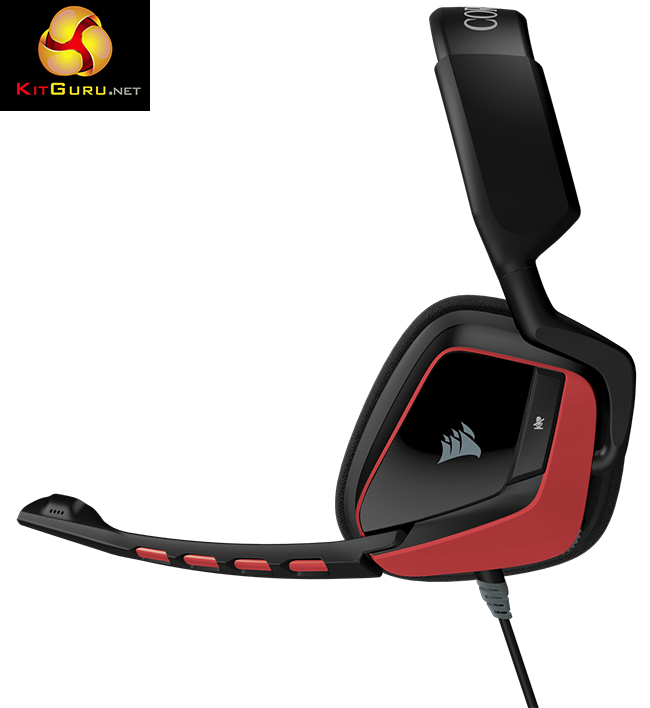 Comfort rates highly, and I was able to wear the Void for a full day without any major discomfort. This is something that as a reviewer you can really appreciate and it shows real thought has went into the product development stage of the design. Particular note has to be made for the comfortable, weight spreading head band design and memory foam padding.
Although it may play second fiddle to the fancier more expensive cousins in the same range, this wired version of the Corsair Void headset strips back some of the more advanced features and distils it down to a very capable gaming headset at a very competitive price point. It certainly makes it a viable choice, despite hefty competition.
It will also work with consoles such as the Xbox One and Playstation 4 and you can connect it up to your phone if you wish.
You can buy the Corsair Void 7.1 gaming headset from Overclockers for £59.99 inc vat. However this price is only for the next two weeks, so grab one now while you can. The normal retail price is £69.99 inc vat.

Buy Direct from Overclockers UK HERE.
Discuss on our Facebook page, over HERE.
Pros
Great quality sound, especially after back-end adjustment.
Software surround sound works well.
Very comfortable, even over long periods.
Unidirectional microphone works well at cancelling background noise.
Backed up by strong Corsair Utility Engine.
Cons
Bass loses composure when drive harder at high volumes.
Cable could do with being a bit longer.
KitGuru Says: With a great blend of high-quality sound, comfort and a well implemented software surround system, the Corsair Void 7.1 offers a great middle-ground among its brothers and sisters, at a price point that is more affordable than some of the competition.