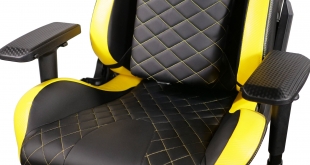 Corsair has entered the gaming chair market with a model called T1 Race. It is impossible to miss the point that it is styled like a racing car seat. In the video your reviewer refers to Recaro but other makes of racing seat are available, however Sparco doesn't sound as good when you say it out loud.
There are five colour combinations available for T1 Race – full black plus black with blue, red, yellow or white trim. As you will see in our video we got the yellow option which looks pretty darn spiffing and also happens to match the colour flash of Corsair packaging. The colours look good and will doubtless prove popular. Perhaps the most interesting thing about Corsair T1 Race is the price which is set below £300 in a world where many gaming chairs are north of £400 and the Vertagears we recently reviewed were £500 and £600 each.
Watch the video via our VIMEO Channel (Below) or over on YouTube at 2160p HERE
Specification:
Colour Black / Yellow
Upholstery Material PVC Leather
Max. Sitting Height 420mm
Min. Sitting Height 320mm
Backrest Height 950mm
Backrest Width 560mm
Seat Depth 580mm
Seat Width 560mm
Armrest Height 280-380mm
Chair Weight 24kg
That's right, we're talking about a budget Corsair product which isn't something you often get to say. Indeed it would be fair to observe that Corsair usually launches premium products and then works their way down through the product stack.
You can see how this works when you assemble the T1 Race as the basic structure look likes a regular office chair that sells for around £150 on the UK High Street. This means the T1 Race has the usual adjustments to seat height and lean, along with arms that can be adjusted for height and position.
A bit of research tells us that genuine, actual race car seats cost anywhere from £1,000 to £7,000 so it won't come as any surprise when we tell you that the bling parts of the T1 Race are entirely cosmetic. The seat is vinyl with a moulded pattern that looks like carbon, the arm rests are plastic with a carbon fibre look and the base of the chair is plastic, which made it tricky for us to install the five caster wheels as they were an incredibly tight fit.
When you stand a short distance away it all looks perfectly decent and your eye is drawn to the cosmetic features exactly as Corsair intends. The cushions that sit behind your lower back and neck are classic examples as they really look the part yet don't do much for orthopaedic support.
This boils down to your own personal taste and we cannot honestly claim the T1 Race fits in with our own décor. You, on the other hand, may feel the exact opposite. To our mind the likely customer for T1 Race owns a Subaru Impreza (or wants to own an Impreza) and feels that every car is improved with tinted windows, lowered suspension and a really big turbo charger. That's a reasonable point of view but it means that your reviewer feels somewhat left out in the cold as he comes from the opposite direction.
Closing Thoughts.
The Corsair T1 Race is a new entrant to the gaming chair market and uses a bold, brash design based on a racing car seat. The styling is full-on and lacks much in the way of subtlety. We are certain it will cater for a bunch of prospective customers who want to spend a modest amount of cash on a gaming chair.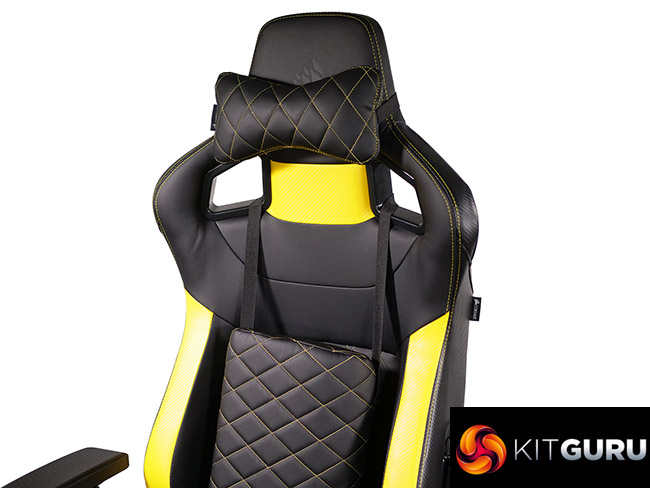 In essence you are paying £150 for the basic chair and roughly the same again for the fancy moulded vinyl seat cover, Corsair logos and the carbon-look arm rests. You can safely bet that Corsair T1 Race will appear in game streaming videos across the Internet but that doesn't change the impression of style over substance.
Buy from SCAN for £289.99 inc vat HERE
Pros:
Smart appearance of the textured seat cover.
Reasonably comfortable.
Adjustable height, lean and arm rests.
Sensible price.
Cons:
Assembly of the base was hard going.
Minimal support for the lower back and shoulders.
The styling lacks subtlety.
Carbon-look armrests are fairly crude.
KitGuru says: Corsair T1 Race will surely appeal to teenage gamers.
Be sure to check out our sponsors store EKWB here