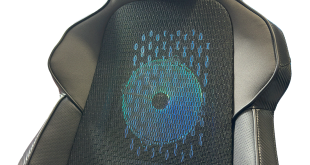 The NxSys Aero RGB chair from Cougar features an internal 200mm RGB fan in the backrest. The fan aims to keep gamers cool when things get intense. That's not all this chair offers on paper though. A class 4 gas lift, supporting up to 160KG in weight, internal lumbar support and a magnetically attaching head cushion show that this chair means business. Is there a good, ergonomic chair hiding behind all the bling?
Timestamps:
00:00 Start
00:28 The fan powered chair
01:40 The design / battery pack!
03:35 Is the fan distracting?
04:35 Chair features and materials
06:00 Removable magnetic cushion
07:08 Building / quality of components
10:22 Comfort
12:54 Closing thoughts
Specifications:
Product Name COUGAR NxSys Aero Gaming Chair
Weight Support 160 kg (352.7 lb)
Product Weight 28 kg (61.7 lb)
Fan

Dimensions (WxDxH) 200 x 200 x 20mm
Fan Speed Level 1 : 400R.P.M±150RPM
Level 2 : 800R.P.M±150RPM
Acoustic Noise Level 1 : 13.2dB (A) Level 2 : 24.8dB (A)
Power Consumption Level 1 : 0.48W+10% Level 2 : 1.20W+10%
Rated Current 12V FAN : Level 1 / 0.04A+10%
12V FAN : Level 2 / 0.10A+10%
5V LED : 0.28A+10%
Rated Voltage DC 12V
Interface USB-A plug

Power Bank (Not Included)

Suggested Dimensions Within 160 x 79 x 32 mm
Rated Voltage DC 5V
You can buy the NxSys Aero RGB directly from Cougar for $399.99 HERE
Pros:
Built in fan provides subtle cooling to your back
Generally comfortable
Good quality interior padding
Convenient magnetically attached head cushion
Cons:
Non adjustable lumbar support
Non adjustable armrest width
Hard castors are not ideal on hard floors
KitGuru says:  The NxSys Aero is a very unique chair. The built in fan does a good job of cooling your back when things get a bit intense while gaming. However, the lack of adjustable lumbar support is a big oversight. Overall comfort is quite good, the internal padding provides enough support while still remaining soft and well cushioned. The build quality is generally ok and all materials feel premium and parts well made. If you live in a hot climate and struggle coping with the temperature while gaming, then this chair may have the answer to your problems.
Be sure to check out our sponsors store EKWB here