One glance at the Mini ITX Deepcool GamerStorm Tristellar makes it clear this isn't a run-of-the-mill PC case. In fact you might struggle to tell it is a PC case at all.
Watch our video and you'll see there is a degree of confusion 'the motherboard goes here – wait, it goes there – the CPU cooler goes here' but the confusion is understandable as the Tristellar is so unusual. Deepcool has arranged the Tristellar as three cabins with the graphics card at the top along with three 2.5-inch drive bays. The Mini-ITX motherboard goes on one side and the power supply and two 3.5-inch drives go on the other side.
Watch via our VIMEO Channel or over on YouTube HERE.
It is a physically imposing design that requires a fair amount of desk space but nothing that you see prepares you for the weight of the thing. This case weighs 16kg when it comes out of the package.
There are limitations about the hardware you can install in the Tristellar but they are not as restrictive as you might think, apart from the need to use a Mini-ITX motherboard and a single graphics card. If you want to use an air cooler on your CPU you will have to stick to a low profile cooler under 85mm in height. Alternatively you omit an optional drive housing and install a 120mm All-in-one liquid cooler. At the top of the case you have enough space for a full length 320mm gaming graphics cards and in the other compartment there is space for a regular ATX power supply.
Specification:
Motherboard support: Mini-ITX
Expansion slots: 3 (single graphics card)
Included fans: 1x 90mm front intake
120mm radiator mounts:  120mm for CPU
5.25″ drive bays: 1
Internal drive bays: 2x 3.5, 3×2.5″
Dimensions: 388mm H x 395mm D x 435mm W
Weight: 16kg
Testing
To put this case through its cooling paces we will be using a test system consisting of an Intel Core i7-4770K, Sapphire Radeon R9 290 and multiple storage drives. This system allows us to produce a substantial amount of heat and effectively test the Deepcool GamerStorm Tristellar's cooling capabilities.
For stress testing we use a mixture of Prime95 and FurMark to create the maximum heat output. Prime95′s 'Small FFTs' setting allows us to stress our CPU. FurMark's 'GPU Burn-in' mode creates the maximum amount of load our GPU is ever likely to see.
Test System:
Processor: 3.9GHz Intel Core i7-4770K
Motherboard: ASRock Z97 Killer
CPU cooler: Alphenfohn Wasser 120mm
Memory: Corsair Vengeance LP DDR3-1600MHz
Graphics card: Sapphire Tri-X R9 290
Power supply: Seasonic Platinum Fanless 520W
Storage drives: Samsung 840 SSD
OS: Windows 8.1 64-bit.
Installing the hardware was fairly straightforward, although there are a couple of points to consider. As a first step you need to route the power supply cables to the motherboard and graphics card, and you pretty much have to accept the cabling just needs to be crammed wherever you find an opening. The liquid cooler for your CPU is highly unlikely to have optimum airflow.
Cooling Performance
We were slightly hindered on the cooling front as the cable from the 90mm case fan wouldn't reach the header on the motherboard. Clearly that couldn't help but we doubt it had a significant impact. Nonetheless the close fitting nature of the three cabin covers means that airflow has to be restricted to a certain extent and this was seen in the relatively high temperature of Sapphire R9 290 graphics card and Core i7-4770K CPU.
Of course we had chosen to install high end gaming hardware and we were thrashing the system with stress tests to present the worst case scenario so in a sense it was impressive the Tristellar kept performing at 100 percent without any problems.
Acoustics Performance
The only fans in the system were the 120mm fan on the Alpenfohn Wasser liquid cooler and the three fans on the Sapphire graphics card. How come? Well the case fan wasn't connected and the Seasonic power supply is a passively cooled unit that doesn't use a fan. At first the Tristellar was almost silent but as the heat levels increased the fans became quite noisy. Part of the noise was simple fan speed however there was also a clear whooshing noise as the air flowed through the cabins which act as ducts.
It seems likely that if Deepcool had used aluminium for the cabin covers instead of steel that this would help the cooling.
Closing Thoughts
It is tempting to describe the Deepcool Gamerstorm Tristellar as a novelty, however that sounds derogatory and that isn't our intention. It is clear that Deepcool has approached the design of the Tristellar with a clean sheet of paper and the result works surprisingly well. The fundamental question your reviewer asked himself was 'why?' and the clear answer is 'because it's different.'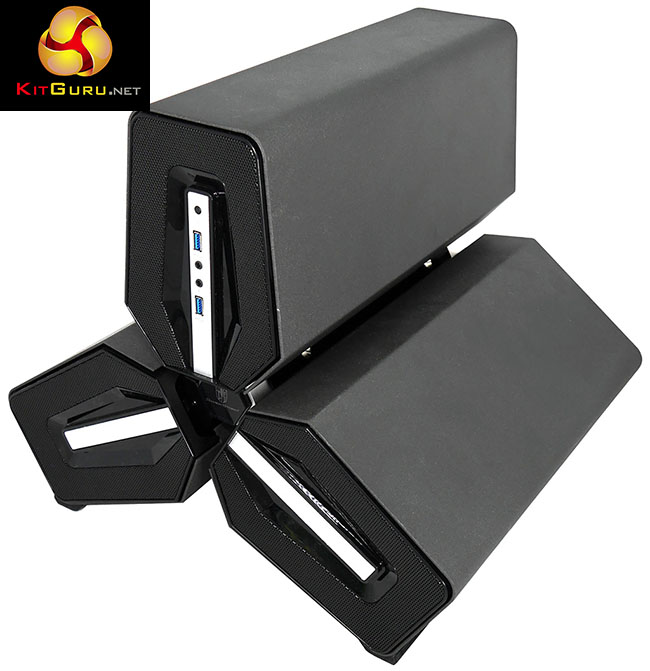 That's fair enough, to a certain extent but you need to be absolutely amazed by the appearance of the Tristellar to ignore the large footprint of the case and the sky high price. It is impressive to note that the Mini-ITX Tristellar can accommodate proper gaming hardware, or you can take the easier route and employ lower powered silicon.
With this chassis you have a decent amount of choice about the specification of your new PC but one thing is for certain, you will end up with a unique system that always begs the question 'What the heck is that?!'.
Buy from Amazon UK for £499.99 inc vat HERE – This is for the earlier 'hand made version'. The cheaper mass produced model will be stocked by SCAN in the coming weeks for £399.99 inc vat.
Discuss on our Facebook page, over HERE.
Pros:
Unusual styling.
Solid engineering.
High specification and large number of drive bays for Mini-ITX.
Gives you the option of installing gaming hardware.
Cons:
Large footprint.
Heavy.
Keeping the cabling tidy is tricky.
High price.
SATA and power connections for the drive bays are not labelled.
Cabin covers are steel rather than aluminium.
90mm case fan wiring wouldn't reach our chosen motherboard.
KitGuru says: The Deepcool Gamerstorm Tristellar is crazy bonkers but damn we actually like it!