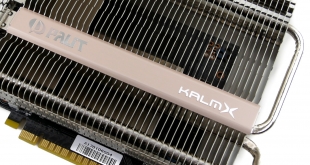 Our initial impressions of the GTX 1050 Ti were that it is a solid GPU that is good for gamers wanting a budget 1080P, 60FPS solution. Power draw is one of the strengths of the GP107 GPU used for the GTX 1050 Ti, with Nvidia setting the value at 75W. Low power draw and a 1080P60 target shout loudly for a passively cooled solution and Palit delivers just that with the new GTX 1050 Ti KalmX.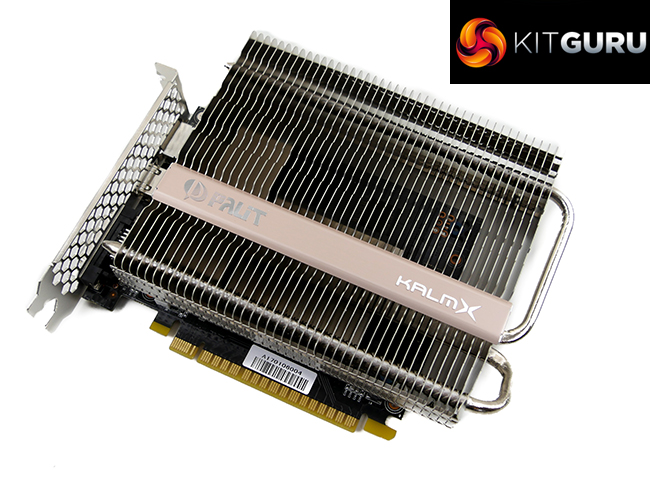 Despite the modest 75W TDP of GTX 1050 Ti, dissipating that level of heat passively is not a straightforward task. Many graphics cards have the ability to shut down fans under low load and temperature conditions (usually below 60°C GPU temperature). Typically, however, the heatsink design of such cards is not optimised for maintaining a sub-60°C temperature under load and the fans become a necessity when any form of heavy gaming load is applied.
With its KalmX solution, Palit calls upon a copper contact plate and a pair of 6mm heatpipes to shift thermal energy from the GP107 die through 43 aluminium fins that boost the card's weight to almost half-a-kilo (470g, to be precise). It's silent under low load and it's silent under full load.
Measuring in with an 18.5cm maximum length (to the end of the heatpipes), 13.5cm width (accounting for the subdued PCIe slot connector, 14cm without subtracting its dimensions), and 3.6cm thickness (dual slot with no backplate), Palit's KalmX isn't the smallest of mid-range GPU offerings and its width could be a challenge for installation inside compact mini-ITX cases.
No power connector is required as up to 75W can be drawn from the PCIe slot. Video outputs consist of DisplayPort 1.4, HDMI 2.0b, and dual-link DVI-D (digital only).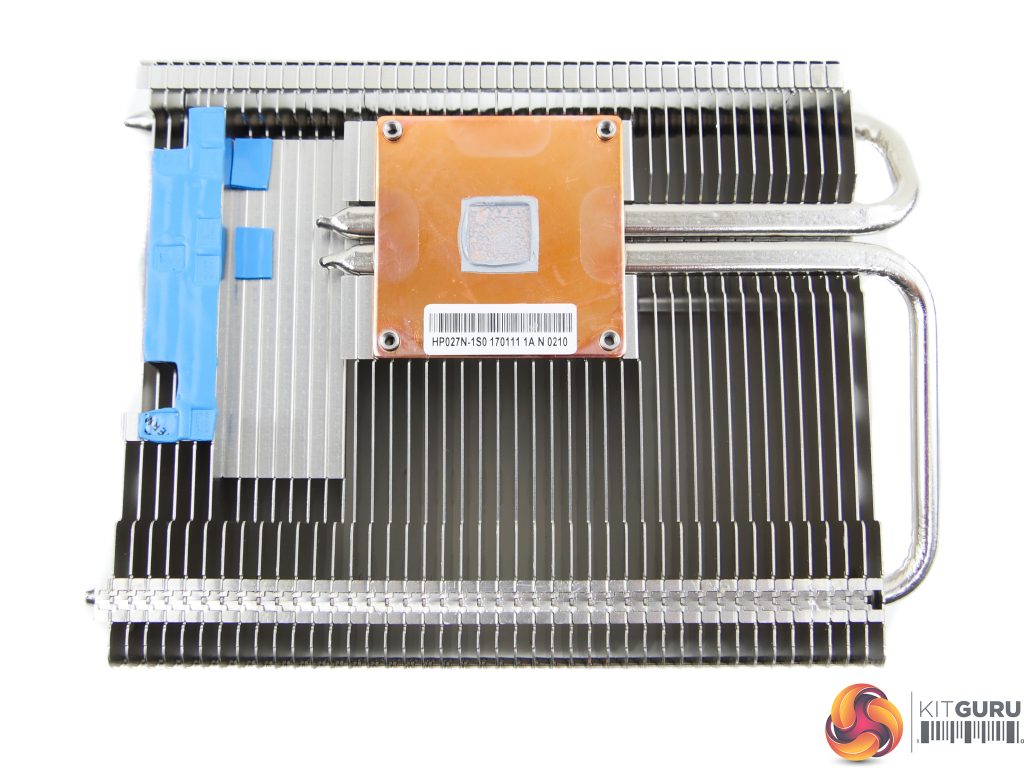 43 fins are housed in an array that measures approximately 14.7cm long, 12.5cm wide, and 3.6cm at its thickest point. Spacing between the fins is large at around 3mm because this design allows for air to more easily move through the array without the requirement for the flow to be operating at high pressure (which is difficult to achieve without nearby fans or blowers mounted on the array).
The heatsink alone weighs 350g, though this weight is concentrated close enough to the PCIe slot and GPU-area mounting holes to prevent a significant bending moment causing PCB sag. It's great to see attention given to MOSFET and choke cooling by the use of thermal pads connected to the KalmX heatsink.
It's worth noting the fin orientation. With the fins pointing towards the side panel in a typical case design, Palit's card would be best partnered with a side panel fan that forces air directly through the fin array. Air flow coming from the front of the chassis would be less effective at penetrating the fin array and dissipating the heat. With that said, this design choice implies that Palit has built the GTX 1050 Ti KalmX with Small Form Factor (SFF) users in mind, as many mini-ITX cases do not follow the conventional front-to-back airflow regime.
Palit's KalmX model is clocked at reference GTX 1050 Ti speeds of 1291MHz core, 1392MHz boost, and 7Gbps effective for the GDDR5 memory.
As is common for cards with Nvidia's GPU Boost technology, the Palit GTX 1050 Ti KalmX actually operated well above its rated 1392MHz boost clock. We observed clock speeds as high as around 1700MHz out-of-the-box. The average core clock speed under load typically cycled around the mid-1600MHz level (around 1620 to around 1670MHz range). Throttling tended to be power-induced, not due to thermal performance.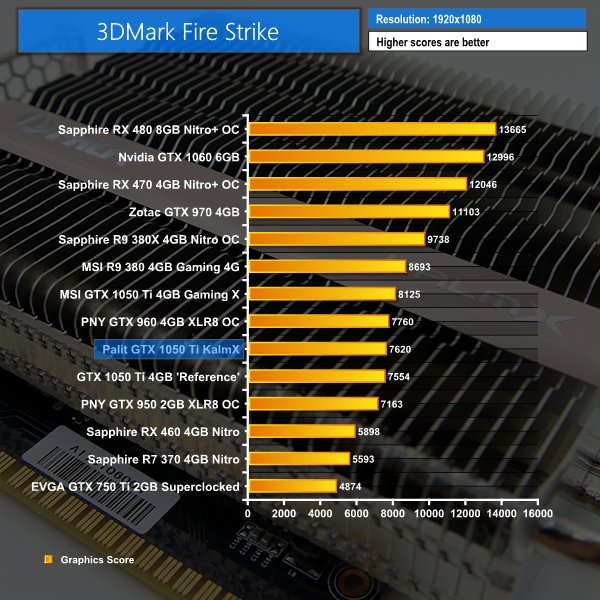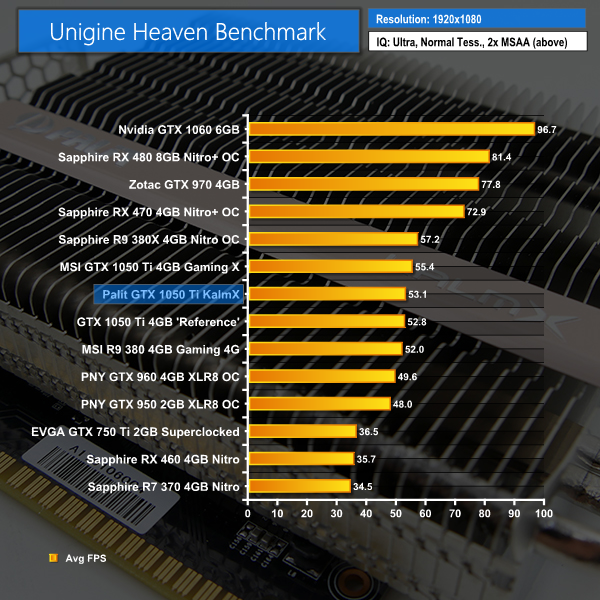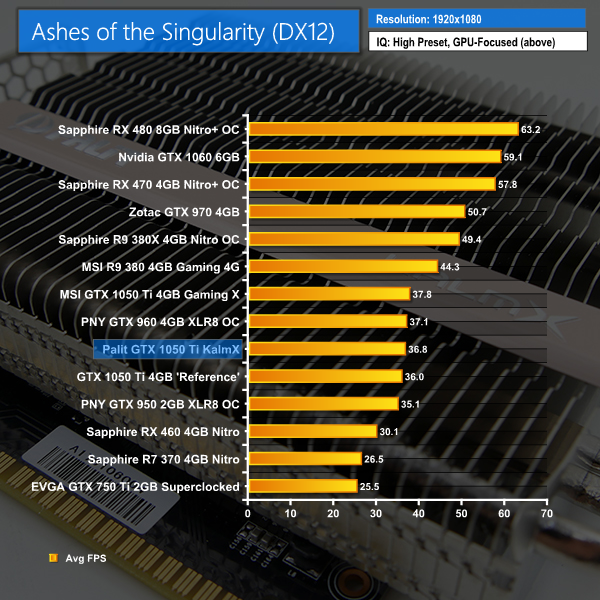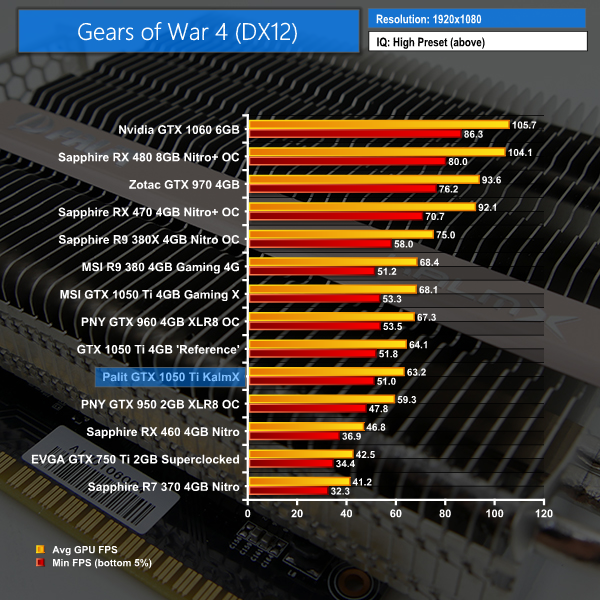 We used our typical GPU test system and procedure to grab the above performance results, information for which can be obtained HERE.
Palit's KalmX GTX 1050 Ti put in numbers that are typical for a reference-clocked card. However, this should not be overlooked given the card's complete lack of dedicated cooling fans.
The ability to hang with a reference-clocked dual-fan card from ASUS is certainly a solid result for Palit's passively-cooled offering.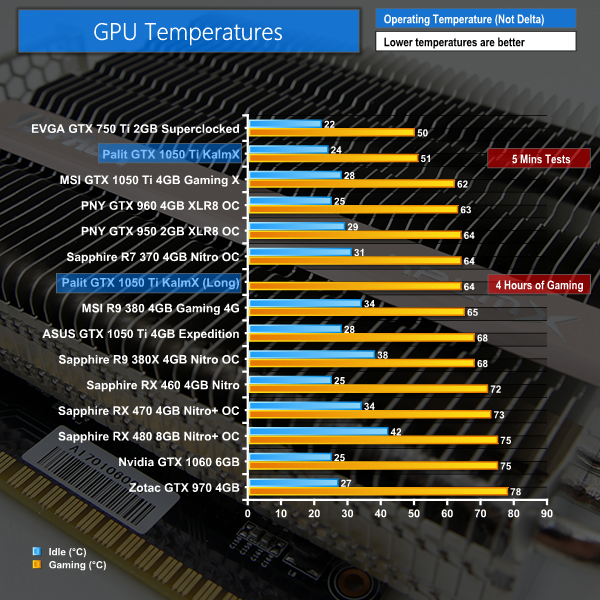 Even more impressive was the thermal performance of the Palit GTX 1050 Ti KalmX. We tested the card enclosed in an NZXT Phantom 630 case with the large front fan and rear 140mm unit set to medium speed. The Corsair H110i GT was set as medium-speed exhaust.
Palit's card stayed around the 50°C mark for our short-duration test scenario which involves a 5-minute circuit of Unigine Heaven at 1920×1080. This was a superb result that saw the passive card outperforming competing GTX 1050 Ti solutions with dual-fan coolers (albeit small ones).
We put the card to a stress test which involved a four hour continuous run of Unigine Heaven at 1920×1080. The KalmX card stabilised at 64°C in our test environment and was still operating around its general GPU core clock speed of mid-1600MHz at this point in time. Based on our testing, thermal throttling is unlikely to be an issue with the Palit GTX 1050 Ti KalmX even if you want to game continuously for hours, provided you have decent case airflow.
Some of you may be wondering how a passive card can run cooler than one with dual, low-speed fans (albeit over a short period of time). The reason for this improved performance profile is due to Palit's sizeable KalmX heatsink. The large slab of metal is able to absorb a significant amount of thermal energy that is removed from the GPU core without needing to dissipate it at a high rate, initially (thermal capacitance).
So, over short periods of time, the KalmX cooler can keep temperatures in check thanks to its volume of metal and some low speed incidental airflow. But when the thermal load is applied for a longer duration, the requirement to dissipate that energy that has been transferred to the heatsink becomes more important. The incidental airflow has a more difficult time shifting heat off the fins thus the fin array increases in its metal temperature and the rate of conduction from the GPU core is slowed.
In layman's terms, the sizeable KalmX cooler is very effective at keeping the GPU cool with respect to short-duration loads but this superb cooling performance is somewhat lessened when a heavy load is applied for a greater, continuous time period. Putting this into perspective, however, a load temperature of 64°C after 4 hours straight of Unigine Heaven 1080p is very impressive for a graphics card with no dedicated fans.
Needless to say, the GTX 1050 Ti KalmX card's cooling profile will be heavily dependant upon the chassis it is housed in. A more compact case is likely to see the card's temperature rise due to a smaller volume of air (which will act as a coolant medium) being enclosed within the chassis. With that said, closer proximity to chassis fans inside a compact enclosure may benefit the KalmX's temperature profile as air is better directed towards the card.
The overall card was not particularly hot when operating under load conditions. There were areas on the rear of the PCB that climbed towards 70°C but these spots were concentrated around the GPU core and MOSFET sections.
Palit's passively-cooled GTX 1050 Ti KalmX is a smart piece of engineering that tackles the 75W GP107 GPU for GTX 1050 Ti by using a sizeable fin array rather than one or two small fans and a miniature block of metal. This approach works well as the card was able to operate without thermally throttling throughout the duration of our testing inside a NZXT Phantom 630 chassis with only two medium speed case fans.
If you are considering building a gaming HTPC for your 1080p living room TV and want it to be as quiet as possible, Palit's passive GTX 1050 Ti KalmX is certainly deserved of a spot on your shortlist. A fanless graphics card certainly won't appeal to all but for those users who prefer to control their system's cooling functions through low-speed chassis fans, rather than small and fast GPU cooler fans, Palit's GTX 1050 Ti KalmX provides such an option.
Discuss on our Facebook page, over HERE.
KitGuru says: Palit creates the KalmX cooler with finesse by using a sizeable volume of metal and more than 40 fins that confidently cool the GTX 1050 Ti graphics card.