Over the last couple of weeks, we have been hearing increasing rumours surrounding AMD's plans for the RX 500 series. Right now, the current rumour is that these new GPUs will launch in April as a Polaris refresh and now, that scenario looks very likely as this week, AMD added driver support for the RX 580, RX 570 and RX560.
Signs of the RX 500 series being a Polaris refresh first appeared last year, when a report claimed AMD had figured out a way to increase the performance per watt of the architecture. Following that, references to Polaris XT2 and Polaris 12 were spotted in drivers.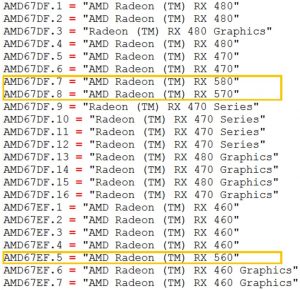 Click image to enlarge. Image via Videocardz.
Now, in the latest Crimson Relive 17.3.2 Beta driver, which brings optimisations for Mass Effect Andromeda, there is added support for the RX 580, RX 570 and RX560 GPUs, indicating that these cards are on the way, as noted by previous reports. Aside from that, we can see from the device IDs that the RX 580 and 570 belong to the same device tree as the RX 480 and 470. The same can be said for the RX 460/560, essentially confirming the Polaris refresh.
KitGuru Says: Hopefully the launch of AMD's RX 500 series lineup will be followed closely by the RX Vega. After all, it has been quite some time since AMD last released a high-end GPU.