Asustek Computer this week demonstrated one of its upcoming LGA1151 mainboards for Intel Corp.'s "Skylake" microprocessors at Computex 2015. The Asus Z170-Pro motherboard is a high-end, but not the flagship, platform powered by the Intel Z170 core logic from the company. While the new mainboard in many ways resembles last year's Z97 Deluxe, it supports a number of features that make it considerably more advanced than anything available before.
Asustek Computer and other leading producers of mainboards have been using digital voltage regulator modules (VRM) with multiple phases for central processing units (CPUs) in order to ensure smoother fluctuations of power delivery for many years. The Asus Z170 Pro also [presumably] features a 16-phase digital VRM for microprocessors, but in addition to that it has a digital VRM for memory modules in a bid to ensure stable power delivery for maximum overclocking potential. While power consumption of modern DRAM is not high, enhanced overclocking capability will clearly attract a lot of attention to the Z170 Pro. Moreover, it is highly likely that other members of Asustek's Z170 family will also feature digital VRM for memory. Digital VRM for DRAM is not something completely new, Asus has been using it on its Deluxe mainboards for a couple of years, but for some reasons did not use it on its Intel X99 platforms.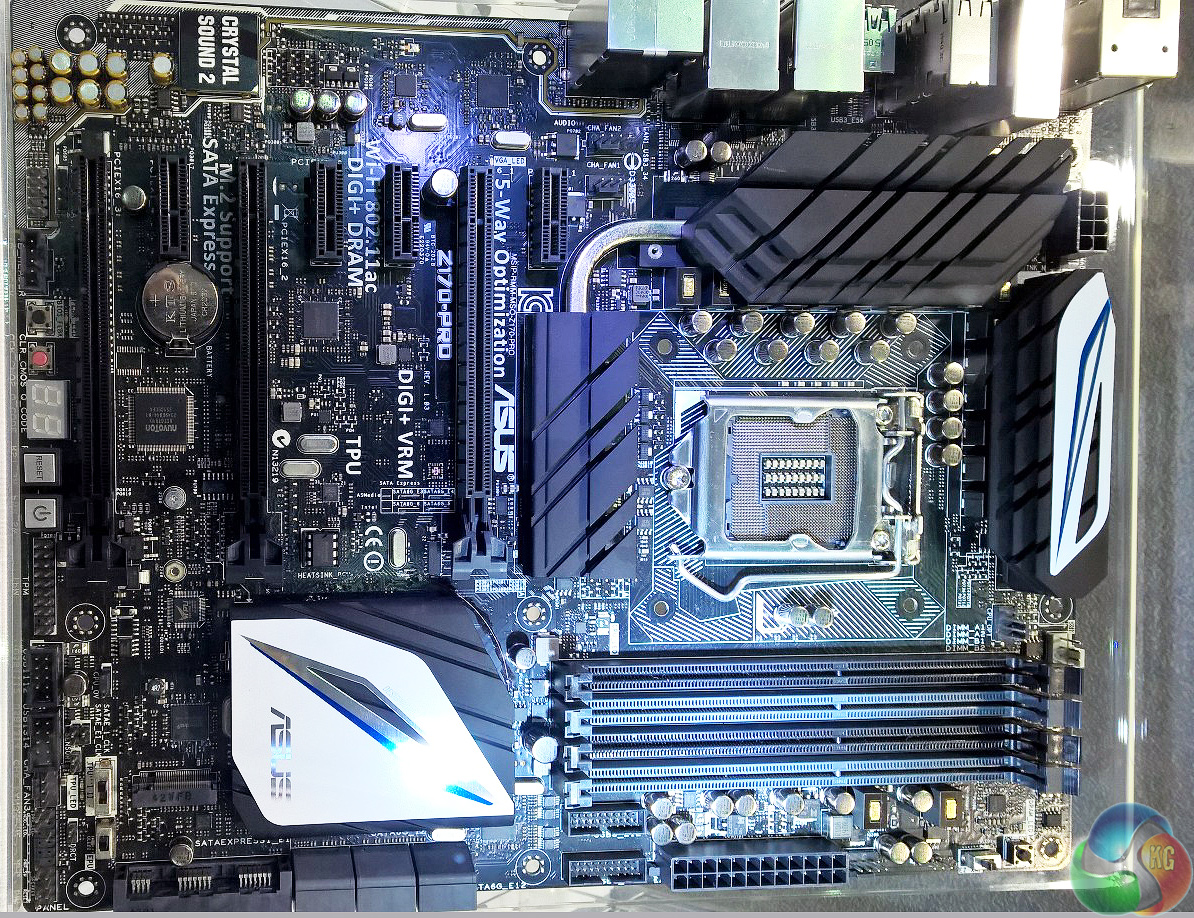 Since Intel's Z170 core-logic features 20 PCI Express 3.0 lanes in addition to 16 PCIe 3.0 lanes in the "Skylake-S" microprocessor, the whole platform boasts with 36 PCIe 3.0 lanes in total, allowing to create ultimate multi-GPU and multi-SSD systems. The Asus Z170 Pro features three PCI Express x16 slots for graphics cards or solid-state drives, four PCI Express x1 slots and six Serial ATA-6Gb/s ports. In addition, the motherboard is equipped with a Serial ATA Express port as well as an M.2 port powered by PCI Express 3.0 x4 with up to 4GB/s bandwidth for ultra-high-end solid-state drives. Keeping in mind that the Intel Z97 chipset only features eight PCIe 2.0 lanes (4GB/s of bandwidth in total), improvements of the Z170 on the platform level are evident.

Just like in case of the Asus Z97 Deluxe/USB 3.1, the Asus Z170 Pro features two USB 3.1 ports, Crystal Sound 2 audio with EMI shielded circuitry, trusted platform module, 5-way automatic performance optimization capability, integrated 802.11ac Wi-Fi, two Gigabit Ethernet ports, 8-channel audio, HDMI and DP outputs, and so on.
For some reason, Asustek Computer decided to use all-new radiators on its performance-mainstream Z170 Pro motherboard. Typically, Asus' mainstream platforms use heat-spreaders for core-logic and VRM that are made of brass and feature appropriate yellow colour. The new cooling devices use colours found on Asustek's Intel X99-based products.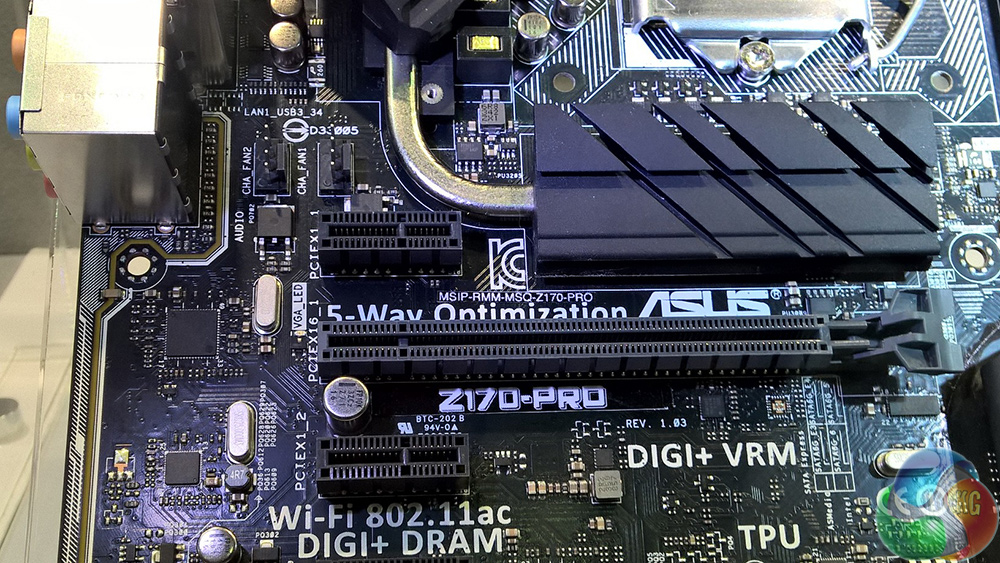 Expect Asustek's Z170 Pro mainboard to launch in August, 2015, along with Intel Corp.'s Core i7-6700K and Core i5-6600K "Skylake-S" processors. Pricing remains unknown.
Discuss on our Facebook page, HERE.
KitGuru Says: Based on the list of features, the Asus Z170 Pro mainboard is actually better than the previous-generation Asus Z97 Deluxe, which was positioned as a flagship solution. It will be very interesting to see what kind of additional capabilities will Asus provide on its Deluxe and ROG platforms based on the Intel Z170 chipset.