Back in February we tested Asus' SATA Express product demo platform. We could see the potential for the high-speed storage interface, but there was still the question of extensive market adoption lingering overhead. Well, judging by the images of new motherboards based on Intel's upcoming chipset, the 10Gbps SATA Express connection is set to make its widespread debut in the coming weeks.
We revisit the SATA Express interface to obtain a more up-to-date look at what the next generation of SATA connections is capable of. Our tools for the job; a retail Asus motherboard set to release soon, and a concept version of Asus' Hyper Express enclosure, internally powered by solid state storage.
If you don't know much about the background to SATA Express, why it is relevant on the storage scene, or where it could go in the future, we suggest that you check out our early preview article based around Asus' technology demo product.
Leveraging the bandwidth of two PCIe lanes, SATA Express connectors found on upcoming Intel motherboards will offer a 10Gbps (1GBps) data connection. One of the key reasons why the upcoming implementations do not utilise PCIe 3.0 lanes (and its 128b/130b encoding scheme) for a 16Gbps (roughly 2GBps) connection is that motherboard manufacturers are reluctant to eat into their quota of PCIe 3.0 lanes on an LGA 1150 CPU.
SATA Express, as an interface, provides support for SATA and PCIe-driven storage devices by means of a single connector. If you want to use a SATA device, simply plug a standard SATA cable into the motherboard-based ports. If you want to make use of the enhanced speed that PCIe lanes can offer, plug a SATA Express connector into the two SATA ports and additional bandwidth section.
The additional section, situated adjacent to the SATA ports, is present on the connector to provide enough pins for two full PCIe lanes to be transferred through the bus. A total of eighteen pins is required to provide two PCIe lanes' worth of bandwidth.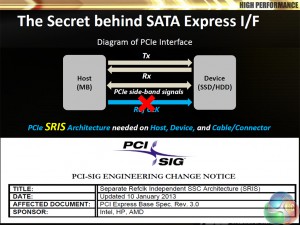 Since testing out an early SATA Express solution used by Asus' technology demo motherboard, there has been work going on behind the scenes into how a drive interacts with a motherboard. Asus' demonstration board relied upon an external PCIe clock signal (and cable) to allow the motherboard and SATA Express device to communicate effectively – an approach that can cause additional interference issues and performance losses.
Separate Reference Clock with Independent Spread Spectrum Clocking Architecture (SRIS) does away with the reference clock cable, implying (we are not allowed to mention features of the 'future Intel chipset') that the issue has been solved at a hardware level. What this means for us users is that SATA Express is a single cable (albeit a bulky one) approach for data, as well as the additional power connector.
ATTO records the Asus Hyper Express drive operating at speeds of up to 728MBps. That's almost 200MBps faster throughput than the speediest SATA 6Gbps SSDs currently on the market. Unfortunately we were not cleared to open the Asus enclosure to report which drive(s) is(are) being used internally. The numbers speak for themselves though; a SATA Express solution found on an upcoming retail motherboard can deliver transfer rates of over 700MBps.
The eagle-eyed amongst you will notice that a top recorded speed of 728MBps is about 10-30MBps slower than what we achieved using Asus' technology demo solution. The disparity is likely related to the differing performance offered by each test drive. Further testing when more SATA Express products come to market should prove this.
A run of CrystalDiskMark confirms the SATA Express interface's ability to surpass the sequential transfer speeds that current SATA 6Gbps devices can reach. The random read and write results are more of an interpretation of the drives being used in Asus' Hyper Express enclosure, but they can be adjusted to a user's preference.
Asus' SATA Express-bearing Hyper Express enclosure is set to be released before this year is out. It looks to be set to utilise the larger 3.5″ form factor, not the 2.5″ size that the concept model displayed in this article uses. More information will surface in the coming months, especially around the time of Computex, in June.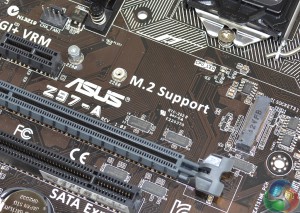 A SATA Express article wouldn't be complete without pointing out the alternatives. News articles and leaked information suggest (we still cannot confirm anything) that M.2 support will be native to the 'future Intel chipset'. And it is touted to operate at the same two-lane, 10Gbps speed as the upcoming SATA Express solutions. Both interfaces have their uses; M.2 for a small, fast drive which is especially useful in confined spaces. SATA Express for a larger SSD, probably using the conventional 2.5″ form factor, that can hold more NAND chips (hence higher drive capacity) and be mounted away from the motherboard.
Native-PCIe storage mounted in a motherboard-based PCIe slot is still the consumer-level king, as far as speed goes (OCZ's 2GBps RevoDrive 350 anyone?). Both SATA Express and M.2 have clear upgrade paths though; the continued uptake of PCIe 3.0 lanes will allow the interface's theoretical connection speed to reach 16Gbps. And to the delight of small form factor users, SATA Express and M.2 drives don't use up a valuable motherboard expansion slot that's needed by a graphics card.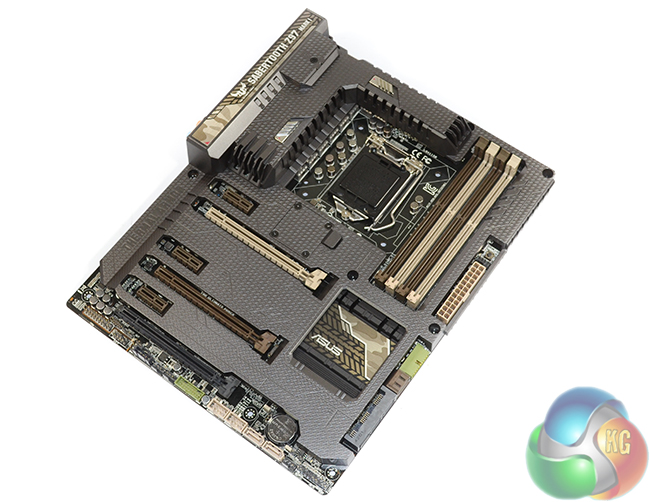 Right now is an exciting time in the world storage. Faster controllers and NAND are great, but without the interfaces and motherboards to make them useful, their performance will go astray. Now that SATA Express and its 10Gbps connection speed look set to stay for the near future, an overdue jump in sequential transfer rates (and hopefully random performance speeds) of solid state drives should be soon to follow.
Discuss on our Facebook page, over HERE.
KitGuru Says: SATA Express looks like it's here to stay. Stay tuned for news and reviews of upcoming SATA Express products, including Asus' Hyper Express enclosure.