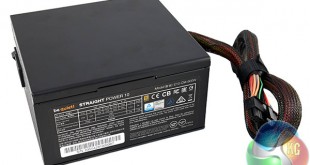 be quiet! have earned an excellent reputation over the years in the enthusiast sector by releasing a series of high grade fans, coolers and power supplies. Today we look at one of their latest power supplies – the Straight Power 10. This model replaces the best selling Straight Power E9 range and brings new enhancements including lower noise levels and improved voltage stability and regulation. Today we look at the 600 watt, 80 Plus Gold Certified model which features cable management.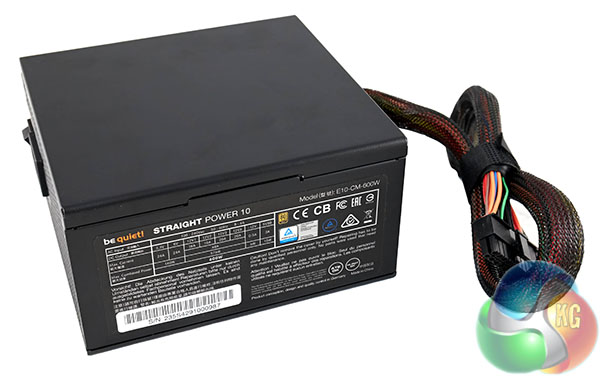 be quiet! have always had a primary goal of reducing noise levels as far as possible – obvious by their name alone. The new Straight Power 10 range of power supplies feature the latest 135mm Silent Wings 3 fan with a funnel shaped vent. This funnel shape improves airflow while reducing noise emissions at the same time.
The new 6 pole motor and redesigned bearings all help deliver noise levels better than any of their designs before. be quiet! claim that the new fans have the lowest startup rotational speed on the market, rated at 200 rpm.

The Straight Power 10 series utilises high quality solid capacitors. The capacitors on the secondary side have also been improved since the previous E9 range was released.
The new Straight Power 10 has a total of eight models in two versions: standard cabling in 700, 600, 500 and 400 Watt versions and with cable management in 800, 700, 600 and 500 Watts. The 'Cable Management' versions are not 'pure' modular designs – the main motherboard connector is hardwired into the chassis.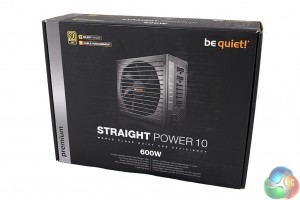 be quiet! box artwork is instantly recognisable and still as eye catching many years after the initial release.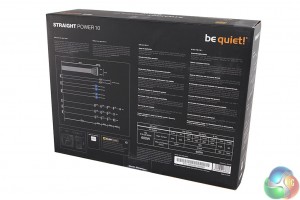 The rear of the box lists some technical specifications, if you happen to be browsing in a retail store environment.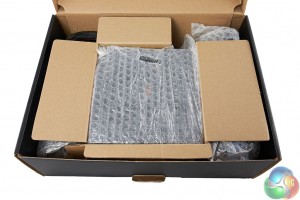 The power supply is protected inside thin bubblewrap with cardboard spacers on all sides. The accessories are separated into sections inside the box.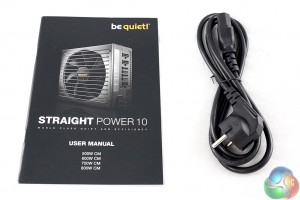 Not much in the way of accessories – just a user manual and a regional specific power cable (our review sample ships from Europe but UK models will get a UK power cable).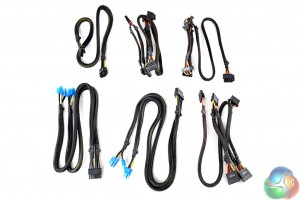 Above is an image highlighting the modular cables. I was a little surprised to see that be quiet! have not adopted flat 'ribbon' style cabling as it is proving more popular with system builders this year – due to routing benefits. All of the cables are high grade sleeved.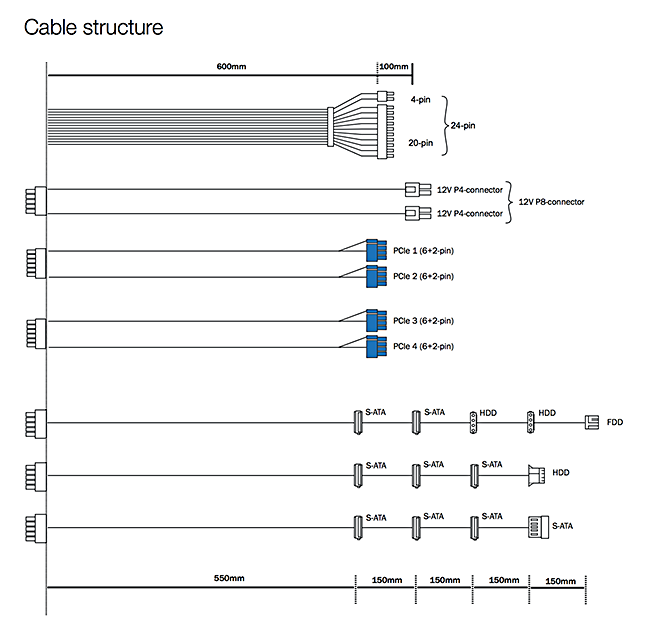 The Straight Power 10 CM 600W power supply offers four 6+2 pin PCIe cables, which is enough to cater for a modest Crossfire or SLi configuration.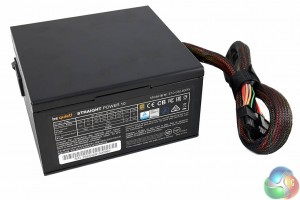 The be quiet! Straight Power 10 power supply is a no frills design – no fancy colour strips or lights on the corners. be quiet have finished the power supply in deep black paint which is pretty much as good as you would expect from the German company.
The unit passed our 'screwdriver' test. This involves running the head of a Philips head driver down the side of the chassis with light to medium force. After all, how many times have you accidentally connected with a power supply during a system build?
No scratch was left on the paintwork.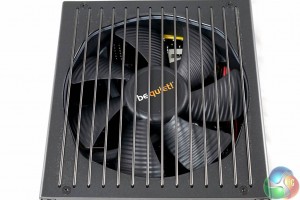 The fan section of be quiet! power supplies is very distinctive. The company use a series of metal grills which run the full length of the chassis. We can see the Silent Wings 3 fan underneath and will take a closer look at this when we open the unit shortly.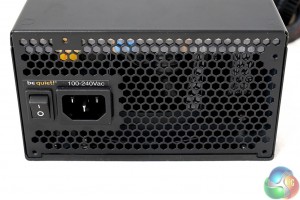 One side of the unit is vented to help improve air flow. A power connector and switch is set at the side underneath more company branding.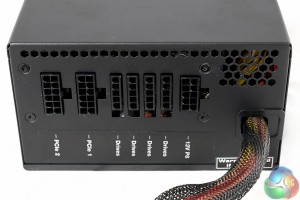 As we mentioned earlier in the review, the Straight Power 10 power supplies are not pure modular designs, the company hardwire the primary motherboard connector. The modular panel is clearly labelled and runs in a single line from left to right. This is a fool proof system as all the connector sizes are different.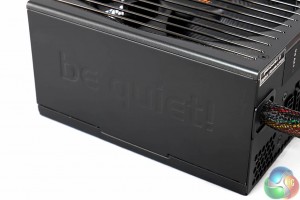 One side of the chassis has 'be quiet!' embossed into the metal. A nice touch.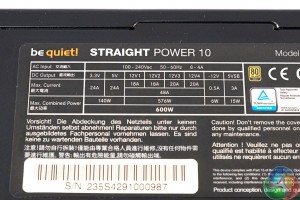 be quiet! Straight Power 10 CM 600W

DC Output

+3.3V

+5V

+12V1
+12V2
+12V3
+12V4

-12V

+5Vsb

Max Output

24A

24A

18A
18A
20A
20A

0.5A

3A

Total Power
140W
576W
6W
15W
600W
The be quiet! Straight Power 10 CM 600W can deliver 576 watts via the +12V rails.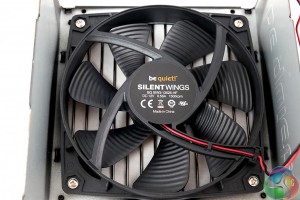 The be quiet Straight Power 10 CM 600W is using the Silent Wings 3 135mm fan (model BQ SIW3-13525-HF). This fan is rated to run up to 1,500rpm although it is going to run much slower under most situations. At maximum speed it can push 70.2 CFM.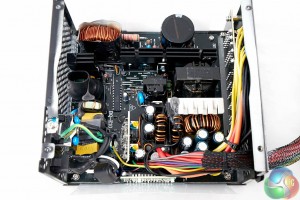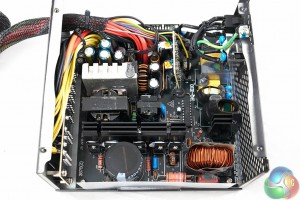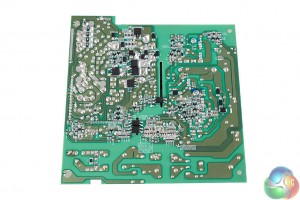 This power supply looks like an FSP OEM design and the overall build quality is quite high. There are a few heatsinks to help with heat transfer. The company are using an Active Clamp + SR (Synchronous Rectifier) design.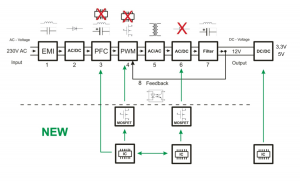 This uses IC controllers instead of older style passive components, so the power conversion is constantly monitored and always being kept at optimal efficiency level. Active Clamp + SR is a cost effective topology to create power supplies with an 80 PLUS Gold certification in Watt ranges up to 800 Watts.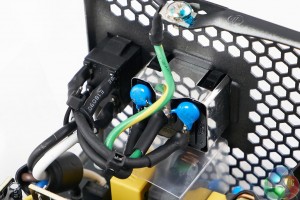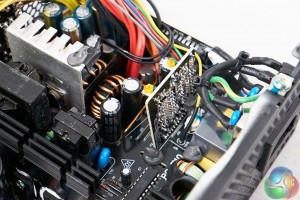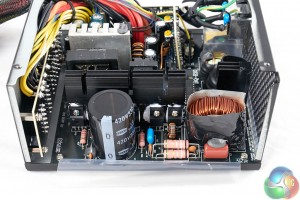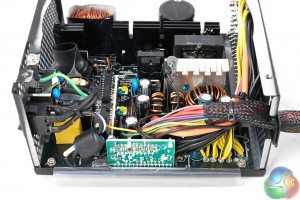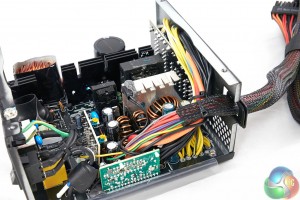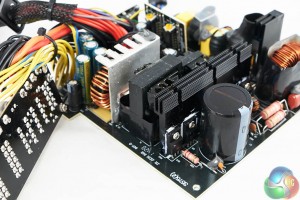 They are using a DC to DC system to generate +3.3V and +5V voltages. All of the Straight Power 10 power supplies offer four +12V rails except the 400 watt unit, which has three. The Straight Power 10 can handle 97% of the available power to the +12V rails.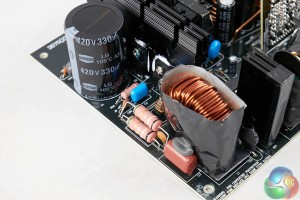 The design is using a Chinese TEAPO capacitor in the primary stage. It is rated 420V 330uF @ 105C. We were a little disappointed to note that be quiet! didn't instruct the OEM to use a higher grade Japanese capacitor (Nippon Chemi Con, Rubycon etc) for the primary stage, but clearly they are working to fairly tight margins. Second side capacitors are also Chinese 105c rated.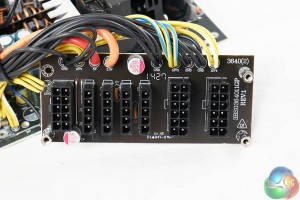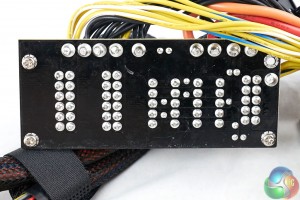 Above, the modular PCB board.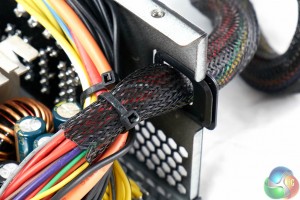 The hard wired cable is sleeved into the chassis and protected within a grommet. This will ensure the cable won't fray against the metal chassis over many months of use. On this page we present some high resolution images of the product taken in our professional studio. These will take much longer to open due to the dimensions, especially on slower connections. If you use these pictures on another site or publication, please credit Kitguru.net as the owner/source.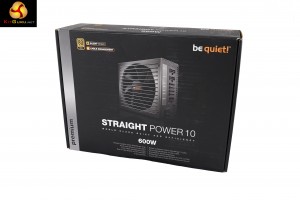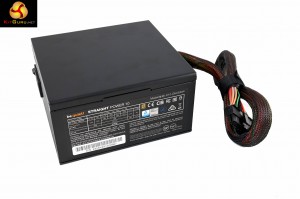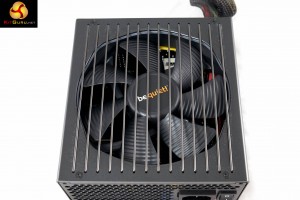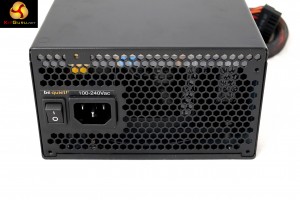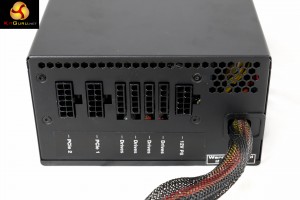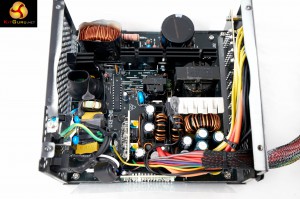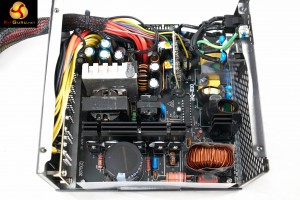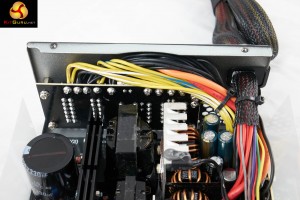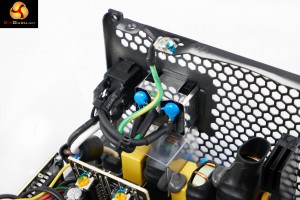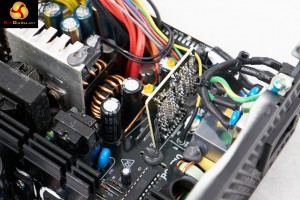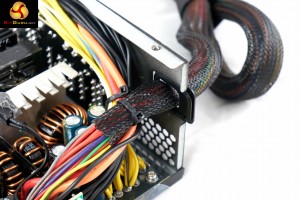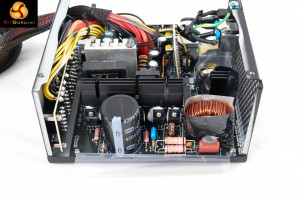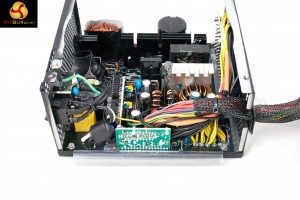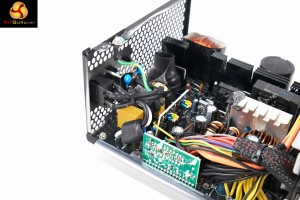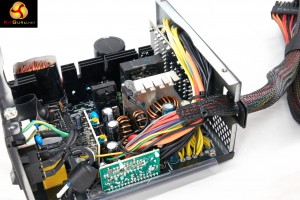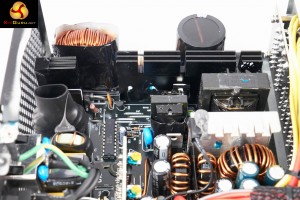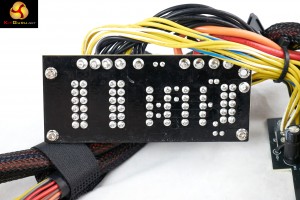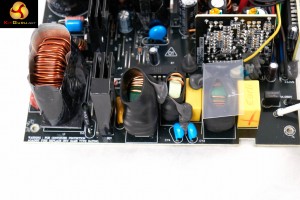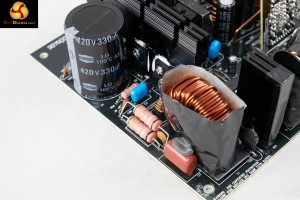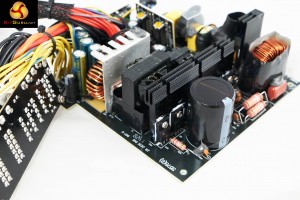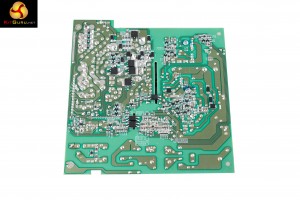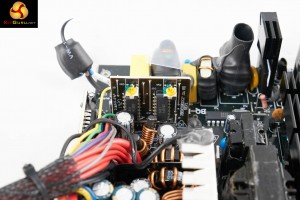 Additional technical assistance: Peter McFarland and Jeremy Price.
Correctly testing power supplies is a complex procedure and KitGuru have configured a test bench which can deliver up to a 2,000 watt DC load. Due to public requests we have changed our temperature settings recently – previously we rated with ambient temperatures at 25C, we have increased ambient temperatures by 10c (to 35c) in our environment to greater reflect warmer internal chassis conditions.
We use combinations of the following hardware:
• SunMoon SM-268
• CSI3710A Programmable DC load (+3.3V and +5V outputs)
• CSI3711A Programmable DC load (+12V1, +12V2, +12V3, and +12V4)
• Extech Power Analyzer
• Extech MultiMaster MM570 digital multimeter
• SkyTronic DSL 2 Digital Sound Level Meter (6-130dBa)
• Digital oscilloscope (20M S/s with 12 Bit ADC)
• Variable Autotransformer, 1.4 KVA
12V output is combined for our testing
DC Output Load Regulation

+3.3V

+5V

+12V

+5VSB

-12V

A

V

A

V

A

V

A

V

A
V

75W

1.09

3.36

1.47

5.03

4.92

12.12

0.50

0.20

-12.08

150W

2.09

3.35

2.97

5.01

10.02

12.11

0.50

0.30

-12.09

300W

4.30

3.34

6.00

5.00

20.58

12.08

1.00

0.30

-12.10

450W

6.57

3.34

8.48

4.99

31.79

12.06

1.50

5.00

0.30

-12.12

600W

9.94

3.33

12.20

4.98

41.78

12.04

2.50

0.30

-12.13
The be quiet! Straight Power 10 CM exhibits good load regulation, holding well across all loads, across all rails.
be quiet! Straight Power 10 CM 600W
Maximum Load
688W
We managed to get 688W out of the PSU before it would shut down, gracefully.
Next we want to try Cross Loading. This basically means loads which are not balanced. If a PC for instance needs 500W on the +12V outputs but something like 30W via the combined 3.3V and +5V outputs then the voltage regulation can fluctuate badly.
Cross Load Testing
+3.3V
+5V
+12V
-12V
+5VSB
A
V
A
V
A
V
A
V
A
V
590W
1.0
3.35
1.0
5.03
46.0
12.02
0.2
-12.09
0.50
5.02
145W
12.0
3.34
15.0
4.97
2.0
12.14
0.2
-12.07
0.50
5.03
The be quiet! Straight Power 10 CM 600 watt handled the cross loading tests well with only a minor shift on the +12V rail.
We then used an oscilloscope to measure AC ripple and noise present on the DC outputs. We set the oscilloscope time base to check for AC ripple at both high and low ends of the spectrum. ATX12V V2.2 specification for DC output ripple and noise is defined in the ATX 12V power supply design guide.
ATX12V Ver 2.2 Noise/Ripple Tolerance

Output

Ripple (mV p-p)

+3.3V

50

+5V

50

+12V1

120

+12V2

120

-12V

120

+5VSB

50
Obviously when measuring AC noise and ripple on the DC outputs the cleaner (less recorded) means we have a better end result. We measured this AC signal amplitude to see how closely the unit complied with the ATX standard.
AC Ripple (mV p-p)
DC Load
+3.3V
+5V
+12V
5VSB
75W
10
10
15
15
150W
15
15
20
15
300W
15
15
30
15
450W
15
15
35
15
600W
20
15
45
20
Noise suppression is very good, peaking between 15mV and 20mV on the +5V and +3.3V rails respectively. The +12V rail peaked at 45mV when at full load. These are all well within rated industry tolerance levels.
Efficiency (%)

75W

87.34

150W

88.77

300W

92.12

450W

91.56

600W

89.38
Efficiency rates as excellent, peaking at 92.12% when loaded to 50%. At full load the efficiency drops to 89.38%, a good result.
We take the issue of noise very seriously at KitGuru and this is why we have built a special home brew system as a reference point when we test noise levels of various components. Why do this? Well this means we can eliminate secondary noise pollution in the test room and concentrate on components we are testing. It also brings us slightly closer to industry standards, such as DIN 45635.
Today to test the Power Supply we have taken it into our acoustics room environment and have set our SkyTronic DSL 2 Digital Sound Level Meter (6-130dBa) one meter away from the unit. We have no other fans running so we can effectively measure just the noise from the unit itself.
As this can be a little confusing for people, here are various dBa ratings in with real world situations to help describe the various levels.
KitGuru noise guide
10dBA – Normal Breathing/Rustling Leaves
20-25dBA – Whisper
30dBA – High Quality Computer fan
40dBA – A Bubbling Brook, or a Refridgerator
50dBA – Normal Conversation
60dBA – Laughter
70dBA – Vacuum Cleaner or Hairdryer
80dBA – City Traffic or a Garbage Disposal
90dBA – Motorcycle or Lawnmower
100dBA – MP3 Player at maximum output
110dBA – Orchestra
120dBA – Front row rock concert/Jet Engine
130dBA – Threshold of Pain
140dBA – Military Jet takeoff/Gunshot (close range)
160dBA – Instant Perforation of eardrum
Noise (dBA)

75W

28.0

150W

28.0

300W

28.0

450W

31.2

600W
32.1
The Silent Wings 3 BQ SIW3-13525-HF fan is exceptionally quiet, rating below the accurate limits of our sound meter at 28dBa until around 375 watts is demanded. At 450Watts load, the fan spins up a little, although it is likely the minor fan noise would be masked completely with a chassis fan running in tandem. At full load, it rises to 32dBa.
In real world terms you are unlikely to hear any fan noise regardless of the load.
Temperature (c)

Intake

Exhaust

75W

35

40

150W

35

42

300W

37

45

450W

41

50

600W

44

55
The large Silent Wings 3 fan may be almost inaudible, even at full load – but it does produce a decent level of air, holding an excellent thermal curve result.
| | |
| --- | --- |
| Maximum load | Efficiency |
| 688W | 88.89 |
At 688W the be quiet! Straight Power 10 CM drops to 88.9% efficiency. This is not a viable 'real world' situation, but its interesting nonetheless.
The Straight Power range has been a big seller for be quiet! over previous years. The '10' range looks likely to continue the success story for the German tech company.
As their name would suggest be quiet! are always primarily focused on reducing noise emissions as far as possible. The latest Silent Wings 3 fans are undoubtedly market leaders, alongside the Aerocool Dead Silence range which we reviewed several months ago.
be quiet! products are always beautifully finished, and the Straight Power 10 CM 600Watt power supply is no exception to the rule. The paint work is deep and very resilient to scratching, and the overall quality of finish outside is excellent.
I was a little surprised to see they hadn't opted for the thin 'ribbon' style cables which are proving popular with the enthusiast audience thanks to routing benefits, however the sleeved cables are high grade.
Inside, we can see they have partnered up with FSP for the PSU implementation. FSP are well known for creating reasonably high quality units at competitive price points, which is indicative of this particular range from be quiet!
Technically the power supply performs well in all areas, delivering solid load regulation and coping well with the intensive cross load test. Ripple suppression is good, if not remarkable, and all rails fall well within rated industry tolerance levels. The power supply also delivered 688 watts before shutting down safely.
It was a little disappointing to see a Chinese 'TEAPO' branded capacitor in the primary stage, even though it is 105c rated. We appreciate they are working to tight price points, but a 105c rated Japanese capacitor in the primary stage is always good to see, especially for long term reliability.
The be quiet! Straight Power 10 with Cable Management is likely to appeal to the audience building a powerful media system for use beside a high definition television within a living room or bedroom environment. The Silent Wings 3 fan is exceptionally quiet even when the power supply is delivering the full 600 watts. The modular design means you will only need to attach the cables you need. Granted this isn't a 'pure' modular design, but the only hardwired cable contains the necessary main motherboard connector, so it will be needed in every system build.
Right now we have no confirmed UK pricing, but based on previous E9 price points we would expect this particular unit to be released for around £80 inc vat. The be quiet! Silent Wings 3 fans are expensive and go some way to justify the 'higher than average' price point.
Discuss on our Facebook page, over HERE.
Pros:
exceptionally quiet.
beautiful finish.
modular design.
technically solid.
delivered close to 700 watts before shutting down.
80 Plus Gold efficiency.
Cons:
Chinese capacitor in primary stage.
a lot of competition at the price.
not 'pure' modular.
Kitguru says: Another high grade power supply from the German company. As we would expect from be quiet! you will be hard pressed to hear the Silent Wings 3 fan, even at full load.