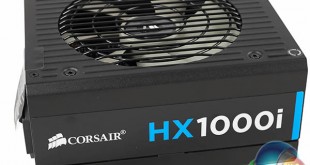 Recent months have seen a constant stream of quality, high wattage power supply releases from the likes of SuperFlower, Seasonic and Cooler Master. Continuing this trend – today we take a look at the new Corsair HX1000i, a modular, 80 Plus Platinum certified model with a Zero RPM Fan Mode to reduce noise emissions as far as possible.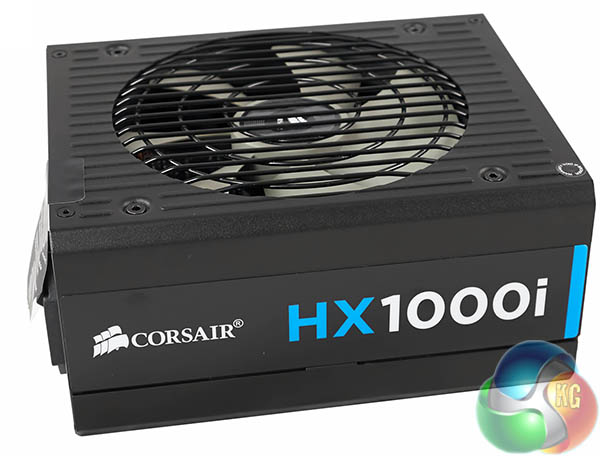 The HXi power supplies are all Platinum class with an efficiency rating of at least 92% at 50% load. There are three in this range: a 750W, 850W and 1000W model. We look at the highest 1000w unit today.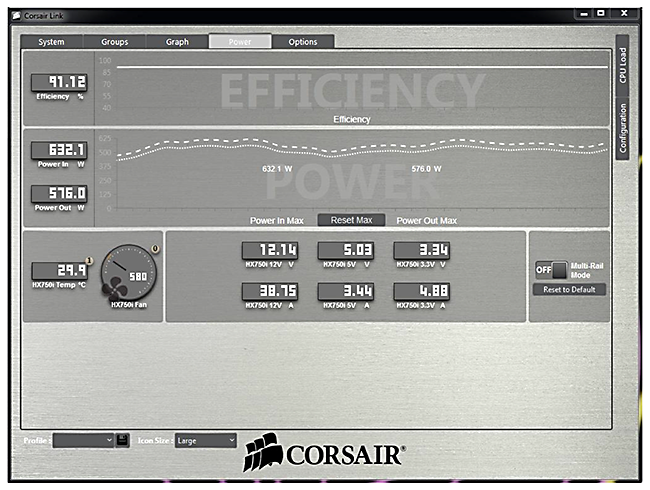 The HXi is an analog power supply but it features a built in analog to digital bridge which can pass over information to the Corsair Link Software via a USB connection. As the image above shows, the end user can monitor fan speed, current and voltage of the +3.3V, +5V and +12V rails. There is also support for display power in and efficiency, monitor power out with the option to enable or disable OCP on the +12V rails.
Corsair say they have carefully selected every component in the creation of the HXi to eliminate noise. They have placed special effort into improving the windings of transformers/coils in the design. Vibrations can occur if components are not wound properly – leading to what many users are calling 'coil whine'. A fairly common problem with some power supplies on the market, even today.
Corsair seem confident in the new design – they are offering a full 7 year warranty with the HXi power supplies.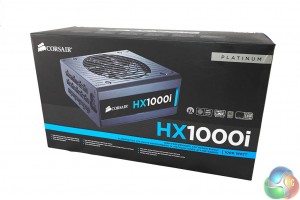 The Corsair HX1000i arrives in a nicely designed box with a high resolution image of the product on the front.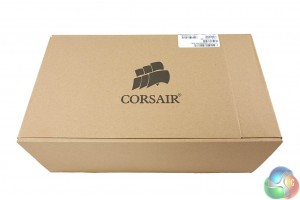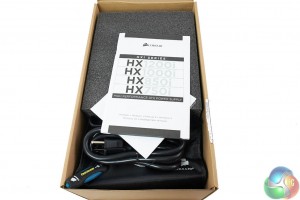 Inside, a brown box with Corsair branding. Inside, the power supply ships protected between two thick slabs of foam with all the accessories stored at the side.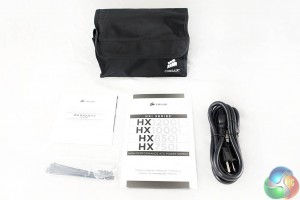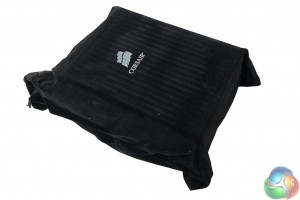 A user manual, cable storage pouch and regional specific power cable. The HX1000i is wrapped in a soft felt bag.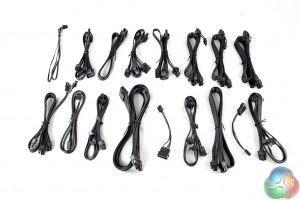 The power supply is a fully (pure) modular design, so no cables are hardwired into the chassis. The cables are all high grade flat 'ribbon' style to help with the routing phase of the system build. – even the main MB 20+4 cable is an easy to route flat cable.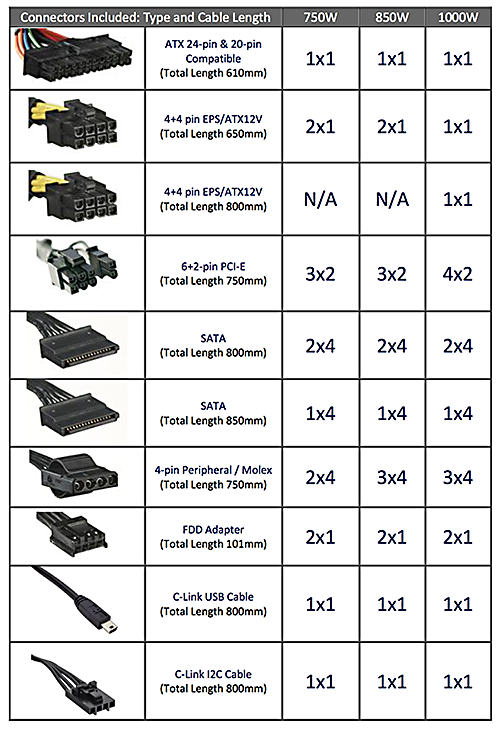 The 1000W HXi has a total of 8 PCIe connectors available, for those of you running very high end Crossfire or SLi systems. The 750W and 850W units sacrifice two of these connectors. There are a total of 12 SATA connectors available, which should be more than enough for any kind of home or gaming oriented system build. It is also good to see the cables are long enough to support the biggest tower cases on the market today.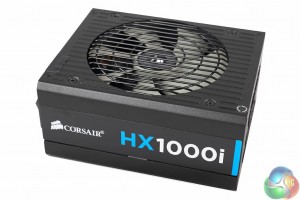 High end Corsair power supplies are generally finished to a high standard and the HX1000i Platinum continues the trend. The two tone colour scheme adorns the side panels, in light blue this time.
The H1000i passed our 'screwdriver' test with flying colours. This involves running the head of a Philips head driver down the side of the chassis with light to medium force. After all, how many times have you accidentally connected with a power supply during a system build?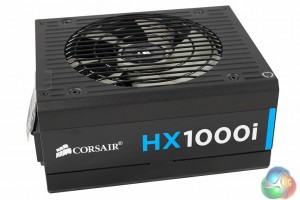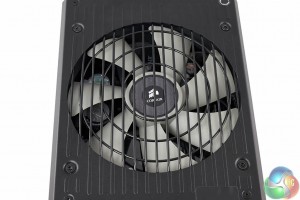 The light coloured fan is visible behind the black metal bars of the grill. Corsair branding is in the center.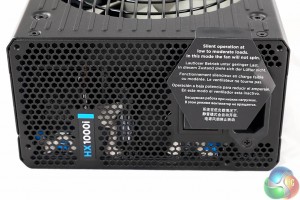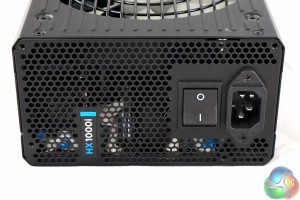 A large sticker is visible over the power connector to let the user know that under most circumstances, the fan will be in Zero RPM mode. Corsair say that for up to 40% of the maximum load (around 400watts in this case) the fan will not be spinning at all.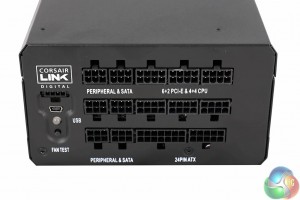 The modular panel is staggered in three rows. Six 8 pin modular connectors support either CPU power connectors (4pin ATX12V or 8 pin EPS12V) or PCIe power connectors (6+2 pin). Four 6 pin connectors support either SATA or MOLEX power connectors. The 24 pin ATX power connector is plugged into the modular interface using two separate connectors.
The Corsair Digital Link connector works with the Corsair Link software using either a mini USB connector or a I2C connector.
The fan test button is included so the user can check the fan is still operational – useful as most of the time it will not be running at all. The LED turns green when the USB header is connected and the power supply is functioning properly. When the link is active, the lights will rotate between green and red colours. If it holds a solid red, it has lost connectivity completely.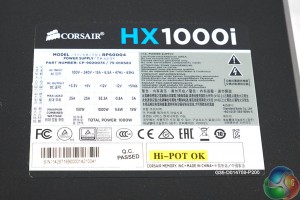 Corsair HX1000i Platinum Modular PSU

DC Output

+3.3V

+5V

+12V

-12V

+5Vsb

Max Output

25A

25A

83.3A

0.8A

3A

Total Power
150W
1000W
9.6W
15W
1000W
The Corsair HX1000i Platinum Modular power supply can deliver 83.3A on the +12V rail. If you read our Seasonic 1050WXP3 Platinum review earlier this week, you will see this is around 4A less. This Corsair unit can deliver all of its power over the +12V rail.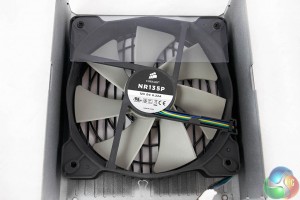 Corsair are using the NR135P power supply fan inside the HX1000i. Corsair say this fan was designed with blades shaped to move more air while creating less noise. The blades are balanced to help prevent resonance at higher spin speeds. This fan is a fluid dynamic bearing design, superior to most sleeve or ball bearing units on the market. Corsair have enhanced the motor core and windings in the bearing for better low noise performance at reduced speeds.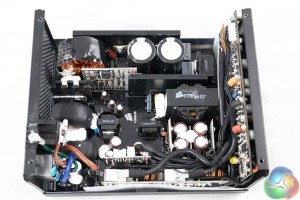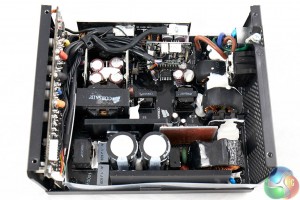 The internal layout of the HX1000i is very clean with plenty of space for airflow from above. Soldering quality seems relatively high throughout.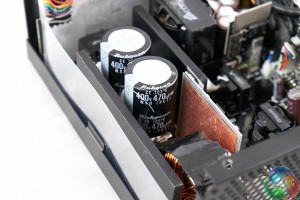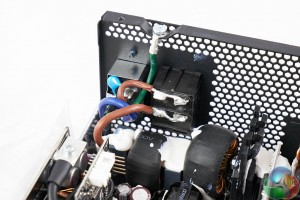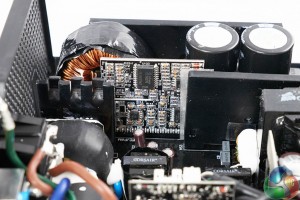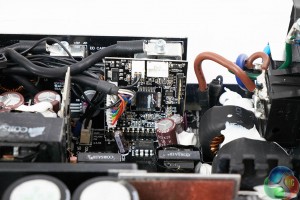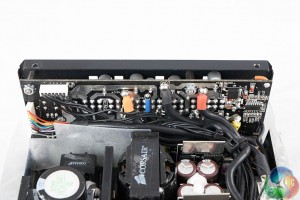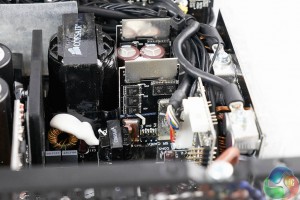 The design is using high grade 105c Japanese rated capacitors throughout. Primary capacitors are from Rubycon, the finest quality that money can buy. Interesting to see that while Seasonic use three 330uF 420V capacitors in their latest 1050WXP3 unit, Corsair are using two 400v 470uF capacitors in the HX1000i.
On this page we present some high resolution images of the product taken in our professional studio. These will take much longer to open due to the dimensions, especially on slower connections. If you use these pictures on another site or publication, please credit Kitguru.net as the owner/source.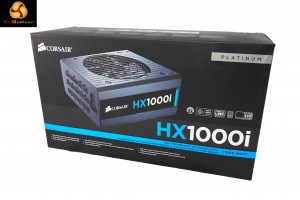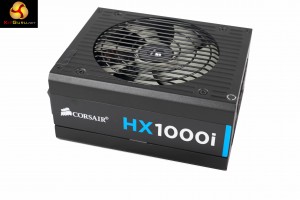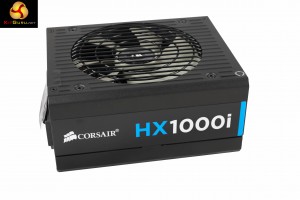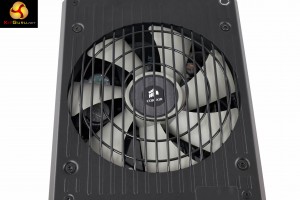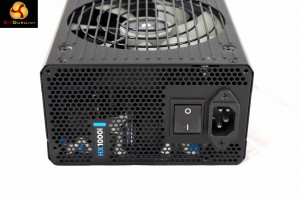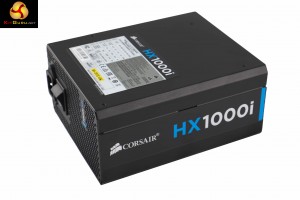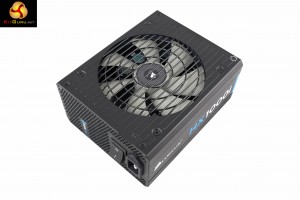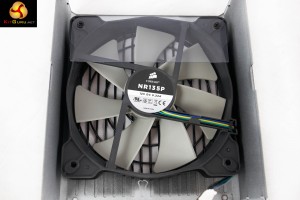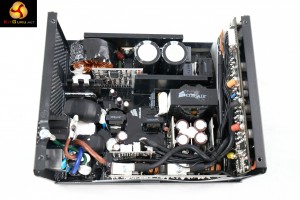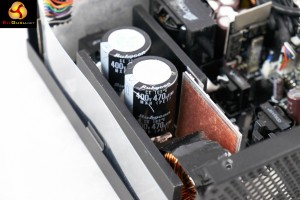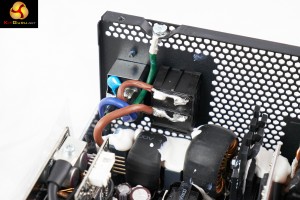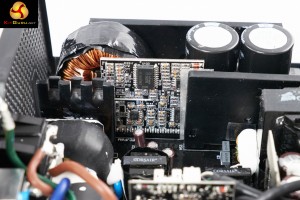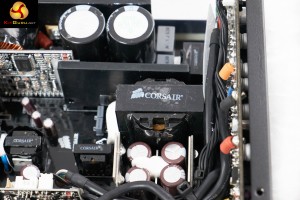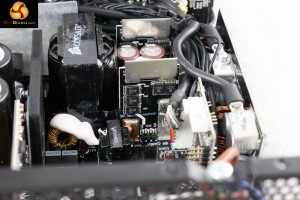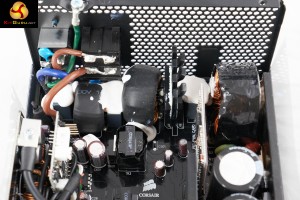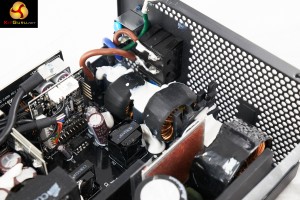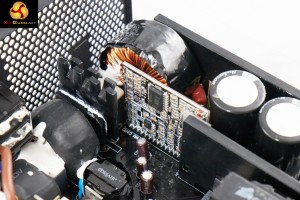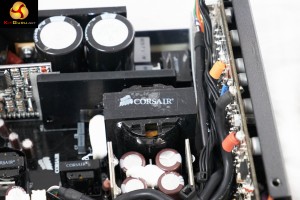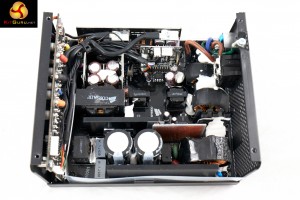 Additional technical assistance: Peter McFarland and Jeremy Price.
Correctly testing power supplies is a complex procedure and KitGuru have configured a test bench which can deliver up to a 2,000 watt DC load. Due to public requests we have changed our temperature settings – previously we rated with ambient temperatures at 25C, we have increased ambient temperatures by 10c (to 35c) in our environment to greater reflect warmer internal chassis conditions.
We use combinations of the following hardware:
• SunMoon SM-268
• CSI3710A Programmable DC load (+3.3V and +5V outputs)
• CSI3711A Programmable DC load (+12V1, +12V2, +12V3, and +12V4)
• Extech Power Analyzer
• Extech MultiMaster MM570 digital multimeter
• SkyTronic DSL 2 Digital Sound Level Meter (6-130dBa)
• Digital oscilloscope (20M S/s with 12 Bit ADC)
• Variable Autotransformer, 1.4 KVA
DC Output Load Regulation

+3.3V

+5V

+12V

+5VSB

-12V

A

V

A

V

A

V

A

V

A
V

100W

1.53

3.33

1.77

5.05

6.66

12.20

0.50

0.20

-12.01

200W

3.13

3.32

3.50

5.04

13.50

12.17

1.00

0.20

-12.02

400W

6.42

3.32

7.04

5.03

27.50

12.12

1.50

0.30

-12.03

600W

9.81

3.32

10.75

5.02

41.70

12.08

2.00

4.98

0.30

-12.02

800W

13.25

3.31

14.55

5.00

56.40

12.05

2.50

0.50

-12.03

1000W
16.53
3.31
15.66
4.98
71.40
12.02
3.00
4.98
0.60
-12.03
Load regulation is very good with all the rails holding tight, within 2%.
Corsair HX100i Platinum

Maximum Load
1102W
We managed to get another 102W from the power supply before the protection circuitry kicked in. The supply was undamaged and it was ready to fire up again when we dropped the load to a more realistic level.
Next we want to try Cross Loading. This basically means loads which are not balanced. If a PC for instance needs 500W on the +12V outputs but something like 30W via the combined 3.3V and +5V outputs then the voltage regulation can fluctuate badly.
Cross Load Testing
+3.3V
+5V
+12V
-12V
+5VSB
A
V
A
V
A
V
A
V
A
V
885W
2.0
3.32
2.0
5.04
72.0
11.98
0.2
-12.02
0.50
5.00
240W
20.0
3.30
24.0
4.97
2.0
12.18
0.2
-12.00
0.50
4.99
The Corsair HX1000i Platinum coped well with the intensive Cross Loading test. We noticed minor droop when we hit the +12V rail hard with 72Amps.
We then used an oscilloscope to measure AC ripple and noise present on the DC outputs. We set the oscilloscope time base to check for AC ripple at both high and low ends of the spectrum. ATX12V V2.2 specification for DC output ripple and noise is defined in the ATX 12V power supply design guide.
ATX12V Ver 2.2 Noise/Ripple Tolerance

Output

Ripple (mV p-p)

+3.3V

50

+5V

50

+12V1

120

+12V2

120

-12V

120

+5VSB

50
Obviously when measuring AC noise and ripple on the DC outputs the cleaner (less recorded) means we have a better end result. We measured this AC signal amplitude to see how closely the unit complied with the ATX standard.
AC Ripple (mV p-p)
DC Load
+3.3V
+5V
+12V
5VSB
100W
10
10
15
5
200W
15
10
15
10
400W
15
10
20
10
600W
15
15
25
15
800W
20
15
35
20
1000W
20
20
40
20
Ripple suppression is good. All rails hold well within the industry rated tolerance levels.
Efficiency (%)

100W

83.8

200W

89.3

300W

93.1

500W

93.9

800W

93.1

1000W
92.0
The overall efficiency results are excellent, peaking at 93.9% at 500W. This drops to 92% efficiency at full load, a very impressive result.
We take the issue of noise very seriously at KitGuru and this is why we have built a special home brew system as a reference point when we test noise levels of various components. Why do this? Well this means we can eliminate secondary noise pollution in the test room and concentrate on components we are testing. It also brings us slightly closer to industry standards, such as DIN 45635.
Today to test the Power Supply we have taken it into our acoustics room environment and have set our SkyTronic DSL 2 Digital Sound Level Meter (6-130dBa) one meter away from the unit. We have no other fans running so we can effectively measure just the noise from the unit itself.
As this can be a little confusing for people, here are various dBa ratings in with real world situations to help describe the various levels.
KitGuru noise guide
10dBA – Normal Breathing/Rustling Leaves
20-25dBA – Whisper
30dBA – High Quality Computer fan
40dBA – A Bubbling Brook, or a Refrigerator
50dBA – Normal Conversation
60dBA – Laughter
70dBA – Vacuum Cleaner or Hairdryer
80dBA – City Traffic or a Garbage Disposal
90dBA – Motorcycle or Lawnmower
100dBA – MP3 Player at maximum output
110dBA – Orchestra
120dBA – Front row rock concert/Jet Engine
130dBA – Threshold of Pain
140dBA – Military Jet takeoff/Gunshot (close range)
160dBA – Instant Perforation of eardrum
Noise (dBA)

100W

28.0

200W

28.0

400W

28.0

600W

31.7

800W
32.1
1000W
33.0
The Corsair HX1000i is extremely quiet even when it is tasked with delivering a full 1000 watts of power. This is one of the quietest high performance power supplies we have ever tested.
Temperature (c)

Intake

Exhaust

100W

35

39

200W

35

41

400W

37

43

650W

43

53

800W

45

54

1000W
47
61
Temperatures are well controlled and while the fan gets active in the last 20% of power delivery it doesn't create a racket.
| | |
| --- | --- |
| Maximum load | Efficiency |
| 1102W | 91.2 |
Pushing the power supply above its rated limits generates an efficiency level of around 91.2%. This is not a viable 'real world' situation, but its interesting nonetheless.
The Corsair HX1000i Platinum power supply is another quality unit from the company set to target the discerning enthusiast audience with multiple high drain graphics cards.
Externally, the supply meets the grade we would expect from a high end Corsair product – paintwork is deep and it passed our scratch test without a hitch. The simple two tone colour scheme that Corsair have used for years with their power supplies still looks fresh and very appealing inside a system with a windowed side panel.
The cabling deserves a mention. The high grade flat ribbon style cables are easy to work with and great to route behind a motherboard tray – even if space is limited. The long length of the primary cables will ensure compatibility with the biggest cases on the market today.
Corsair have placed a clear focus on reducing noise levels as much as possible – not only by including a high grade fluid dynamic bearing fan but by working on on the windings inside the components. This helps to eliminate the unpleasant noise often referred to as 'coil whine'.
Technically, the unit performs well. Load regulation is good and all rails hold within 2% when the supply is tasked all the way up to 1000watts of delivery. It handled the cross load test well too, with only minor fluctuation on the +12V rail when we hit it with 72 Amps. Ripple suppression is commendable, although it does fall a little behind the best units we have tested in recent months.
The pure modular design, high efficiency, extremely low noise levels and stellar build quality will appeal to a wide audience of demanding enthusiast user. The pricing looks very competitive too, as according to Overclockers UK – the retail price will be £169.99 inc vat – available soon at this link.
Discuss on our Facebook page, over HERE.
Pros:
competitively priced Platinum supply.
well built.
looks great.
modular cables are first class.
load regulation.
very quiet.
7 year warranty.
Cons:
no shortage of competition in this sector.
Kitguru says: Another quality release from Corsair, and it is well priced considering the specifications.