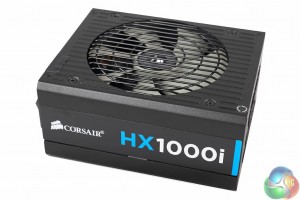 High end Corsair power supplies are generally finished to a high standard and the HX1000i Platinum continues the trend. The two tone colour scheme adorns the side panels, in light blue this time.
The H1000i passed our 'screwdriver' test with flying colours. This involves running the head of a Philips head driver down the side of the chassis with light to medium force. After all, how many times have you accidentally connected with a power supply during a system build?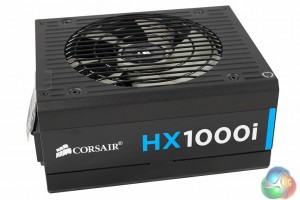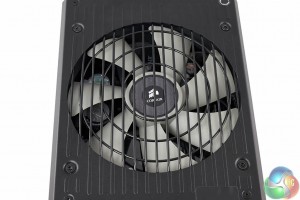 The light coloured fan is visible behind the black metal bars of the grill. Corsair branding is in the center.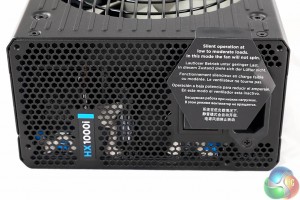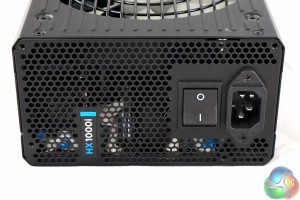 A large sticker is visible over the power connector to let the user know that under most circumstances, the fan will be in Zero RPM mode. Corsair say that for up to 40% of the maximum load (around 400watts in this case) the fan will not be spinning at all.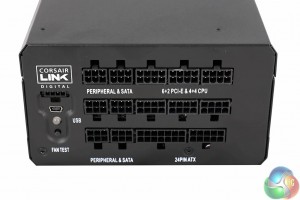 The modular panel is staggered in three rows. Six 8 pin modular connectors support either CPU power connectors (4pin ATX12V or 8 pin EPS12V) or PCIe power connectors (6+2 pin). Four 6 pin connectors support either SATA or MOLEX power connectors. The 24 pin ATX power connector is plugged into the modular interface using two separate connectors.
The Corsair Digital Link connector works with the Corsair Link software using either a mini USB connector or a I2C connector.
The fan test button is included so the user can check the fan is still operational – useful as most of the time it will not be running at all. The LED turns green when the USB header is connected and the power supply is functioning properly. When the link is active, the lights will rotate between green and red colours. If it holds a solid red, it has lost connectivity completely.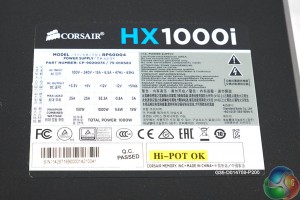 Corsair HX1000i Platinum Modular PSU

DC Output

+3.3V

+5V

+12V

-12V

+5Vsb

Max Output

25A

25A

83.3A

0.8A

3A

Total Power
150W
1000W
9.6W
15W
1000W
The Corsair HX1000i Platinum Modular power supply can deliver 83.3A on the +12V rail. If you read our Seasonic 1050WXP3 Platinum review earlier this week, you will see this is around 4A less. This Corsair unit can deliver all of its power over the +12V rail.