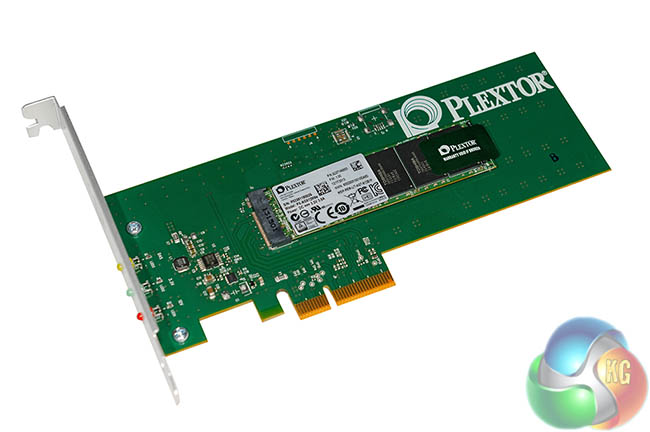 Solid State Technology has been dropping in price steadily for the last year and today we look at the latest product from Plextor – the M6e, a PCI express solid state design. This product is designed for the enthusiast audience who demand the fastest speeds possible. The M6E incorporates the latest generation Marvell 88SS9183 flash controller with multiple cores for ultimate performance when dealing with intense tasks. Unlike similar solutions which we have reviewed in the past, the M6e is automatically recognised as an AHCI device, requiring no additional drivers. Is this the high performance solution you should be shortlisting this year?
It doesn't seem that long ago that we were analysing the first batch of mainstream Solid State Drives, hitting peaks of 280 MB/s via the SATA 3 GB/s interface. To accommodate faster drives we subsequently moved to the SATA 6 Gb/s interface, doubling speeds to a theoretical maximum of 600 MB/s. Obviously there are some bandwidth overheads involved across the interface so the fastest solid state drives have been limited to around 560 MB/s.
If you don't want to utilize several 2.5 inch Solid State drives in a Raid 0 configuration then buying a PCI Express Solid State product may be the quickest way to achieve performance higher than the SATA 6 GB/s interface will allow.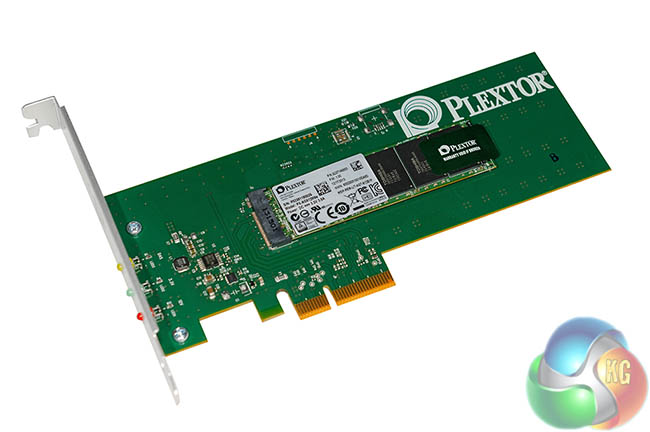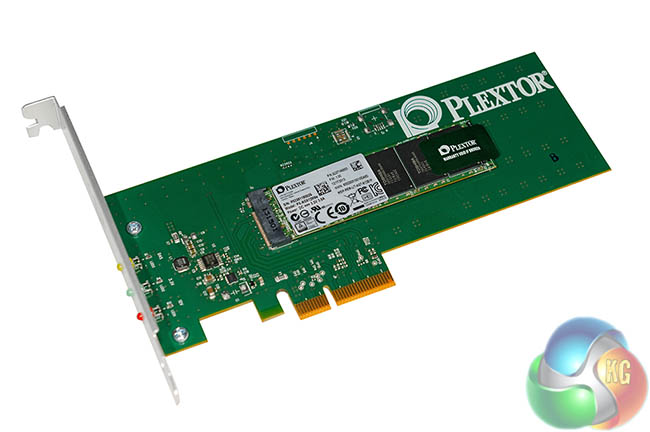 The new Plextor M6e uses advanced 19nm Toggle NAND flash memory chips from Toshiba. It will be available in three sizes – 128GB, 256GB and 512GB.
| | | | |
| --- | --- | --- | --- |
| | 128GB | 256GB | 512GB |
| DRAM Cache | 256MB DDR3 | 512MB DDR3 | 1GB DDR3 |
Plextor rate the 512GB unit which we are reviewing today at maximum speeds of 770 MB/s read and 625 MB/s write.
128GB
256GB
512GB
Sequential Read Speed
Up to 770 MB/s
Up to 770 MB/s
Up to 770 MB/s
Sequential Write Speed
Up to 335 MB/s
Up to 580 MB/s
Up to 625 MB/s
Random Read Speed
(IOPS 4K)
Up to 96,000
Up to 105,000
Up to 105,000
Random Write Speed
(IOPS 4K)
Up to 83,000
Up to 100,000
Up to 100,000
Plextor have said that the 512GB M6e delivers maximum random IOPS performance of 105,000 read and 100,000 write. Random IOPS performance is rated at 94,000 read and 80,000 write.
Pricing looks to be competitive, and while the M6e is not yet available in the United Kingdom, the company informed us that three versions will be available between now and March. Prices range from £1.03 per gigabyte to 82 pence per gigabyte. Plextor are able to drop the cost per GB if you opt for the 256GB or 512GB versions.
Launch prices:
128GB – £132 (£1.03 GBP/GB)
256GB – £215 (£0.84 GBP/GB)
512GB – £419 (£0.82 GBP/GB)