For years Intel Corp. has been focused to deliver the best possible chips for various mobile devices, including notebooks and tablets, whereas solutions for desktops computers were put on the back-burner. This happened for many reasons because of the lack of competition on the desktop market as well as because Intel needed to address mobile applications. But it looks like the situation is going to change.
Starting from the 1980s, Intel developed microprocessors for desktop personal computers and then tailored them for laptops by reducing clock-speeds, implementing power-saving technologies and cutting-down some parts of the chip. Back in 2004 – 2005 the company changed its design paradigm and focused on development of central processing units (CPUs) with minimum power consumption for notebooks which could scale up (in terms of clock-rates, core-count and features) and offer great performance for desktops, workstations and servers. More recently (in 2011 – 2013), the company put a lot of focus onto creating advanced solutions (and processing architectures) for tablets as well as other ultra-low power devices.
Intel is a big company with around 100 thousand of employees, so when it is said that the company focuses on something, it does not mean that the firm only changes technical assignments for research and development groups, CPU architects and designers. It means a number of drastic changes across the company, a lot of staff re-assignments, relocations and so on. In such a way, the company was strongly focused on mobile computing devices for about ten years now. While the world's largest chipmaker will clearly continue to invest into competitive mobile solutions, it will change its attitude towards desktop personal computers.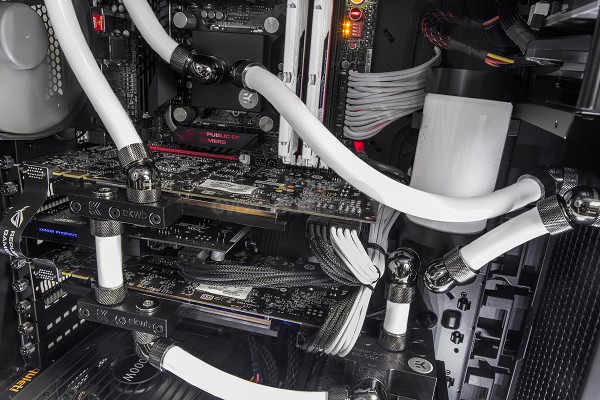 The internals of a modern high-end PC built by Overclockers.co.uk.
According to a source familiar with Intel's internal plans, the company is about to begin to add more focus onto desktop computers. The world's largest maker of microprocessors will increase R&D spending on high-performance and ultra-high performance solutions (microprocessors, interconnections, memory technology, platforms, storage, etc.) beginning in 2014 and peaking in 2017. The desktops based on those new technologies will be a lot different than desktops as we know them today. In order to popularize those "new desktops", Intel will naturally boost its marketing efforts as well.
The reasons why Intel wants to make desktops significantly better than they are today and why it wants to innovate faster are understandable. Many people do not want to replace their 3-4-5 years-old machines because they are good enough for modern tasks and games. If Intel manages to boost performance and capabilities of desktops dramatically in the next couple of years, it will catalyze people to upgrade.
For example, ultra-high-definition resolutions (which means not only video of exceptional quality, but new interfaces, more advanced programs and new approaches to work) will require not only new displays, but much higher processing power, faster interconnections, better storage and so on. The UHD is just one example, but its popularization will allow Intel to increase sales of microprocessors, solid-state drives, chipsets and many other components. Implementation of various natural user interfaces is another example of increasing requirements for processing performance.

Apple Mac Pro: a great example of a new-age desktop PC.
One of the first instances of Intel's increased desktop drive is the company's decision to speed up introduction of the new high-end desktop (HEDT) platform based on Intel X99 core-logic and Intel Core i7 5000-series "Haswell-E" microprocessor by one quarter. The platform will feature the latest technologies that Intel has to offer, excluding USB 3.1 initially, and will deliver performance never-seen-before on desktops.
The details regarding Intel's "new desktop" initiative are pretty scarce at the moment. It is expected that the company's partners will begin to receive information about the new vision starting next month, whereas the general public will likely get a glimpse on the new desktop initiative sometimes at the Intel Developer Forum 2014 this September.
Intel did not comment on the news-story.
Discuss on our Facebook page, over HERE.
KitGuru Says: We still do not know a lot about Intel's new initiative, but it looks like Intel wants to quickly innovate the desktop in general so that to make it much more usable and attractive than machines released several years ago. The implications of the initiative on the market should be rather interesting. Intel is the only company which can quickly evolve desktop platforms and change demands of the end-users. This should have an effect on both AMD as well as the so-called ARM camp which also targets desktop systems. The only question is whether software will be able to catch up with hardware and the new desktops will run more powerful, efficient, easy-to-use and beautiful applications.