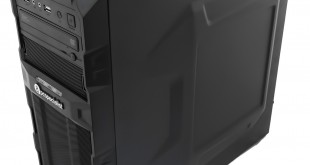 This PCSpecialist Dominator A10 is a tower PC that is sold without monitor, mouse or keyboard for the low price of £399 inc VAT. (Provided you then click the KitGuru button and 'Order now' rather than 'Configure')
Now how on earth, you may wonder, can anyone supply a Windows 8.1 PC for such a low price? Good question.
The answer is that the Dominator A10 uses an AMD A10-7800 Kaveri APU that combines quad core processing with AMD Radeon graphics. We reviewed the A10-7800 APU on KitGuru – (visit the review HERE) and the performance of the Dominator A10 matches our previous testing.
The bare A10-7800 scored 4,443 in PC Mark 8 and this PC scored 4,295.
In 3D Mark Fire Strike the A10-7800 scored 1,483 and this PC scored 1,438.
Specifications:
Motherboard: Asus A88XM-PLUS.
Chassis: PCSpecialist Dominator 6806B chassis (built by Golden Field).
CPU: AMD A10-7800.
Cooler: Stock cooler.
RAM: 8GB dual channel memory (2,133 MHz) Kingston HyperX Beast (2 modules).
HDD: 1TB Seagate 7,200rpm SSHD.
PSU: Corsair VS-350.
OS: Windows 8.1 64-bit.
In our video review we take a tour around the Dominator A10 and take a look at the handful of components inside the chassis, including the Asus A88XM-PLUS motherboard and dual channel Kingston HyperX Beast RAM.
Buy at PCSPECIALIST over HERE.
Discuss on our Facebook page, over HERE.
Pros:
Amazing cheap
Decent graphics performance and a fair CPU
8GB of dual channel Kingston HyperX Beast RAM
The 1TB Seagate SSHD balances performance and price
There is scope for a graphics upgrade in the future
Three USB 3.0 and four USB 2.0 ports
Cons:
The case is a bit lightweight and flexy
The two illuminated fans in the roof of the case can get a bit distracting
AMD CPU technology cannot match Intel Core i5
KitGuru says: The Dominator A10 makes a blinding home PC for anyone looking for the maximum value for money.