Just a few days after Samsung and the U.S.' Federal Aviation Administration warned people to turn off their Galaxy Note 7 smartphones before catching a plane, the transport department has stepped in and banned the handset from all flights. Taking one on to a U.S. aircraft will now be considered a felony charge and could land you with a stiff fine if ignored.
Samsung officially ended production and sales of its Galaxy Note 7 last week, following continued issues with even replaced devices catching fire. It will purportedly have to recall more than 2.5 million handsets in the end, costing it well north of a billion dollars for the entire scandal.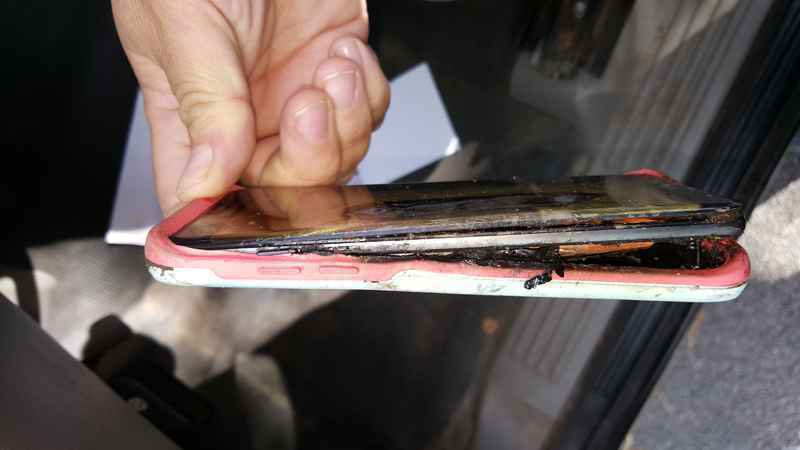 Source: Andrew Zuis/KSTP
While initially thought to only be dangerous while charging, Note 7s are now been treated far more cautiously regardless of situation. Recalled devices are shipped back in fire-resistant boxes – but getting them home may take a while without planes being involved. While those caught trying to board with the phone would likely only have it confiscated, it's possible that civil penalties could see you fined as much as $180,000 (£147,000).
If you did it maliciously, it's even possible that criminal charges could also be leveraged, which could see you go to jail for up to five years.
This news is a further embarrassment for Samsung and could do lasting damage to its brand name. Although it is still one of the most popular phone manufacturers in the world, with close to 100 reports of users being burned or injured by these devices, it could make a lot of people more hesitant to pick up a Samsung device in the future (thanks Reuters).
Discuss on our Facebook page, HERE.
KitGuru Says: What I'm wondering at this point, is: is this something we're going to see more often in smartphones moving forward? It will be interesting to see if this is a real design flaw in Samsung's phones, or if it's merely a symptom of making ever smaller devices, with ever more compact batteries.