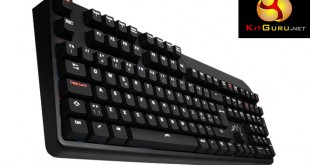 With eSports becoming more and more popular in recent years, there has been a growing trend of peripheral manufacturers releasing products aimed at aspiring eSports gamers. Today we look at the Xtrfy XG1-R LED mechanical keyboard which has been 'approved' by Swedish gamers Ninjas in Pyjamas – on sale for around £110.
Utilising the near-legendary Cherry MX Red switches and offering a host of on-keyboard macro options, it is easy to see why the Xtrfy XG1-R LED keyboard is appealing to eSports gamers. Here we put it through its paces and assess whether it is worth a purchase – if you are a professional gamer or not.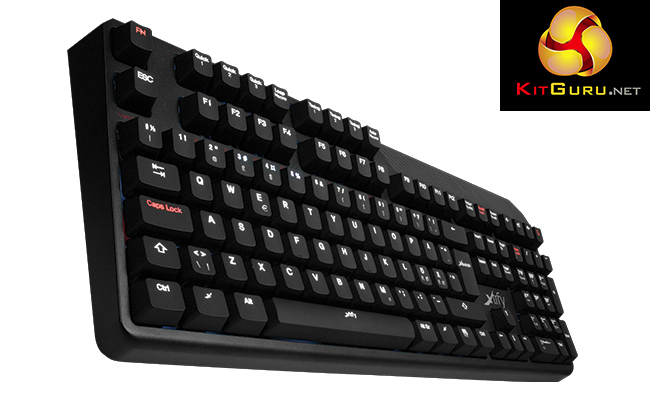 Specifications
Keyboard type: Special 199 keys Nordic layout
Anti-Ghosting: Unlimited USB N-Key Rollover
Switch: Mechanical Cherry MX Red
Key cap layout: Step Scalpture2 Type
Special Keys: 9 macro keys, volume control, gaming mode key, 12 LED mode control keys
Weight: 1.3 kg
Size: 443x170x39 mm
Cable length: 170 cm (detachable)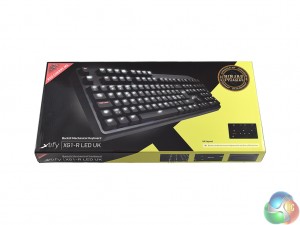 Xtrfy are clearly proud the XG1-R LED has been approved by Ninjas in Pyjamas, as that seal of approval features right on the front of the box.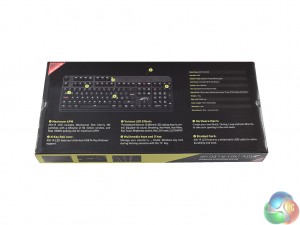 On the back, Xtrfy highlight 6 key features of the XG1-R LED.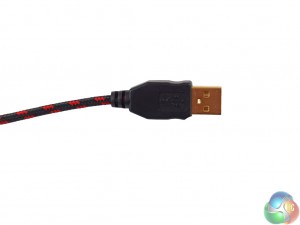 Inside the box is the keyboard and the detachable USB cable. It is braided black and red, measuring 1.7m in length.
The keyboard itself is certainly a simple-looking piece of kit, but it does not look boring either. A cool Xtrfy logo sits above the arrow keys, while the top-right edge of the keyboard has a textured panel to add interest to an otherwise plain looking board.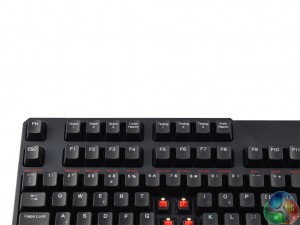 On the top-left edge of the XG1-R LED are the macro keys – featuring 'quick,' 'loop,' 'timing' and 'auto' macro modes, or QLTA as Xtrfy call it. On the next page I will assess how this works in practice, but on a purely physical level it is worth pointing out that the dedicated macro keys positioned above the F keys mean the XG1-R LED is slightly wider than other competing keyboards.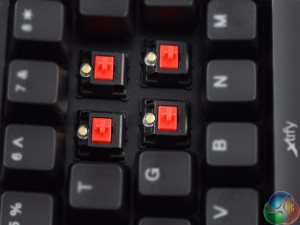 Removing the key caps reveals the Cherry Red switches as well as the per-key, white backlight LEDs.
On the whole, I think the XG1-R LED manages to look simple without being boring – largely due to the textured panel occupying the top-right corner of the board. It has no practical function but it just helps differentiate between the XG1-R LED and other understated mechanical keyboards.While most keyboard reviews start with a look at the accompanying software suite, there is no included software with the XG1-R LED. However, that is not to say the XG1-R LED is lacking in functionality. Rather, it stores macro and lighting choices on the board's own internal memory – removing the need for any software.
So rather than assessing software, I will begin by assessing how these functions work when using the XG1-R LED.
For one, macros come offered in four modes: quick, loop, timing and auto. Quick macro mode repeats the user created macro as fast as is allowed by the keyboard and OS. Loop macro mode loops the command as long as you want. Timing macro mode remembers the timing between each key press as you record the macro – and then replicates it exactly. Auto macro mode works as if the specified keys are being continually held down.
Description aside, setting the macros is very easy and intuitive. Simply press Fn along with the desired macro key, input your command and press Fn to finish recording. Your macro will then be stored until you delete it.
Personally I think this is a very innovative and effective approach taken by Xtrfy. Removing software from the equation means you can take your keyboard anywhere and use it on anything, and all your macros are still just as you left them. A total of 8 dedicated macro keys should be plenty, too.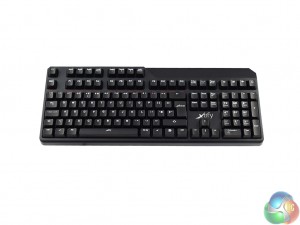 Lighting effects are also controlled directly from the board. While the backlight is white-only, there are a total of 7 lighting effects. For instance, you can set the light to 'breathe', to light only as you type, or to illuminate only a user-defined number of keys.
What is even more impressive is the control you have over the brightness. By this I mean you can set the backlight brightness to one of 8 different levels, while retaining an independent brightness level for the backlight effects. For example, as I am typing this review my backlight level is fairly dim. However, my effects brightness level is high – and as I am using the effect where the keys light up as I type, my keys are lighting up brighter than the set backlight level.
Quite simply, Xtrfy have absolutely nailed the on-board macro and lighting controls. The level of user-control is fabulous and removing software from the equation will no-doubt appeal to eSports gamers and LAN party-goers.
So while the bulk of this review has been dedicated to the innovative macro and lighting controls, I must of course touch upon the physical typing experience of the XG1-R LED.
As the XG1-R LED uses Cherry Red switches, which I am sure many of our readers are familiar with, it almost goes without saying they offer a fast, linear action. Interestingly, my personal keyboard uses Kailh Reds and I noticed a definite increase in speed when typing with the Cherry Reds. The Cherry switch is also noticeably lighter, too.
It is this speed which makes the Cherry switches great for gaming, offering a high level of responsiveness – especially for FPS where 'twitch' reactions are so vital. While I do prefer a tactile switch when typing documents, Cherry Reds are the ultimate gaming switches.
One other thing is worth mentioning. As the XG1-R LED adds an extra row of keys to the top of the keyboard for its macro buttons, the Fn key is in the top-left corner, above the Esc key. As I adjusted to using the XG1-R LED, I frequently hit the Fn key when I meant to hit Esc. However, this is not a problem as Xtrfy foresaw that this may occur and acted accordingly. So a single press of the Fn key functions as if you had hit Esc – meaning you won't be infuriated by frequently hitting the wrong key while adjusting to the different layout of the keyboard.The Xtrfy XG1-R LED is a fantastic gaming keyboard. While it undoubtedly has a simple appearance, it is not unattractive. Rather, it has just enough going on to hold interest and look appealing when sitting on a desk.
What sets the XG1-R LED apart from the crowd, however, is its on-board macro and lighting options. Doing away with software completely, the XG1-R LED gives the user the ability to set a myriad of macro and lighting options on-the-fly. What's more, they are stored to the board's internal memory so you can plug it in anywhere and access your stored settings.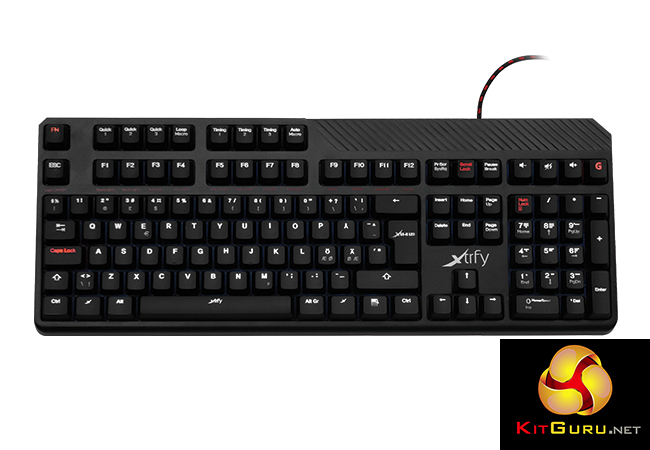 I can see why the XG1-R LED appeals to eSports gamers – after all, it comes with a stamp of approval from Swedish eSports outfit Ninjas in Pyjamas.
Of course, the Cherry MX Red switches are also a pleasure to use, providing a fast and responsive gaming experience. Rest assured, if you purchase a XG1-R LED, it will not let you down.
There is just one stumbling block to buying one, however, and that is the price. At £114 in the UK and €159 on the continent, it is a fairly expensive keyboard – especially considering it lacks RGB lighting, a USB passthrough or audio jacks, which are features we expect to see on a higher-end board.
I also question how much of the mechanical keyboard market the XG1-R LED will appeal to. For many gamers who play exclusively at home, the on-board memory system may not be so appealing considering you can get a cheaper mechanical keyboard that simply uses accompanying software. Essentially, I fear the XG1-R LED may be too much of a niche product in the grand scheme of things.
It is this which holds the XG1-R LED back from the highest KitGuru award, but if you have the cash, I recommend it wholeheartedly. You can currently pick one up for £113.99 from Overclockers UK HERE.
Pros
Fantastic on-board lighting and macro options.
Cherry Reds are as good as ever.
Simple yet attractive design.
Approved by Ninjas in Pyjamas.
Cons
Relatively expensive for what it is.
Fairly niche.
KitGuru says: Xtrfy are onto a winner with the XG1-R LED. I would be very interested to see other models using the same on-board memory profiles.