February 4th, 2014 at 9:00 am - Author
It seems ironic really that despite all the modern technological developments surrounding the 21st century desktop gaming PC, it's the mechanical switch, a design that has been around far longer than most, that is hailed as the pinnacle of keyboard input mediums. Still, there is at least some debate on which is the best for what. Red and Black Cherry switches are the two most commonly compared when gaming is involved, but which to choose? 
MSI in the case of the new GK-601 keyboard has gone with Cherry Red, the lighter of the two types. Theoretically it should be quicker to type on and quicker to issue commands to your troops or grizzled space marine, but will it suffer from being too light to the touch?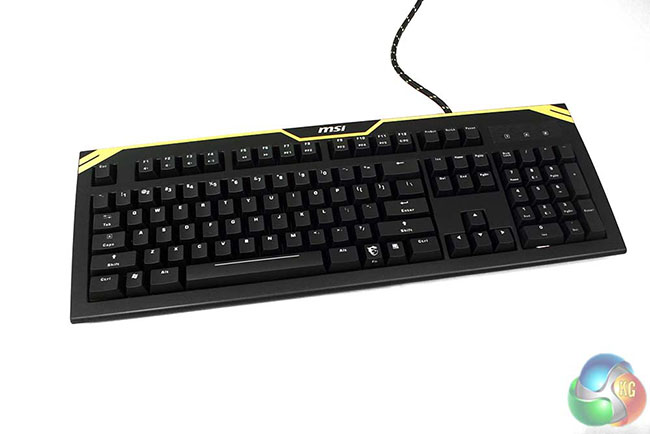 Keyboard Interface: USB 2.0
Normal keys: 104
Keyboard Color: Black and yellow
K/B Dimension: 460(L)x162(W)x30(H)mm / 18.1(L)x6.4(W)x1.2(H)inch
BOX Dimension: 525(L)x195(W)x80(H)mm / 20.7(L)x7.7(W)x3.1(H)inch
K/B Weight: 1300g (2.87lbs)
Weight (include BOX): 1370g (3.03lbs)
Type: Wired
OS Supported: Windows XP/Vista/7/8
System Requirement: PC with PS/2 or USB port
Package Contents:
Mechanical Keyboard
Quick Guide
Additional Keycap x 4
Keycap Puller x 1
Software CD
Features

Advanced Cherry Mechanical Red Switch technology
5 profile with 50 macro keys with 128Kb onboard memory
USB full N-key rollover
Gaming grade lifetime: 50 million keystrokes
4 levels backlit lighting adjustment with breathing mode
Gaming mode/PC mode switch button for disable the Windows key
Media keys for volume control, play/pause, and skip tracks
Gold-plated connectors
Comes with built in USB port on end for addition peripheral
Headphone-out and microphone-in jacks
Bundle with 4 additional keycaps and keycap puller
Gaming cluster with anti-ghosting capability
Exclusive software for advanced setting
MSI GK-601 Cherry Red mechanical keyboard review

,