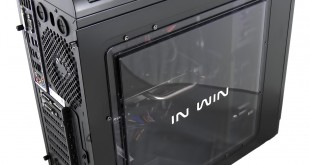 Falcon Computers supplies this Elite-GT1 Assassin SE as a bare tower priced at £999 inc VAT. If you choose you can also buy peripherals such as mouse, keyboard and screen from Falcon but anyone looking for a gaming upgrade will probably already own those peripherals. Besides, £999 has a nice ring about it.
The most visually striking part of the system is the In-Win GT1 case, which explains how the PC got part of its model name. The large window shows off the insides nicely (although you'll need to treat it with care as it scratches fairly easily). Apart from the window your eye will also be drawn to the ventilation ports that cover almost every surface of the GT1 case.
Watch the video on our VIMEO channel (below) or over on YOUTUBE.
This particular case has a black and red theme that is topped off with two red illuminated fans at the front and one at the top. In addition you get a 120mm fan at the rear of the case that draws air through the radiator of the Cooler Master AIO on the CPU.
That's a lot of cooling and the result could have been a noisy PC however Falcon has used the built in fan controller to manage things effectively. When the rocker switch at front of the case is set to Silence the Elite-GT1 Assassin SE is very quiet indeed but when you go to Turbo mode the fans whack up to full speed.
Most of the money in this PC has been spent on the 3.5GHz Intel Core i5-4690K, Gigabyte Z97X-SOC motherboard and Asus GTX 970 Strix 4GB graphics card.
That Core i5 CPU runs at stock speed and Falcon charges £30 to overclock by 10 percent i.e. 4.4GHz max Turbo. No doubt you can overclock the CPU yourself but if you're feeling cautious (or lazy) you might prefer to pay the money and take the extra Megahertz.
As mentioned in the video, the Gigabyte Z97X-SOC motherboard is a high end motherboard that can be upgraded to the "Kit Guru Reviewed Must Have" SOC-FORCE edition mainboard should the user want the top board. It is worth noting the Asus GTX 970 STRIX Edition also won a "Must Have" award.
The key point here is that the list of components yields a retail total that is higher than the cost of delivered PC from Falcon. Here's a breakdown of the Falcon Elite-GT1 Assassin SE System:
In-Win GT1 (£52)
Intel Core i5-4690K Devil's Canyon 3.5GHz/3.9GHz (£168)
Gigabyte Z97X-SOC motherboard with BIOS F3, current version is F6 (£170)
8GB Kingston HyperX Fury 1600MHz (£66)
Asus GTX 970 Strix 4GB (£306)
Cooler Master Seidon 120V (£35)
256GB Crucial SSD CTX256MX100 (£86)
1TB Seagate HDD ST1000DM003 (£40)
Samsung 24x DVD-RW (£15)
FSP Raider 80+ 550W PSU (£49)
64-bit Windows 8.1 (£70)
2 yr warranty
Total £1057
In addition Falcon throws in a game code for one of the following games
The Crew
Assassins Creed Unity
FarCry 4
Ordinarily the cost of a game code would be carried by Nvidia however they have pulled the plug on a number of small system builders and in this instance the cost is carried by Falcon themselves.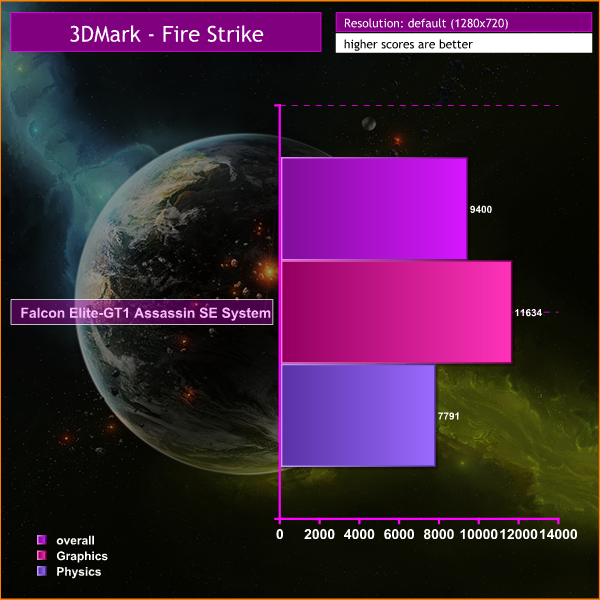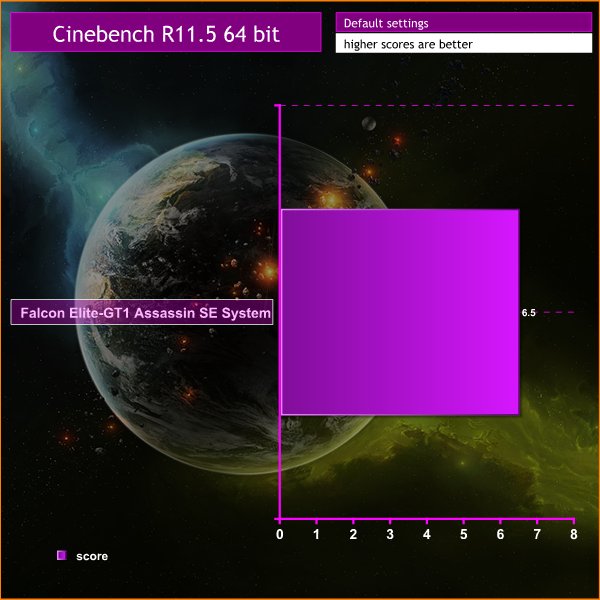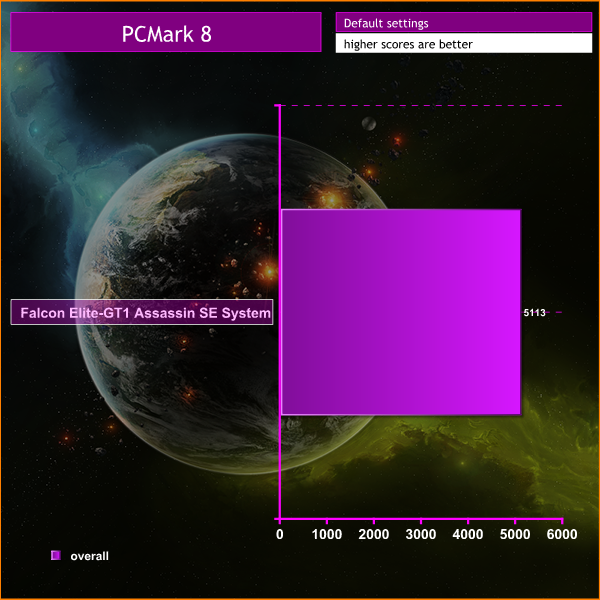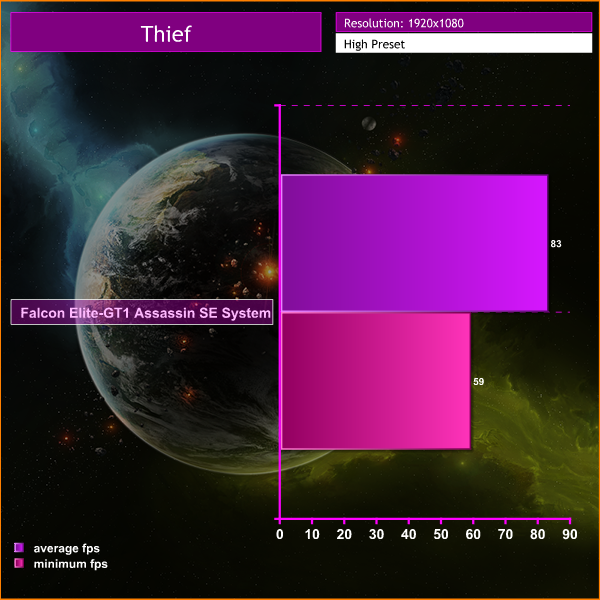 Closing Thoughts:
Add together a Core i5 running at 3.5GHz, along with a Z97 chipset, Asus GTX 970 graphics card and Crucial MX100 SSD and the result is a predictably high level of performance. In 3D Mark Fire Strike the score is a healthy 9,400 marks and even the Fire Strike Extreme test hauls along at 4,937 marks.
Modern games such as Thief run over 80fps on High presets while lesser games (DIRT 3 and Tomb Raider) are effectively unlimited at more than 170 frames per second.
You'll have no problem playing games on a single Full HD screen with the Falcon Elite-GT1 Assassin SE, which is exactly what we expect from this level of hardware.
Buy direct from Falcon Computers over HERE.
Discuss on our Facebook page, over HERE.
Pros:
Cheaper to buy the Elite-GT1 Assassin SE than to build it yourself.
Top gaming performance from the Asus GTX 970 STRIX.
No complaints about Core i5 performance.
We like the 256GB SSD and 1TB data drive.
Stylish looks from the In-Win GT1.
Liquid cooling for the CPU.
The fan control switch is a useful touch.
Tidy build. Looks good inside the case.
Cons:
Realistically there is nothing to dislike as you can change the spec of the Elite-GT1 Assassin SE when you select your system.
If we were to be very picky it would be nice to have 16GB of RAM rather than 8GB.
KitGuru says: A top notch gaming PC that won't break the bank.