One of the cornerstones of graphics cards of the past decade or so, is that they get quite warm, which means that heat needs to be dissipated in order to keep them functioning long term. While doing so was once possible with a little low profile fan, for a while now it's involved big heatsinks and heatpipes to transfer the heat to them. And that's exactly the sort of technology Dyson is using in its new range of lamps, to keep the LEDs cool and to ensure that they continue to produce light for more than three decades.
At least that's how Jake Dyson, the son of famed inventor and businessman, James Dyson, is claiming. The CSYS lamp is said to be capable of outputting a natural white light for more than 160,000 hours, or just shy of 40 years, if used for 12 hours per day.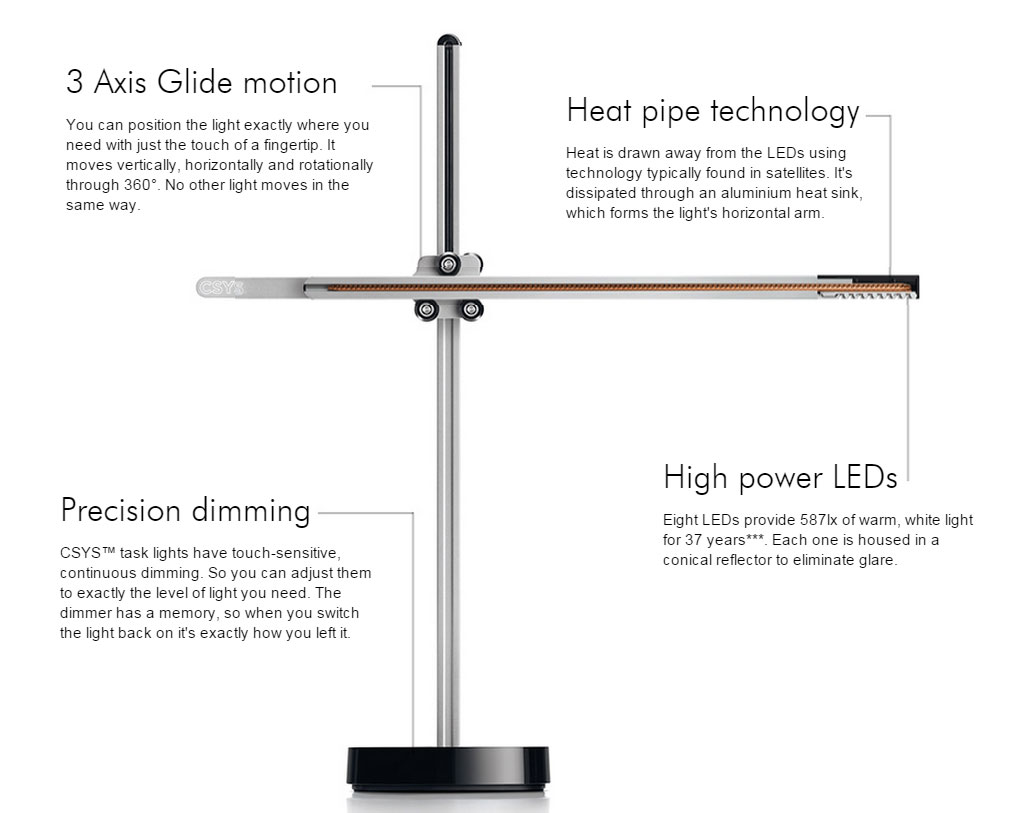 This is all possible because of the heatpipes located in the boom arm of the lamp, which direct heat away from the LEDs. While such diodes are much more efficient than traditional lighting, they can still be subject to high temperatures and over time that strips away their phosphorous coating which degrades brightness and colouring. By preventing that heat build up, Dyson believes that its new lamps should last half a life time.
Thanks to the triple axis boom arm too, the light can be moved vertically, horizontally or rotated, to provide angled light exactly where you want it and thanks to the balanced weighting of the boom, it only takes a small push. It also features a dimmer switch with memory, so turning it back on later will result in the same light levels.
All of this does come at a price though. The new Dyson lamp retails for £400 and comes in three flavours: white/silver, black/silver and black/black.
Discuss on our Facebook page, HERE.
KitGuru Says: I must admit I do like how classy these lamps blend technology with style, but £400 is crazy money for a lamp. I think the 80 £5 lamps I could buy with that money would last longer in the end.