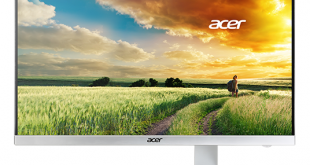 The Acer S277HK is a 27 inch, 4K IPS display with a focus on smart, attractive design. It has a particularly thin bezel, termed ZeroFrame by the company, an asymmetrical 'L-shaped' metal stand and all the connectors arranged in an easily accessible groove at the back. With excellent colour reproduction along with good brightness and contrast levels, the S277HK delivers great picture quality at a price that's highly competitive with competing 4K screens.
As the market for 4K displays is maturing, prices are on a downwards trajectory, giving buyers more choice than ever. Just about every manufacturer now has more than one 4K screen in its lineup, least of all Acer, which currently sells 4K screens with a focus on gaming, such as the Predator XB280HK, a 28-inch TN model that supports Nvidia G-Sync, along with larger displays aimed at professional use such as the 32-inch B326HK.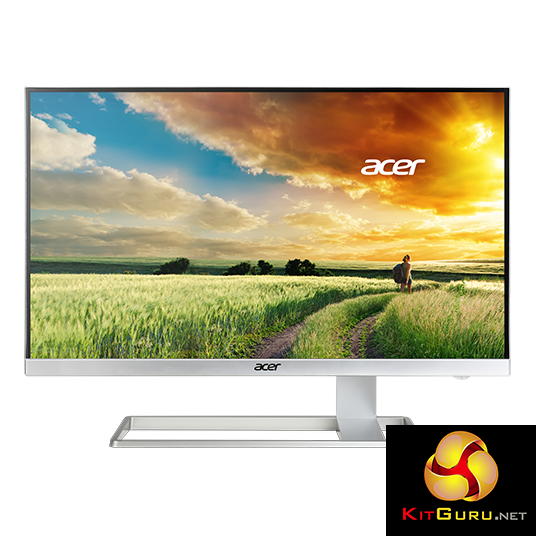 The Acer S277HK is a better fit for this latter category, as it has an IPS panel with 10-bit colour reproduction, a 3,840 x 2,160 resolution, 178 degree viewing angles and advertised 100 per cent sRGB coverage, with a 4ms response time.
It also has a particularly thin bezel. Although it doesn't actually live up to its name of having a "zero-width" frame, the physical bezel is only 1mm across. Although there's another 5mm or so of black space between this bezel and your display area, it's still far less wasted border space than you see on most screens.
There's an unusual looking metal stand with the panel supported on the right-hand side, an all-white glossy finish to the rear of the screen and a decent set of inputs, including HDMI 2.0 and dual DisplayPort 1.2 connectors. It also has a pair of 2W speakers built into the rear that support DTS, christened TrueHarmony by Acer.
Acer S277HK features:
Stunning design, slim and solid asymmetric stand and stylish speakers make the S277HK visually pleasant all around.
The ZeroFrame design makes it an ideal multi-monitor setup solution for a seamless and breathtaking 4K2K viewing experience.
Ultra-fast HDMI 2.0 connection support for the very first time on a 4K2K monitor.
Acer ColorPlus and Acer EyeProtect technologies reduce eye strain and provide a more vivid and comfortable viewing experience.