While the Halo Infinite multiplayer open beta launched publicly in the middle of November, it wasn't until this week that the campaign mode officially released. We've been testing it non-stop to show you exactly how it performs across a wide range of hardware, looking at both Ultra and Medium settings, as well as three different resolutions.
Watch via our Vimeo channel (below) or over on YouTube at 2160p HERE
Using 343 Industries' new Slipspace engine, it's pleasing to see a wide variety of graphical options in the settings menu. There's also four quick presets to choose from – Low, Medium, High and Ultra – with our testing today focusing on Medium and Ultra.
There is one quirk in the video settings menu however, and that comes down to the fact there is no exclusive fullscreen mode in Halo Infinite – instead you have to pick between windowed and borderless fullscreen. Using the latter, we had to use the resolution scale slider for our testing today, but curiously, on our 4K display, there is no way to set an exact resolution of 2560×1440. In stead, we had to select a 67% resolution scale, giving us a resolution of 2573×1447. It's very close to standard 1440p but not quite the same – so if you are wondering why we benchmarked at that unusual resolution instead of 2560×1440, now you know.
Driver Notes
AMD GPUs were benchmarked with the 21.12.1 driver.
Nvidia GPUs were benchmarked with the 497.09 driver.
Test System
We test using a custom built system from PCSpecialist, based on Intel's Comet Lake-S platform. You can read more about it over HERE, and configure your own system from PCSpecialist HERE.
CPU

Intel Core i9-10900K
Overclocked to 5.1GHz on all cores

Motherboard

 ASUS ROG Maximus XII Hero Wi-Fi

Memory

 Corsair Vengeance DDR4 3600MHz (4 X 8GB)

CL 18-22-22-42

Graphics Card

Varies

System Drive

  500GB Samsung 970 Evo Plus M.2

Games Drive
2TB Samsung 860 QVO 2.5″ SSD
Chassis
Fractal Meshify S2 Blackout Tempered Glass
CPU Cooler

 Corsair H115i RGB Platinum Hydro Series

Power Supply

 Corsair 1200W HX Series Modular 80 Plus Platinum

Operating System

Windows 10 21H1
VRAM Allocation
One key area to cover before we dive into the results themselves is why we tested the way we did. For our testing today, we've not benchmarked every single GPU on Ultra settings as we usually would. The reason for that is it quickly became apparent upon playing the game, that Halo Infinite is very heavy on the GPU and video memory.
As you can see above, VRAM allocation is very high, at over 8GB at 1080p when measured with an RTX 3090. As a result, a significant number of older or lower-end GPUs we tested were struggling to even hit 30FPS at 1080p Ultra settings.
So instead of benchmarking every single card at Ultra settings – which is completely unrealistic for a lot of GPUs – we ran a quick test on each GPU to see if 30FPS proved possible with Ultra settings, and if it was, we tested accordingly. For the cards that just could not manage it, we skipped Ultra settings and tested the Medium preset instead.
1080p Ultra Benchmarks
1440p Ultra Benchmarks
2160p (4K) Ultra Benchmarks
AMD Memory Issue?
You will have noticed in the charts above that there's a few AMD GPUs missing, and both the RX 6600 XT and RX 5700 XT have asterisks attached on the 1080p chart. We discuss this further in the video, but I observed repeatable performance issues on all AMD GPUs with 8GB VRAM or less, when using Ultra settings.
Essentially, upon first launching the game, performance with such an AMD GPU would appear to be fine and I could complete a benchmark run without issue. However, after then quitting back to the main menu and re-loading into the game for my second benchmark run, performance would drop significantly, as is shown below.
As this happened on all AMD GPUs with 8GB VRAM or less – but crucially not with the RX 6700 XT, 6800, 6800 XT and 6900 XT, which all have 12GB+ VRAM – I believe this is an issue with memory management on AMD GPUs. The fact that I got perfectly consistent performance from the same GPUs after dropping down to Medium settings certainly doesn't contradict that theory.
It was also behaviour exclusive to AMD GPUs in my testing; the 8GB RTX 3060 Ti, for instance, proved consistent from run to run. It is certainly something AMD needs to take a close look at, as right now, performance is not where it should be for a lot of AMD users. For that reason, I chose to benchmark all of the 8GB cards and lower on Medium settings instead.
1080p Medium Benchmarks
1440p Medium Benchmarks
Preset Scaling
For a quick look at preset scaling, we can see a reasonable enough range in performance when lowering the image quality settings. Dropping from the Ultra preset to High settings, for instance, nets a 21% increase to average frame rate, while the Low preset is 61% more performant than Ultra.
Closing Thoughts
After spending the last 36 hours benchmarking as many GPUs as possible, it is safe to say there is work still to be done to get Halo Infinite into a more playable state. I wouldn't say it is in the worst launch-day state I have ever seen, but it's certainly not close to being as polished as it should.
We encountered numerous issues over our testing, one of the biggest being AMD GPUs with 8GB VRAM or less showed highly inconsistent performance, with frame rates dropping significantly after my first benchmark run. The only way that I found to increase performance again was a full game restart, so there is a clear issue there and I believe it is related to VRAM management.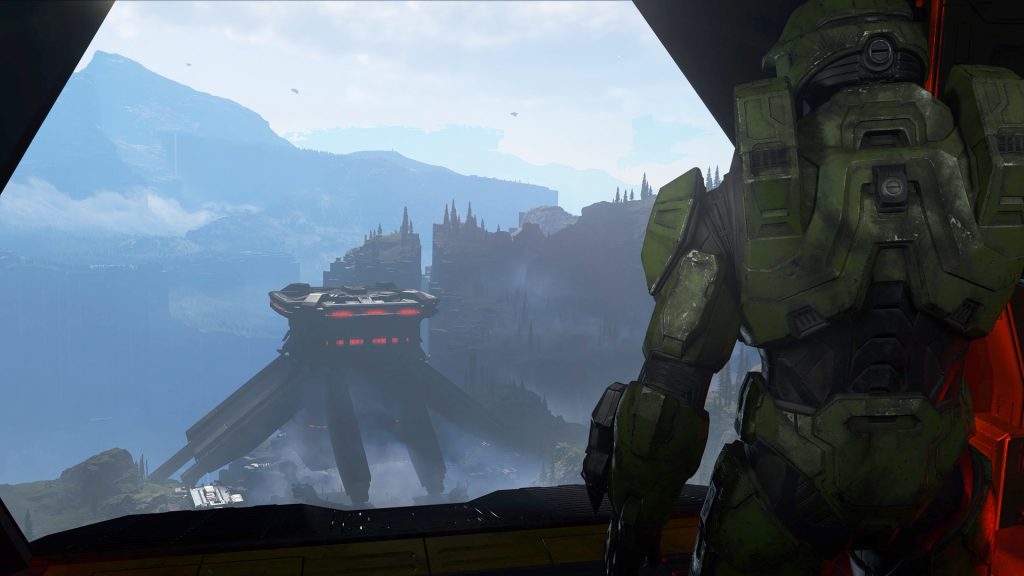 In general, frame pacing is pretty inconsistent as well. Granted, AMD GPUs generally did a bit better than their Nvidia rivals here, but none of the GPUs I tested was really giving me a smooth experience so I'd say 343 Industries has a bit of work to do there. Speaking of Nvidia, Pascal owners will be disappointed to see pretty poor performance from the 10-series cards as well, with the GTX 1060 not even able to stay above 30FPS using Medium settings at 1080p.
Even ignoring those pretty significant issues, I'm just not sure the visuals on offer can justify the overall performance levels. The game does look good when you're examining the landscapes and vistas of Zeta Halo stretching out ahead of you, but I wouldn't say it was anything special, and certainly not special enough when considering the performance on offer from even the fastest GPUs.
Discuss on our Facebook page HERE.
KitGuru says: Have you been playing the Halo Infinite Campaign – how have you been finding performance? Let us know your thoughts.