Research and development division of Dell is working on mood-reading hardware and software. The actual device and programs could reach the market as soon as in 2017. The technology, which could accurately identify a wearer's emotional states, could be used for both work and entertainment.
Jai Menon, the head of Dell Research, revealed to BBC that his division was working with brain-activity monitoring headsets made by Neurosky and other manufacturers – which cost between £60 to £120 – to see if they reliably indicate whether the wearer was happy, sad, bored or frustrated. The technology could be used to improve user's productivity, among other things.
"If I can sense the user is working hard on a task, an intuitive computer system might then reduce distractions, such as allowing incoming phone calls to go directly to voicemail and not letting the user be disturbed," said Mr. Menon. "Similarly, if they've been concentrating [for] a long time, maybe it could suggest a break."
The mood-reading complex could also be used for improved entertainment activities.
"If someone is playing a game and it senses they are bored, it could ratchet up the level of challenge automatically," suggested the head of Dell Research. "If it senses they are frustrated, maybe it's time to offer them a clue about how to proceed."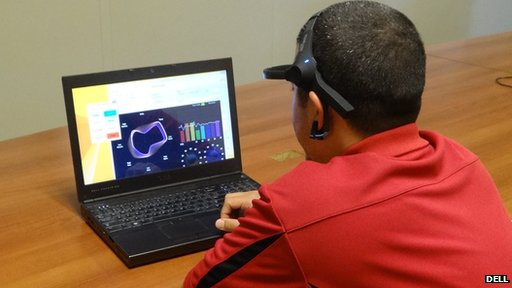 At present the mood-reading complex is accurate in around 50 per cent of the cases. Dell's plan is to make it accurate in 90+ per cent of the cases. Moreover, if an individual device does not provide good results, then Dell's researchers are ready to add sensors.
"If an individual device doesn't give us that accuracy then we will also add additional inputs – a pulse oximeter [to monitor the level of oxygen in a patient's blood] or ECG (electrocardiogram – a heart rhythm monitor) or other readings, to see if multiple inputs help the software get to the correct value," said the researcher.
While multiple devices could accurately detect one's mood, wearing all of them for prolonged periods of time is not really feasible. Moreover, given the privacy concerns, it may not feel safe too.
"My goal is to work on interesting things and then persuade the rest of the company to build the products," said Mr. Menon. "But I suspect that within a three-year timeframe, if the experiments are successful, then such products can certainly be available."
Discuss on our Facebook page, HERE.
KitGuru Says: While the idea of wearing anything to let a computer know your mood and better interact with you does not really sound feasible, the technology may help people with disabilities, law-enforcement agencies and in numerous other cases.