While the show itself is a shadow of its former self, CeBIT still has some cool technology offerings up its sleeve and CODE_n is one of them. We toured the massive exhibition the 'next tech' and found something interesting on the top floor.
Trumpf has been a world leading in sheet metal fabrication machinery and laser technology. Given that the company's core customers include Volkswagen, why take such a huge exhibition space at CeBIT?

We spoke with one of Trumpf's experts, Albert Jung.
"Industry 4.0 was first discussed here in Hanover in 2012, but the principals are now coming into the mass market", Jung explained. "For years, programmers have been able to break code down into ever smaller chunks which can be fitted together in new ways. That is exactly how Industry 4.0 works with physical engineering".
Jung showed us how fast it was to set up Trumpf machines for mass customization – with an instant/live demo on a thermos flask. But how might this be implemented in the real world?
"A Volkswagen car will have many sheet metal parts, each of which have physical characteristics in terms of size, strength and mounting points", Jung explained. "With out new machines, customers could be allowed to customize their own car in many different ways – without a part having to be taken off the production line – and with no increase in production time".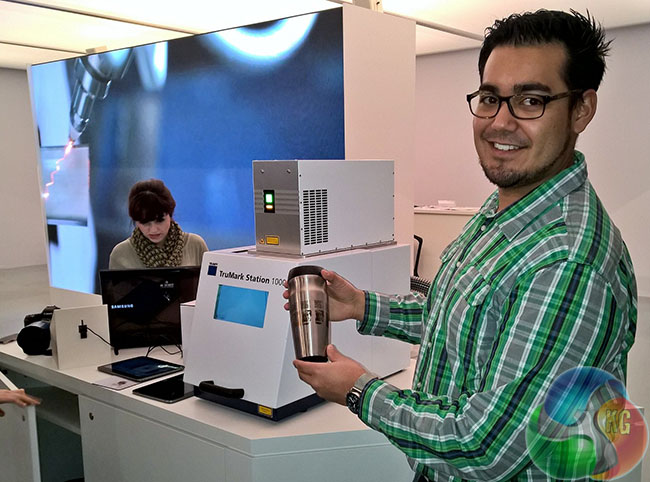 "Affordable mass customization is then a reality", he said with a smile.
The machines themselves can be managed from anywhere on the planet with a tablet and a secure connection – and everything produced by one machine can be instantly etched with a laser code and put through quality control by a second machine.
We asked Jung if he was worried about his machines being mass produced in China, "Not really, this is all about quality, not price, so we're not worried".
KitGuru says: While Albert might not be worried about his machines being put out of work, the pervasive smell of 3D printing filled the CODE_n hall and you can't help but wonder how many jobs will be left in manufacturing, globally, in 20 years time. China has grown as a country through cheap labour – so what happened when Western robotic labour is cheaper?