Do you think your in-case lighting set up is on point? Corsair would beg to differ, as it has a whole new range of RGB LED fans that let you customise them to a level unprecedented in PC customisation. It also has a VR set up and some GPU coolers on show, but who cares about that right? Fans are where it's at.
"Style with substance," is the calling card for the new range of ML Pro 120/140 fans on show. They make use of magnetic levitation – not MagLev technology, that's patented – essentially resting the bearing on a bed of air when the fan spins up. When it's at rest, it sits in fluid, but during operation it doesn't contact anything, making it run quieter than most fans out there.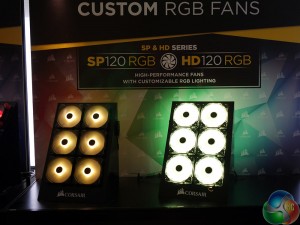 As cool as that one is though, it's the SP120 RGB fans that Corsair is really excited about. These offer something quite different, by allowing for unique control of the fan's lighting. With several distinct 'zones' on the fans themselves, with individual LEDs that can be controlled, there is an unprecedented level of customisation with these fans.
Unique patterns can be created by tweaking different light levels and colours and we're looking forward to seeing what the gaming community can come up with when they get their hands on them later this year.
The same sort of effect can be had with the HD120 fans, though these have 12 lights around the outer edges of the frame work, which makes for different lighting options; though they too can be individually controlled. You can even connect up multiple fans to create larger patterns and images.
Other products on show on the Corsair booth include a custom GTX 1080 water cooler, a VR ready system, some new Dominator memory with a classy looking heat spreader and a new XTi SSD that's part of the Neutron series.
Discuss on our Facebook page, HERE.
KitGuru Says: When you're buildign a PC, how much thought do you put into fan lighting?