Aerocool introduced us to a brand new line of products at Computex this year known as 'Project 7', which spans across new power supplies, fans and all in one liquid coolers.
Aerocool has some new watercooling parts in, including the P7-W240 Pro (pump on reservoir mounted on the radiator) and the P7-W240C (pump on cold plate, reservoir in the middle of the hoses).
There is also the P7-C1 case available in four colours.
Also on show was Dream Box which consists of literally hundreds of components so you can build your own open frame PC case or test bench.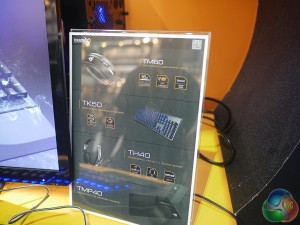 Mice and keyboards were arranged in three families. The higher the number the higher the spec and price- though we don't have confirmation on pricing or availability for peripherals.
TM60 mouse, TK50 keyboard, TH40 headset and TMP40 mouse mat
TM40 mouse, TK40 keyboard and TMP40 mouse mat
TM20 mouse, TK30 keyboard and TMP30 mousemat
The Tk50 keyboard for instance is a mechanical using Kailh switches, while the TK40 uses slightly 'clattery' switches and the TK30 is a standard membrane keyboard.
KitGuru Says: Aerocool had a lot to launch at its booth this year. The Dreambox open-air bench looks particularly interesting.