We managed to catch up with Gigabyte at Computex today to check out their entire floor. Gigabyte's focus for 2016 so far is laptops with Skylake, new Nvidia Pascal graphics cards, new X99 motherboards for Broadwell-E, a brand new BRIX PC built for gaming and Thunderbolt.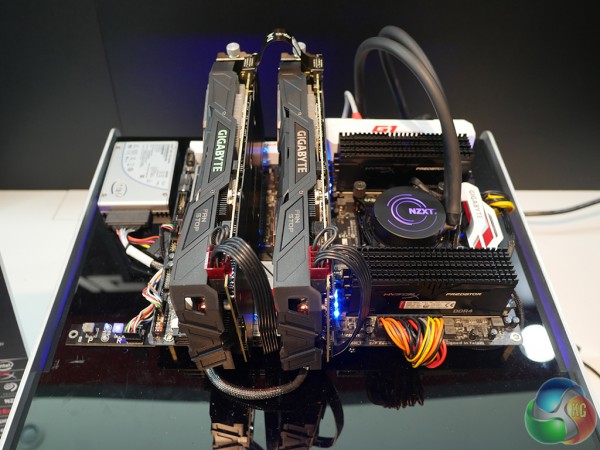 In order to show off their new X99 motherboards, Gigabyte put on a display featuring eight DIMMS of DDR4 RAM running at 3600MHz,.
Another focus was Thunderbolt, which can run every sort of I/O off of a single tiny Type-C connector. We managed to see a DisplayPort looping from the back of a graphics card alongside the Type-C connector in order to push bandwidth as high as 10Gbps. If the size of the I/O panel wasn't used by motherboard and case manufacturers it is clear Gigabyte would shrink it down to a minuscule size.
Some of you will remember that Gigabyte released the BRIX mini-PC some time ago but now, the form factor has changed a bit for better cooling, which will be needed for the CPU and GPU as the new BRIX (model GB-BNi7HG4950) is supposed to deliver gaming performance in a tiny package.
BRIX Gaming (model GB-BNi7HG4950) is a tiny PC that is completely different in form factor to previous BRIX to ensure the CPU and GPU can cool adequately. Very sensible.
Discuss on our Facebook page, HERE. 
KitGuru Says: Gigabyte had a lot to show off this year, particularly thanks to the X99 refresh and the launch of Pascal. Is there anything coming from Gigabyte that you guys are particularly excited about?